Composing music on a 49-key keyboard will mark your entry into the big league where talent combines with technology to create fantastic music. You will need nothing less than the best 49 key MIDI controller to hold your own against such tough competition.
Looking for a smaller keyboard? Check out our other midi controller buyer's guides:
Best 49 Key MIDI Controllers by Real Musicians
Read ahead to check out five of the best 49 key MIDI controllers with varying features, bundling options, and software integration options. No doubt one of these controllers is what you're looking for!
---
Arturia KeyLab MKII 49 Key Midi Controller
Every music composer has to struggle with the tradeoff between the advantages of multiple features and the inevitable increase in the complexity of the MIDI controller. An upgrade over Keylab, the Arturia KeyLab MKII 49 strikes the perfect balance.
Keylab MKII is rich with features and functions that any expert composer would like to have at his/her fingertips, yet its surprisingly easy and fun to use.

Features
An interesting standout feature of KeyLab MKII 49 is its aluminum chassis. At a time when MIDI controllers are made entirely out of plastic, a metal body that enhances durability and style is a welcome option.
An aftertouch-sensitive keyboard means you will get a piano-like feel on this keyboard with the tone or note changing depending on the pressure you exert on the keys.
Superlative software integration that allows you to switch between DAW, Analog 3 or any other MIDI-friendly instrument with the press of a button.
Filled with features and functions including 16 backlit performance pads, nine large faders, nine rotary encoders, four CV output jacks and MIDI as well as USB connectivity.
Specifications
49-key semi-weighted velocity-sensitive aftertouch keys.
Pitch-bend and Mod wheel controllers.
One sustain, one expression and one auxiliary pedal controls.
Bundled with Analog Lab 3, Ableton Live Lite, Piano V2 and Arturia MIDI Control Center.
Sale
---
Akai Professional MPK249
Among professional composers using 49-key MIDI controllers, the Akai Professional MPK249 is considered an industry benchmark against which other models and controllers are assessed.
And for a good reason too. From its semi-weighted keys and enhanced powerful hardware specs to complete plug-in usage freedom thanks to the virtual instrument player software feature, this controller offers an unparalleled experience for even the most demanding composers.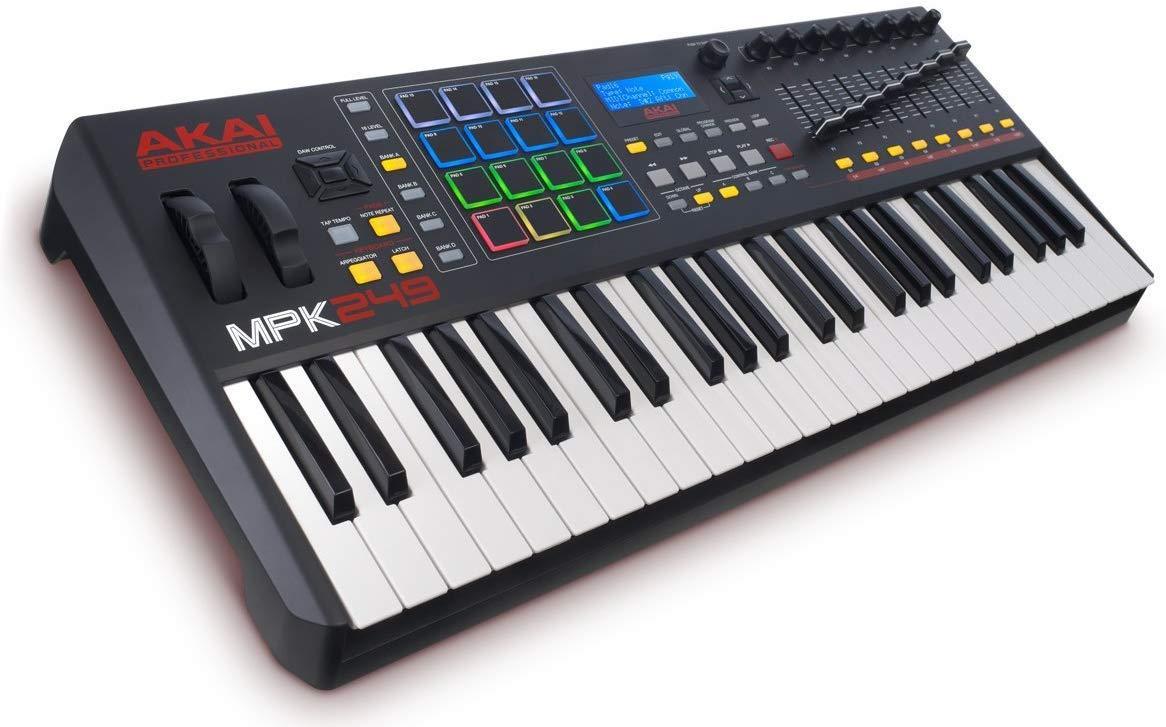 Features
16 backlit MPC pads divided into four banks for easy and smooth access, eight switches, knobs and faders each, controls for pitch bend, modulation and octave and hands-on DAW integration offer a powerful platform for a satisfying musical experience.
Authentic MPC functionality through MPC Note Repeat, Swing, Full Level, Tap Tempo and Time Division assist make MPK249 a versatile hybrid controller.
An ergonomic control layout with a backlit LCD screen for quick information access over and above the visual feedback provided by the backlit pads.
Specifications
49-key semi-weighted pressure and velocity-sensitive aftertouch keys.
Pitch bend and mod wheel controllers and eight customizable buttons.
One sustain and one expression pedal controls.
Bundled with VIP 3.0.
Sale
---
Native Instruments Komplete Kontrol S49
Native Instruments Komplete Kontrol S49 combines powerful musical functionalities with practical improvements to create a MIDI controller at par with the best 49-key controllers in the market.
The rig's innovative features include a custom-built browser for simpler call up of NI instruments. It boasts a selection of individual presets, dual pitch and modulation control through wheels and a flexible touch strip. And its USB bus-powered, running without adapters or other contraptions.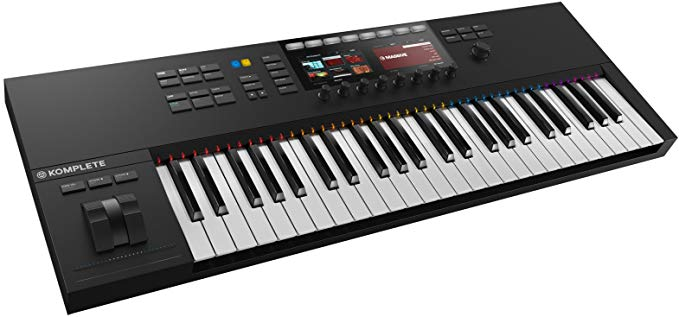 Features
The keyboard is the heart and soul of any MIDI controller and the well-built Fatar keyboard guarantees a superlative experience every time you play it.
Native Instruments has gone beyond backlit pads and incorporated light-based performance feedback and advanced playing features into the keypad itself.
Compatible transport controls with a wide range of DAWs, which means this is a smart choice irrespective of your preferred DAW option.
Two high-resolution color displays for greater control and better use of the functionalities and features of this controller.
Specifications
49-key Fater keybed semi-weighted aftertouch keys.
Pitch bend and mod wheel and touch strip controllers.
DAW-dependent dedicated transport control.
One sustain and one expression pedal controls.
Bundled with Komplete Select and Komplete Kontrol.
Sale
---
Novation 49SL MkIII
The function of any MIDI controller is to help the composer create music on their digital audio workstation (DAW). However, the Novation 49SL MkIII is so well designed that it almost renders the computer screen obsolete and allows you to focus solely on the controller.
The combination of super-dynamic action and aftertouch means you will enjoy a dynamic keyboard experience, which along with the pads, the internal 8-track sequencer and encoders and faders make the Novation 49SL MkIII a complete package.

Features
Enhanced pads that combine velocity sensitivity with polyphonic aftertouch for greater control and choice at your fingertips.
Comprehensive hardware connectivity that includes MIDI—In, Out and Out 2/Thru and Analog Clock Out and two sets of outputs for CV Pitch, Gate and Mod.
Built-in arpeggiator with the additional customization option of selecting velocity curves as required for improving your composition.
Instant on-key LED feedback for instantly viewing scales, modes and zones.
Specifications
49-key semi-weighted velocity-sensitive aftertouch controller.
Pitch-bend and Mod wheel controller.
One sustain and one expression and one footswitch pedal controls.
Sequencer with 64 sessions—eight tracks per session and eight patterns per track.
Bundled with Ableton Live Lite and 4GB Loopmaster Sounds and Samples.
---
Akai Professional Advance 49
Akai Professional Advance 49 combines complete play freedom with total control over your virtual instrument library through just one application to create a versatile instrument that can easily outpace and outpower any other MIDI controller.
Added to this dynamic instrument are some very useful features including a hi-res color screen, eight velocity and pressure-sensitive MPC pads, the ability to function as a standalone controller and a superb virtual instrument player software bundle.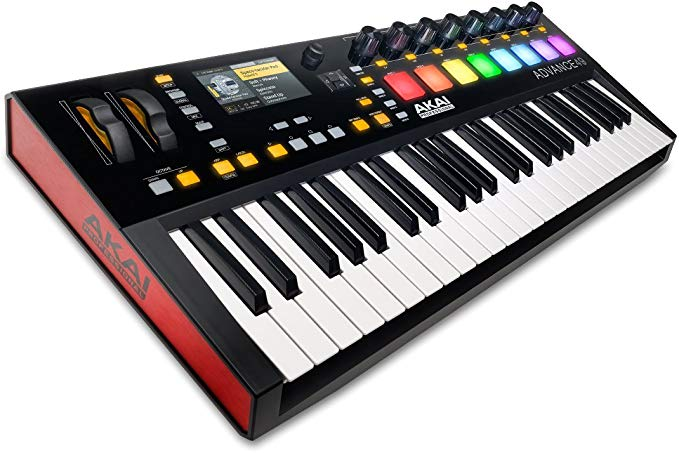 Features
Advance 49 combines the power of technology with the sheer joy of playing live to create a keyboard workstation that's equally useful within studios as well as in live performances.
Bundle of 10,000 sounds from developers at AIR Music Technology, SONiVOX and TOOLROOM RECORDS combined with nine powerful plugins provide all the variety and choice you will ever need for your compositions.
A plethora of buttons, pads, encoders and switches—44 in all—giving you total freedom to customize the controller and to achieve absolute perfection in every note or tune you create.
Specifications
49-key semi-weighted velocity-sensitive aftertouch keypad.
Rubberized pitch bend and mod wheels.
One expression and one footswitch pedal controls.
4.3-inch high-res color screen for realtime plugin parameters' feedback.
Bundled with VIP.
---
Frequently Asked Questions
How many octaves are on a 49-Key MIDI controller?
A 49-Key keyboard has four octaves.
Where is middle C on a 49-key keyboard?
Middle C on a 49-key keyboard is the 15th white key from the left.
---
The Final Word on the Best 49 Key Midi Controller Keyboards
The transition from a 25 key to 49 key MIDI controller is not just about the number of keys or features in the instruments. Your choice of 49 key controller should equip you to foray into the world of professional music creation.
These best 49 key midi controllers come well equipped to handle a variety of specific needs. You can't go wrong with any of them. Its time to get creative, and make the music only you can imagine!
Was this post helpful?
Let us know if you liked the post. That's the only way we can improve.