Nothing beats the old-world charm of creating music on an analog synthesizer.
Nothing matches the versatility or sonic depth of the notes you can create on an analog synth. So finding the best synthesizer for is a key step in your music and composing journey.
If you're interested in learning more about synthesizers, check out our guide: Intro to Synthesizers: How to Choose Which Synth to Buy
Best Synthesizers Ranked by Actual Musicians
Check out the details of some of the best synthesizers, whether your a beginner or an experienced composers.
---
Arturia MicroBrute
An extremely compact and versatile analog synth, the Arturia MicroBrute is the best option if you are thinking about buying your first synthesizer.
MicroBrute packs a powerful punch in terms of the notes and tones it can generate. And its crammed with customization features for you to fine tune your music.
The step sequencer and mod matrix allow you to go beyond merely playing music notes and enable you to create, innovate and experiment with your composition ideas.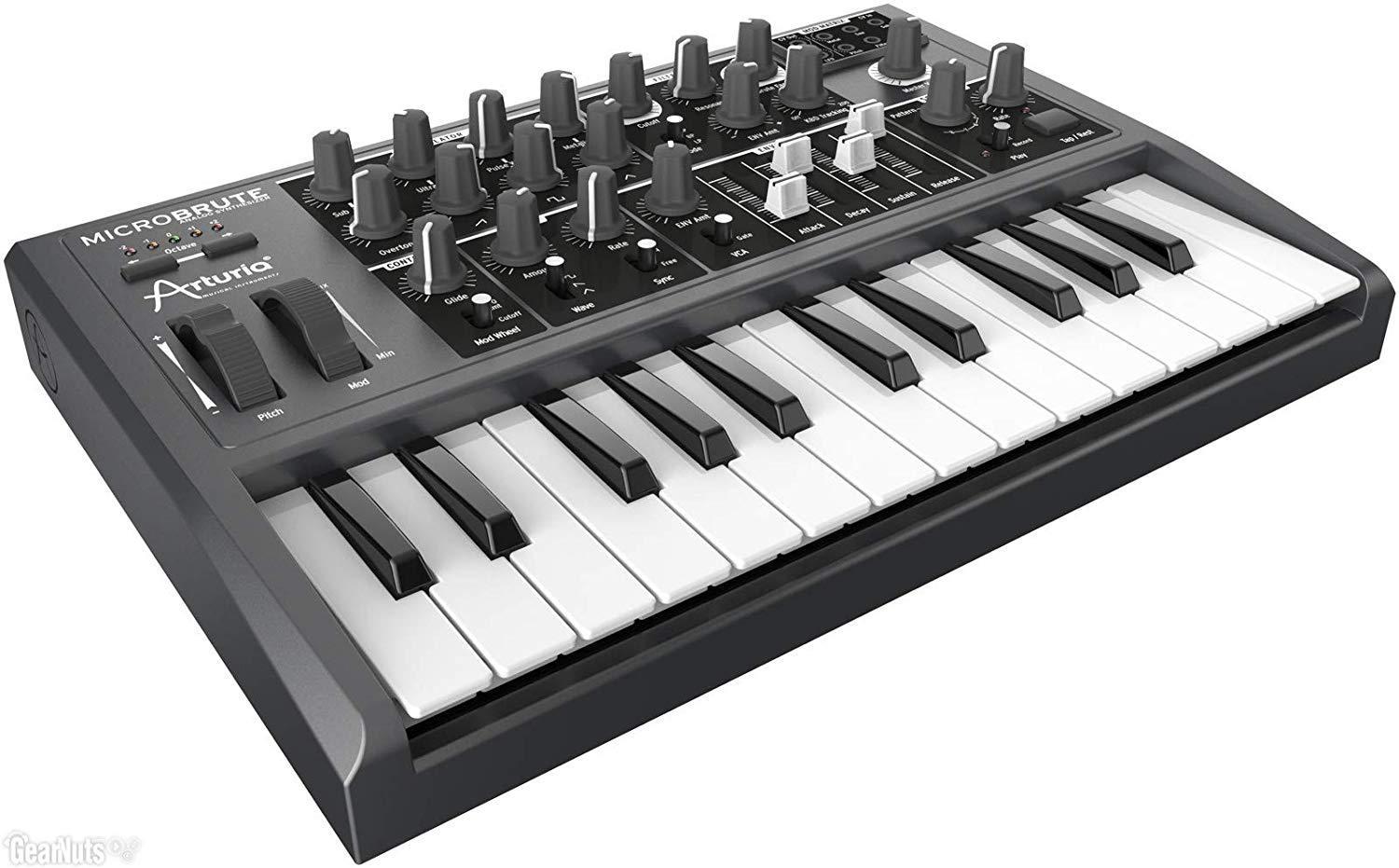 Features
This synth has a completely analog signal path, which means the music it creates is completely natural with no digital or hybrid mechanisms involved.
A dynamic single-oscillator mechanism that combines the Saw, Triangle, and Square waves with three additional waveshapers to modify and animate your notes. Added to this powerful mix is the Overtone generator for an amazing sound experience.
Arturia MicroBrute comes with the classic Steiner-Parker filter that gives this instrument its musical dynamism and versatility.
A very compact design with just 25 mini-keys that makes this synth an ideal choice for somebody just starting out on synthesizers.
Specifications
25 mini-keys velocity-sensitive synth.
Additional pitch bend and mod wheel controllers.
3 Oscillator presets—Sawtooth, Triangle, and Square.
8 sequences with 64-steps per sequence.
Arturia MicroBrute Analog Synthesizer
100% Analog Audio Signal Path
Steiner-Parker Multimode Filter (LP, BP, HP)
Voltage Controlled Oscillator with new Overtone Sub-Osc, Oscillator Mixer (Sub, Sawtooth, Square,...
---
Korg Minilogue XD
The Korg Minilogue XD combines the natural and real sound of an analog synth with the control and versatility offered by technology to give enthusiasts the best of both worlds.
This synth is a full-blown sound design system that has a digital multi-engine boosting the four-voice analog setup. This allows you to play your preferred genre of music ranging from soft and warm notes to crisp tones.
Joystick controls, four different voice modes, micro tuning feature and motion view display are some features that will allow you to explore your musical talent to the fullest.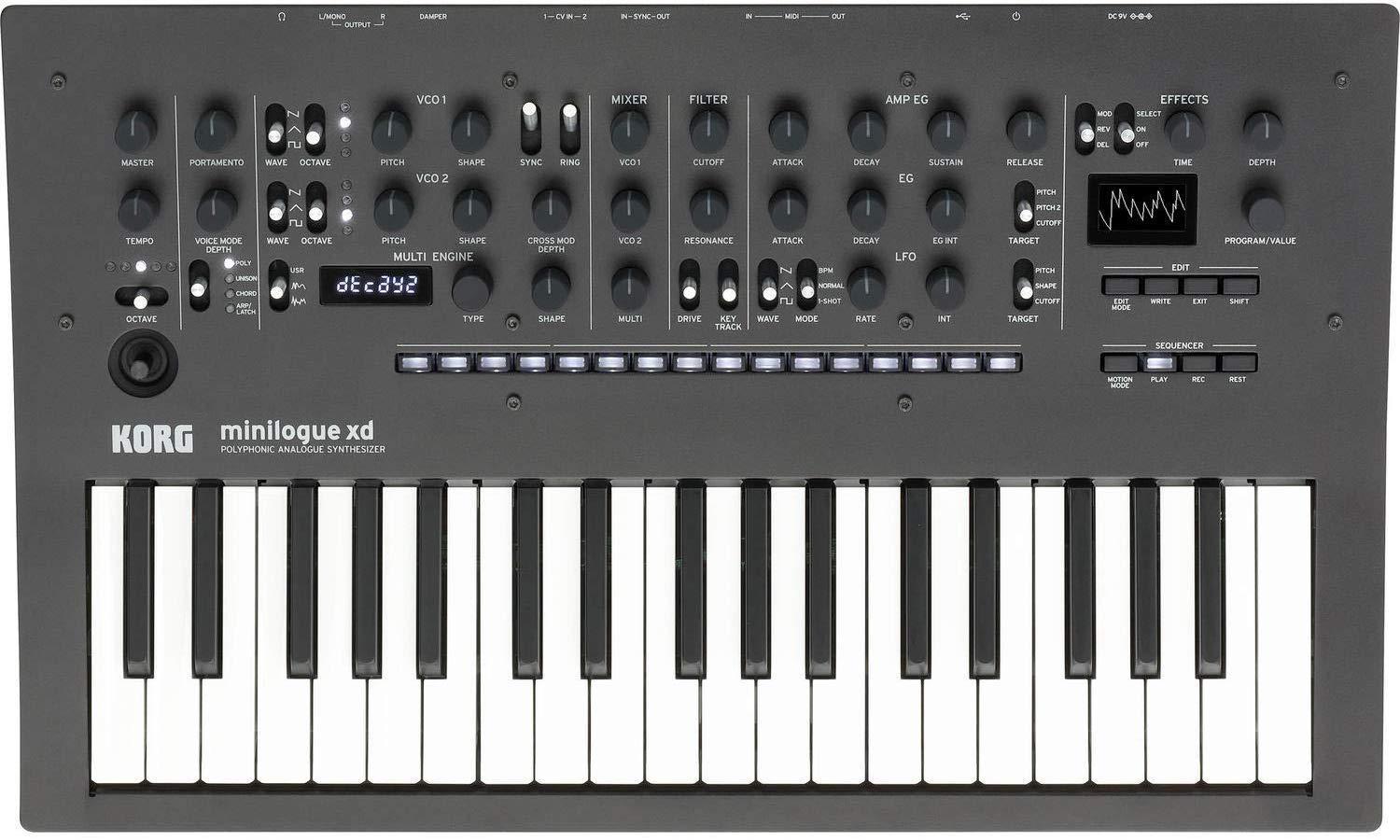 Features
Unleash your musical creativity by exploring the 200 pre-loaded sets combined with the option to save a total of 500 programs in this instrument.
Three different sound generators create a hybrid engine that boosts the capacity of the analog oscillators to create superlative music.
Choice of variations like chorus, ensemble, reverbs and warm tape delays that can be used simultaneously for truly versatile compositions.
16 oscillator and user effects slots to create original programs or customize the presets and share the same with the online user community.
Specifications
37-keys velocity-sensitive synth.
500 programs including 200 preset programs.
16-step polyphonic sequencer.
Real-time OLED oscilloscope display.
---
Moog Grandmother
Forget plug and play, the Moog Grandmother is an open-and-play synth that allows you to start creating music with no patching or any other setup required.
This synth is a treat to look at with its vibrant and colorful interface. Further, it's equally functional with a clutter-free layout offering easy access to all its features ranging from the dual analog oscillators and four-pole ladder filter to the bipolar attenuator.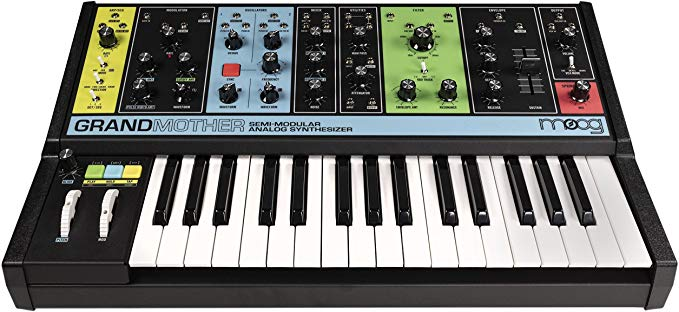 Features
In-built spring reverb allows you to create notes of varying depth and vibrance unmatched by this analog synth's digital counterparts.
41 patch points covering 21 inputs, 16 outputs, and a four-jack passive multiple allows you to either integrate this instrument with digital musical instruments and accessories or use it independently.
Easier control by combining the keys with other controllers including one mod wheel, one pitch bend wheel, and a variable glide.
Completely analog sound engine and modulation engine that allows you to explore the entire spectrum of music incapable of being matched by digital engines.
Specifications
32-keys velocity-sensitive synth.
4-pole octave ladder filter and variable high pass filter.
1/4″ audio input port for external signals.
Compatible with Mother-32, DFAM, and Eurorack modular systems.
---
Arturia MiniBrute 2
The Arturia MiniBrute 2 analog synth builds on the appeal of the extremely-popular MiniBrute synthesizer to create even more powerful and dynamic choice for lovers of analog synthesizers.
This semi-modular synth faithfully relies on the combination of two Brute oscillators and Stiener-Parker filter to create sonorous notes devoid of any digital tinkering.
This synth may be analog but that doesn't mean it cannot work well with other digital instruments. Five-pin MIDI and the USB for MIDI ports along with the external audio input port mean you can integrate this instrument with your computer without any hassles.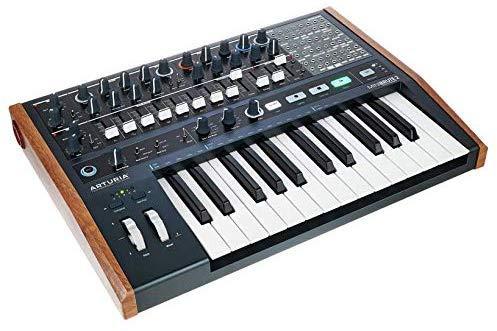 Features
48-point CV patch bay allows you to start playing this synth without having to waste time on patches.
Unique KeyStep-style sequencer that allows you to improvise on your compositions without interrupting your flow.
Set your own rules with virtually unlimited customizations to the various features and settings of this analog synth.
Two analog VCOs with 2 LFO's with sync and one ADSR and one AD envelope come together to create a powerful musical instrument.
Specifications
25-key velocity-sensitive synth.
2 x VCO oscillators and 2 x LFO with sync
Brute Factor and Sweep effects
1/8″ audio input port for external signals.
Additional controllers include pitch bend and mod wheel.
---
Behringer DeepMind 12
The Behringer DeepMind 12 can best be described as an analog polysynth that's capable of creating and delivering any and every note or tune designed to be played on a synthesizer.
This synth is overloaded with features. Analog VCFs, 12-voice architecture, four effects engine, two oscillators and LFOs per voice, an onboard 32-step sequencer and an LCD display are just some of the cool features crammed into this amazing instrument.

Features
49 keys with velocity and aftertouch features enabled help even beginners enjoy a superior playing experience.
Every sound and note generated by this synth is pure analog, which is the closest you can get to real music in today's world dominated by digital creations.
Write and save complex chords and even polychords with up to 12 notes each in the memory locations of this synth. This means you can play huge chords with just a press of a key.
Play around with digital effects or choose to bypass it completely by selecting the appropriate mode in the detailed FX menu of DeepMind 12
Specifications
49-key velocity-sensitive and aftertouch enabled synth.
12-voice analog sound engine with digital effects.
1024 program memories spread over eight banks with 128 programs each.
Numerous effects including reverb, delay, phaser, EQ and Compression.
Additional controllers include pitch bend and mod wheel.
A mini synth may be a small machine but selecting there's nothing small or minor about the decision to choose a good analog synth.
Sale
---
The Final Word on the Best Synthesizers of 2022
Don't let a synthesizer hold back your immense talent. Finding the best synthesizer for you can make a tremendous impact on your musical aspirations! Each of these synthesizers will unlock opportunities for you to create and compose the music only you can imagine!
Was this post helpful?
Let us know if you liked the post. That's the only way we can improve.