A 25-key/mini MIDI controller is the easiest and best way to explore and learn how to compose music on a computer or a digital audio workstation.
Of course, what you learn and how you benefit from this experience will depend a lot on your choice of the MIDI controller. Read ahead for a detailed overview of five good quality and extremely-popular 25-key MIDI controllers in the market.
Looking for a smaller keyboard? Check out our other midi controller buyer's guides:
Top 5 Best 25-Key Mini MIDI Controllers Ranked by Real Musicians
Akai Professional MPK Mini MKII
The 25-key MIDI controller is often considered suitable for beginners seeking to understand, practice and improve their music composition skills.
However, the Akai Professional MPK Mini MKII is so versatile and crammed with so many features that it can easily function as a full-fledged standalone workstation for a professional composer.
This ultra-compact keyboard offers an array of hardware controls that allow you to incorporate virtual instruments and multiple effects in your compositions without any hassles whatsoever.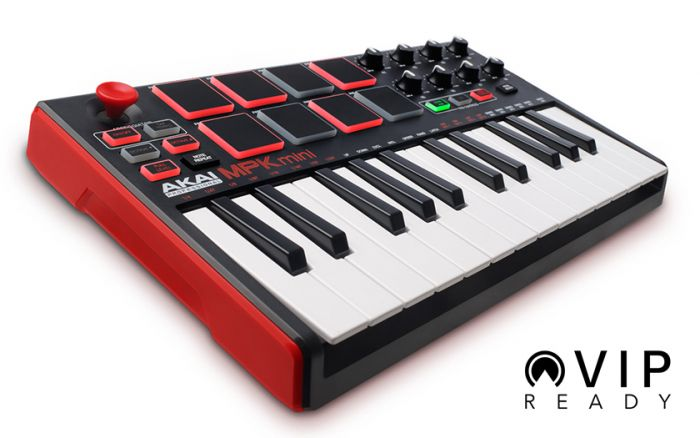 Features
USB-powered device that can easily be carried around in a backpack and can be used anytime and anyplace where musical inspiration strikes.
Versatile instrument with a four-way thumb stick for controlling pitch and modulation and eight backlit pads and eight assignable Q-link knobs.
100% plug-and-play with no additional software or drivers required to use the controller. Use the four in-built memory banks to setup hardware and software presets with the press of a button.
Dedicated buttons for octave control, option to connect a sustain pedal and an onboard arpeggiator for creating intricate compositions in a jiffy.
Specification
25 velocity-sensitive synth-action mini keys.
Pitch-bend/Modulation joystick, Note Repeat, Full Level and Tap Tempo Button controllers.
One 1/4″ sustain pedal input controller.
Bundled with AIR Music Tech Hybrid 3, SONiVOX Wobble and MPC Essentials.
---
Arturia MiniLab MkII
Every 25-key MIDI controller is designed for portability and the Arturia MiniLab MkII is no different.
However, what sets this instrument apart from its contemporaries is the inclusion of around 6,000 sounds from all Arturia software titles. This transforms the MiniLab into a virtual hybrid synthesizer ideal for beginners and professional music composers alike.
Drawing power from your computer or laptop's USB port, MiniLab combines functionality and aesthetics to help you enjoy a superlative musical experience.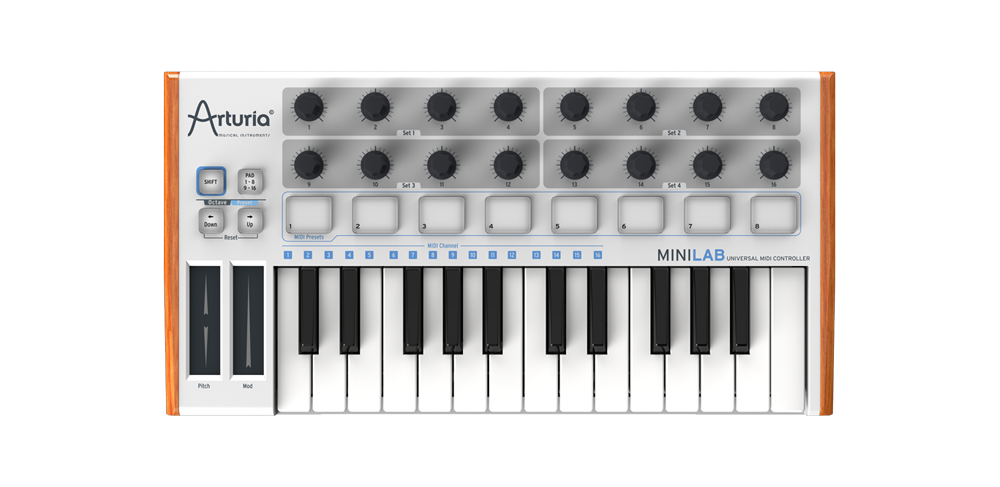 Features
The controller incorporates mechanical action in its keys, which means it is comfortable to play for long durations and yet sturdy enough to withstand the inevitable wear and tear when carried from one gig to another.
Ultra-responsive capacitive touch strips for easy pitch and modulation control and better ability to finetune your compositions.
Pre-map your favorite sounds or vary depth or effects through the 16 full-size rotary encoders. You also have two clickable encoders, which means faster control over your digital audio workstation.
Enjoy an authentic keyboard experience by connecting a sustain pedal to the MIDI controller. Combine this feature with the eight backlit performance pads and create better and more impressive compositions.
Specifications
25 velocity-sensitive synth-action slim keys.
Pitch-bend and Modulation touch strip.
Additional input for sustain pedal.
Bundled with Ableton Live Lite and a free MIDI Control Center software.
No products found.
---
Akai Professional LPK25
Measuring less than 13 inches and weighing less than a pound, the Akai Professional LPK25 MIDI controller is designed to be a great first choice for beginner composers and does its job perfectly.
Unlike other controllers, Akai Professional LPK25 is not crammed with too many features. Instead, it has all the features you need to hone your composing skills and prepare yourself for a professional career in music.

Features
Compatible with virtually all popular audio software applications in the market, including GarageBand, Logic, Cubase, Ableton Live, ProTools, Fruity Loops, Digital Performer and Reason.
Plain-vanilla functionality is boosted by inclusion of controls for octave and tempo along with an arpeggiator for stepping through chords automatically.
Four programmable memory banks allow you to store your preferences without making you over-reliant on automation.
Specifications
25 velocity-sensitive synth action slim keys.
Plug-and-play USB connectivity with no additional adapter required.
Bundled with a music editor software to get you started.
Compatible with all popular DAW applications.
Sale
---
Novation Launchkey Mini
A MIDI controller's utility lies in its features and the extent of integration with software applications. Novation Launchkey Mini is a good choice for those who want a functional controller that offers amazing control over how you create your music.
Launchkey combines a sturdy design, a clutter-free layout with multiple useful features including customizable knobs, touch pads and pitch/mod touch strips. All in all, a must-have option for every talented and ambitious composer.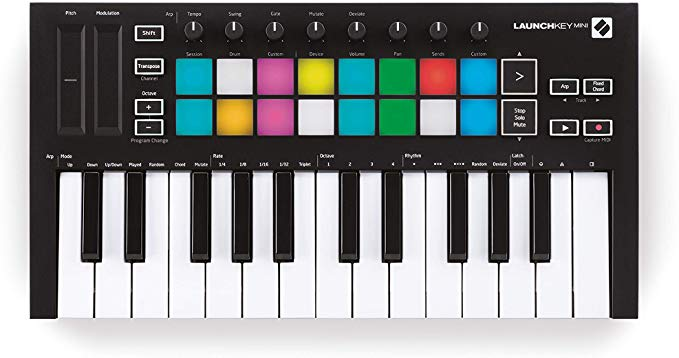 Features
A powerful arpeggiator allows you to create and customize melodies and rhythms on the controller itself while the Fixed Chord mode makes creating and adding fixed chord shapes extremely easy.
Compatible with a wide range of HUI-compatible digital audio workstations including the most popular and reputed applications in the market.
Super-sensitive pads with the standard color feedback feature and two sensitive touch strips for pitch and modulation control make this a powerful and versatile instrument.
Add eight customizable knobs to this mix and you have a MIDI controller that's likely to remain your preferred choice for a long time ahead.
Specifications
25 velocity-sensitive synth-action slim keys.
Pitch-bend and Modulation touch strip.
Additional input — sustain pedal.
Bundled with Novation Sound Collective membership and Ableton Live Lite.
Sale
---
Alesis VI25 | 25-Key USB MIDI Keyboard Controller with 16 Pads
Alesis VI25 looks like a 25-key MIDI controller but all its features combined will give you the feel and performance of a full-size controller offering unlimited scope for exploring your musical creativity.
Integrated with dynamic software applications that make produce, record, and even perform through your DAW, Alesis VI25 gives you full freedom to play bass lines, chords, and create and customize melodies on the move.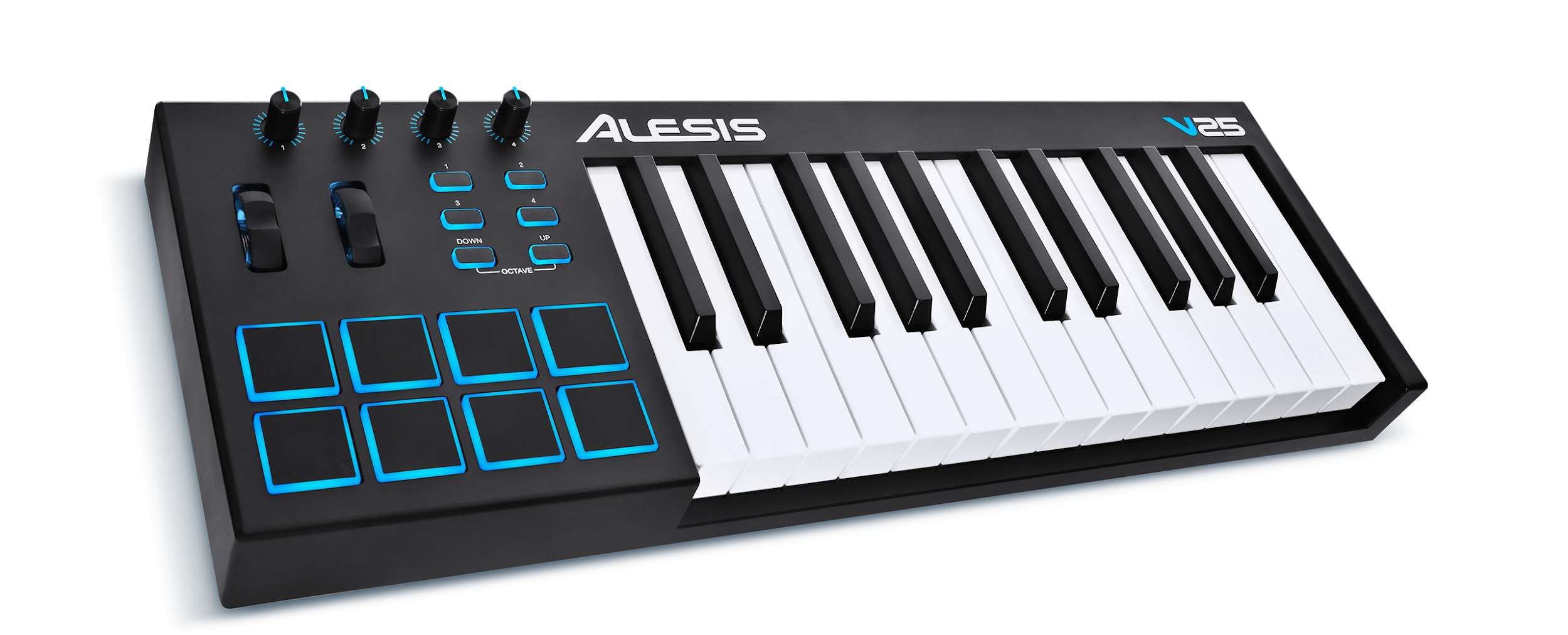 Features
Four easy-to-access and customizable knobs allow you to incorporate and modify effects, virtual instruments or open and close filters in the middle of your performance with just a flick of your wrist.
The controller has eight velocity-sensitive pads that can be used to launch clips or expand your repertoire of instruments. Of course, visual feedback means you will always know what your controller is doing and how it is responding to your commands.
Conventional and highly-trustworthy wheel setup for modifying pitch and modulation through the controller itself.
Specifications
25 synth-action keys.
Pitch-bend and modulation wheels.
Additional input — sustain pedal.
Four knobs and four buttons, all encodable
Bundled with Ableton Live Lite 9 and Xpand!2 by AIR Music Tech.
---
Frequently Asked Questions
How many octaves are on a 25-Key MIDI controller?
A 25-key keyboard has a range of 2 octaves.
Where is middle C on a 25-key keyboard?
Middle C on a 25-key keyboard is the 15th white key from the left.
Is 25-key MIDI keyboard enough for recording?
25-key MIDI keyboards are great for recording. A large portion of producers use 25-key keyboards for looping and layering songs. They are also great for playing bass lines. The downside is that you might not have a large enough range to play up and down more than 2 octaves.
---
The Final Word on the Best 25-Key Midi Keyboard Controllers
As you can see, choosing a good mini MIDI controller is not simple just because you are just a beginner. Choose a controller that has the necessary features for you to push yourself to become better. At the same time, make sure you don't end up with something too complex or intimidating for your current level of musical skills.
Was this post helpful?
Let us know if you liked the post. That's the only way we can improve.