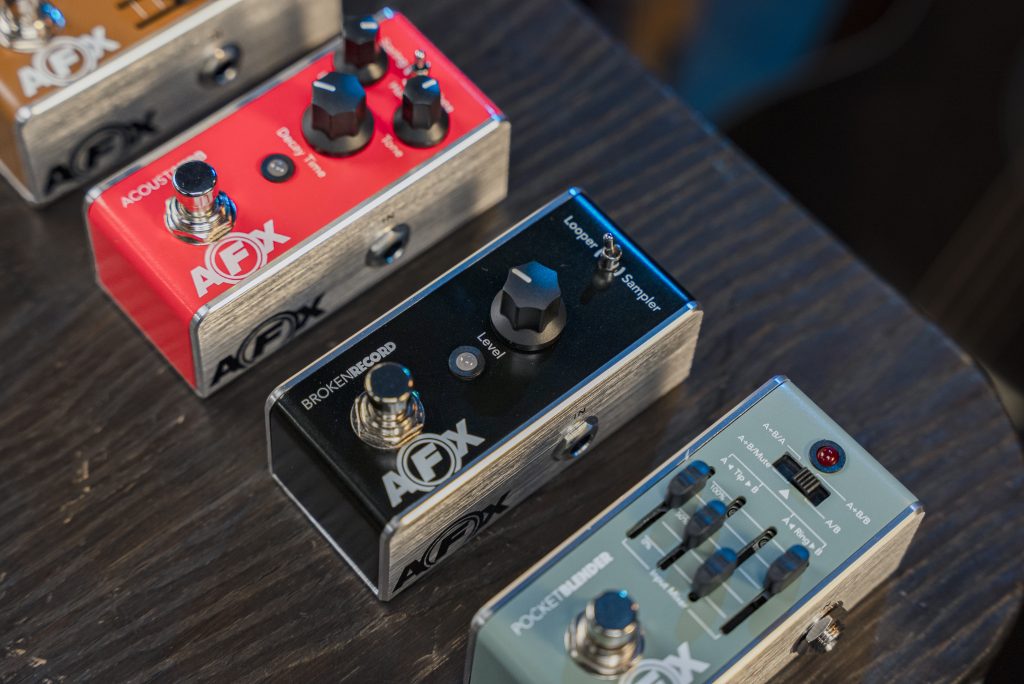 If you're an acoustic guitar player searching for effects pedals to expand your creative palette, you soon realize there aren't many options for effects pedals for acoustic guitar. If you've ever plugged your acoustic guitar into a pedal designed for electric guitar in the spirit of sonic exploration, you know that it destroys your core acoustic guitar tone. Electric guitar effects pedals aren't designed for the expanded dynamic range and frequency spectrum that your acoustic guitar delivers. Thankfully, Fishman AFX Mini acoustic guitar effects pedals are designed to offer creative and inspiring effects that maintain the integrity of your acoustic guitar tone, in a compact and affordable series of mini pedals. From studio quality reverb and EQ to easy looping, AB blending for dual-pickup systems, and more, Fishman AFX Mini Effects Pedals For Acoustic Guitar are the perfect way to enhance your acoustic guitar tone while giving you flexible routing options you'll appreciate at home, in the studio, and performing live. Let's take a look at some of the innovative technology that drives Fishman AFX Mini Pedals, and how you can use them to enhance your sound.
AFX Mini Effects Pedals For Acoustic Guitar — Optimized for Pristine Tone
As leaders in acoustic amplification, Fishman understands how fragile your natural acoustic guitar tone is when subjected to electronics. With the acoustic guitar's impressive dynamic range, wide frequency response, and complex harmonic character, it has as much in common with a piano as it does with an electric guitar. And because electric guitar effects pedals will degrade your acoustic guitar's tone, Fishman designed the AFX Mini pedals to bring acoustic guitar players a range of creative pedals that retain the integrity of your acoustic tone. Parallel processing is a key factor — AFX Mini Effects Pedals For Acoustic Guitar only process a parallel split of your signal, while your core tone always remains uneffected. Whether you're adding lush reverb, looping a chord progression, or boosting for a solo, AFX Mini pedals add a new layer to your sound without changing your sonic signature. Factor in Fishman's mastery of acoustic guitar amplification and electronics in general, and there's no doubt that AFX Mini pedals will treat your acoustic guitar tone right.
Innovative Dual Path Audio Technology
While you don't actually need to understand Fishman's Dual Path audio technology to enjoy AFX Mini Effects Pedals For Acoustic Guitar, you should know that it's an innovative technology that can offer some big creative benefits.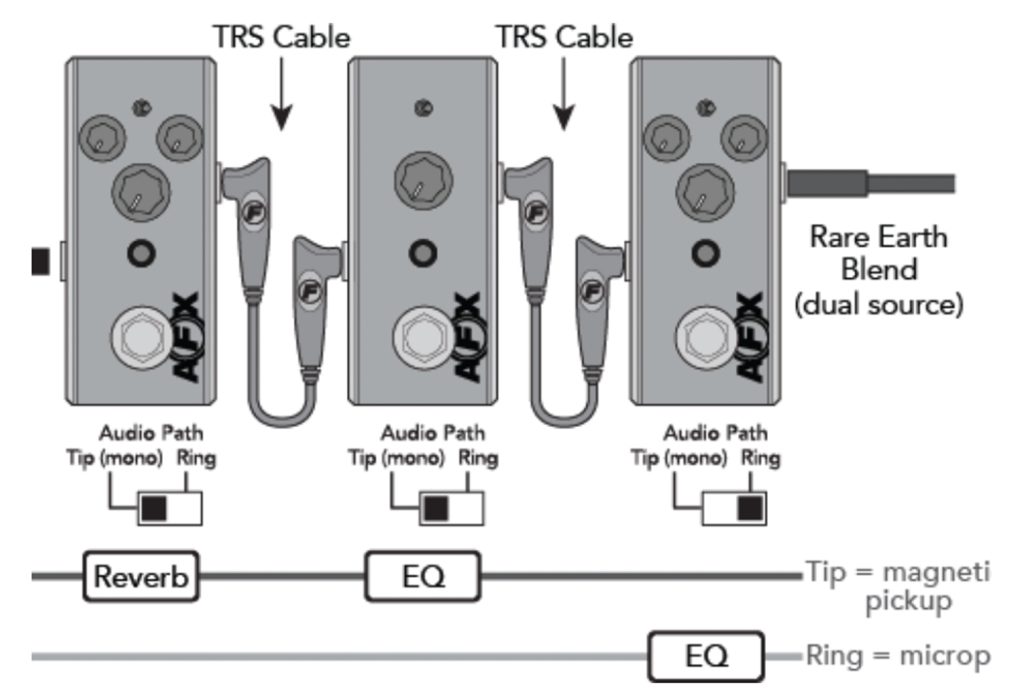 While all AFX Mini pedals can be used with standard guitar cables, you can also use "stereo" TRS cables to create two independent effects chains with a single series of cables. The AFX Pocket Blender is an integral part of the Dual Path system, allowing you to create different effects blends from parallel paths and switch between them freely. Even if you just use standard instrument cables with AFX Mini pedals, you'll enjoy superior acoustic guitar effects that respect your core tone. Just know that AFX Mini pedals can offer you even more creative opportunities when you tap into their Dual Path audio technology.
AFX AcoustiVerb — Studio-Quality Reverb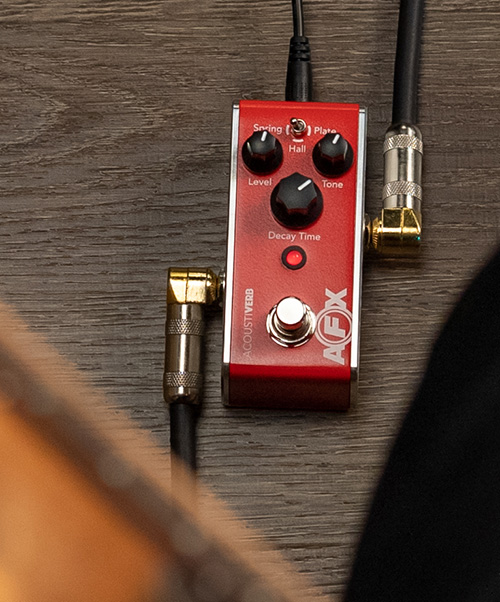 The Fishman AFX AcoustiVerb mini reverb pedal offers three classic reverb styles, optimized for use with acoustic guitar. A single level knob adds the reverb effect to your sound without overwhelming your dry signal, while a tone knob adjusts the high frequencies of the reverb tail to balance it with your guitar tone. Use the Decay Time knob to dial in everything from short room-style reverb to long washes of ambience. Reverb modes include Hall (for the sound of a lively acoustic space), Plate (recreating the smooth wash of studio plate reverb), and Spring (emulating the unique sound of vintage spring reverb units), giving you big sonic range to explore.
Until now, acoustic guitarists haven't had a lot of options for enhancing their tone with studio-quality reverb in a simple pedal format. The AFX AcoustiVerb offers a compact and affordable solution whether you're performing live or playing at home. And with Fishman's Dual Path audio technology, you can get even more creative by creating a parallel reverb effects chain that you can then layer with other effects.

• Studio-quality reverb effects designed specifically for acoustic guitar
• Hall, Plate, and Spring modes offer a wide range of classic reverb effects to enhance your sound
• Footswitch can be set to allow reverb tails to decay naturally, or mute abruptly

AFX Broken Record — Looper and Sampler
While a simple looper pedal offers so much performance potential to a solo acoustic guitarist, you'll be hard-pressed to find one that doesn't degrade your tone. Even if you only want to use a looper pedal for practice or enjoyment at home, you won't enjoy the tone you hear if you're not using a looper pedal designed for acoustic guitar. The Fishman AFX Broken Record pedal packs looping and sampling in a compact pedal that maintains the nuance of your acoustic tone, and it couldn't be any simpler to operate. In Loop mode, press the footswitch to begin recording, and press again to complete your loop. Pressing the footswitch again allows you to overdub on top of your loop. Sample mode is similar, except your recording will not loop after recording — press the footswitch at any time to play your recorded sample.
You can also use Fishman's Phrase Transfer software to load a pre-recorded audio file (up to six minutes long) into the AFX Broken Record, allowing you to load up a backing track to play over for practice or solo performance.

• Compact looper and sampler pedal optimized for acoustic guitar
• Simple to use, with a single footswitch to control recording, loop playback, and overdubbing
• Use Fishman Phrase Transfer software to pre-load AFX Broken Record with a backing track to play over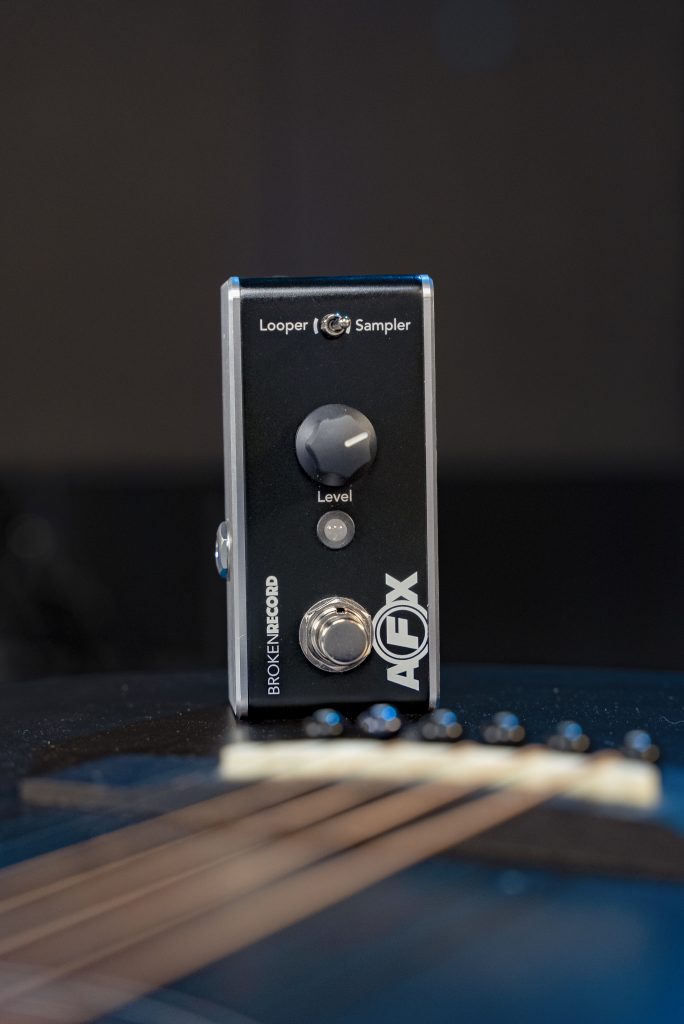 AFX Pro EQ Mini — Preamp and 5-Band EQ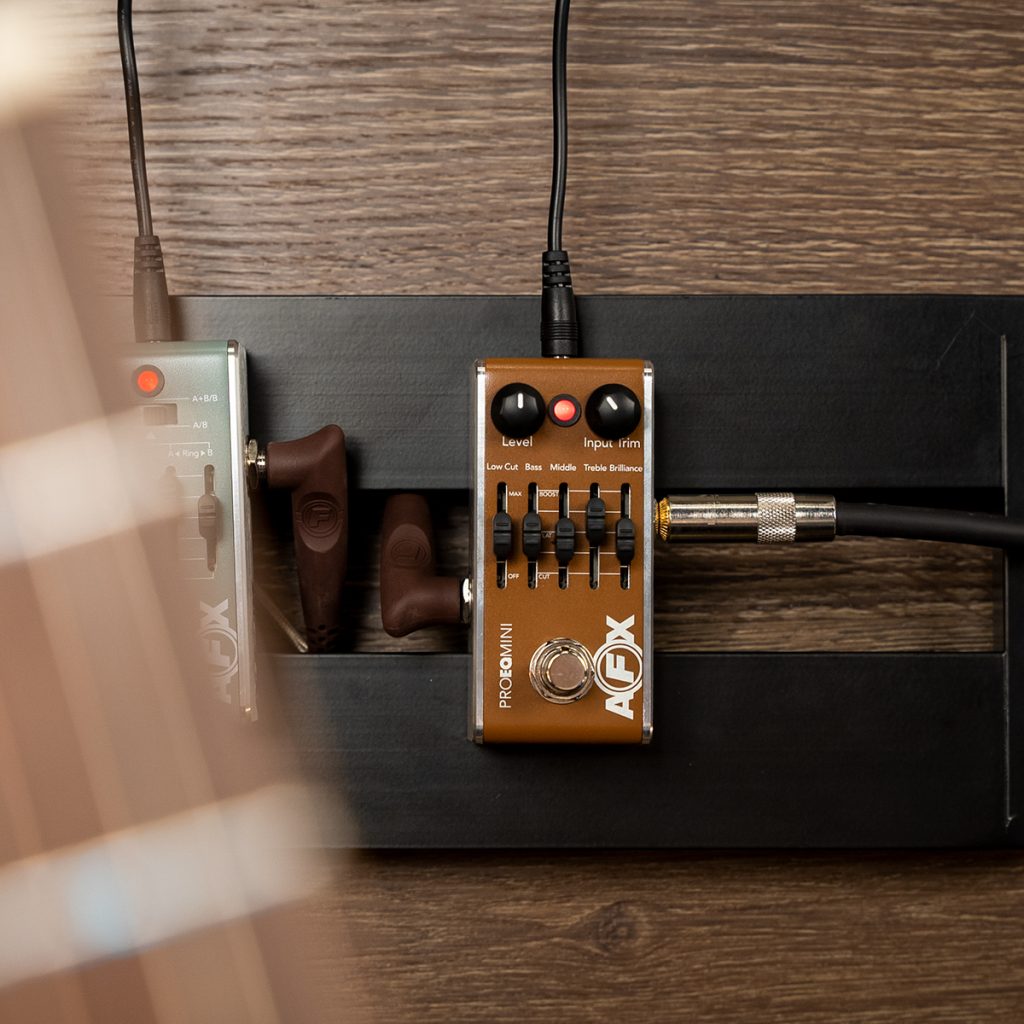 Your acoustic guitar's complex harmonic content and wide frequency range means a good EQ can provide endless options for tone shaping. The Fishman AFX Pro EQ Mini is equipped with a premium analog pre-amplifier with up to 20dB of gain, and impedance matching for most passive, active, and magnetic acoustic pickups, making it an outstanding front end for any acoustic guitar.
The 5-band graphic EQ gives you comprehensive control over your sound, with frequencies thoughtfully chosen that make it easy to remove muddiness, tighten bass response, add mid-range bite or created scooped tones, enhance clarity, and reduce finger noise. On top of high-quality pre-amplification and tone shaping, the AFX Pro EQ Mini offers an easy way to reverse your signal polarity to fight feedback from an acoustic guitar amplifier. You can also program the footswitch to mute your signal entirely instead of just bypassing the circuit, which could be useful if you perform live without a tuner pedal.

• Premium analog pre-amplifier with 20dB of clean gain
• 5-band graphic EQ give you comprehensive control over your entire tonal spectrum
• Phase switch can help fight feedback when playing near your acoustic guitar amplifier
AFX Pocket Blender — A/B Mixer, DI Output, and More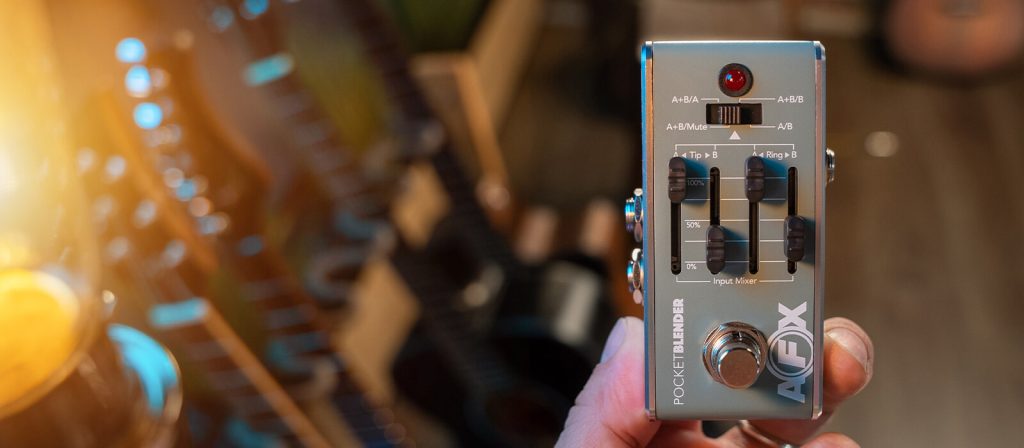 The Fishman AFX Pocket Blender pedal is a powerful little tool that can be many things to different acoustic guitarists. At its core, the AFX Pocket Blender is a two-channel mixer that's perfect for blending the outputs from a dual-pickup system like Fishman's PowerTap Earth, Matrix Infinity Mic Blend, and Rare Earth Mic Blend systems. The AFX Pocket Blender builds on the concept by offering separate "A" and "B" mixes which you can toggle with the footswitch to shape your sound for different songs, or to add a boost for solos. The ABY output gives you an easy way to split your signal, or to connect to one or two amplifiers on stage. And because the AFX Pocket Blender is equipped with a DI output featuring Fishman's balanced line driver circuit, you can send your sound directly to the house system with no sonic compromises.

The AFX Pocket Blender pedal also unlocks the full potential of Fishman's Dual Path audio technology. Once you've created a parallel effects path with your other AFX Mini pedals, the AFX Pocket Blender allows you to create two different mixes you can toggle between, with "A" being your dry signal and "B" being your effects signal. This makes it possible to boost your reverb in the mix for a slow song intro, lower the level of a backing loop while you talk to the crowd, un-scoop your mids for a solo, and so on, depending on which AFX Mini pedals you're using. So while the AFX Pocket Blender pedal is a powerful AB mixer and quality DI at its core, it also offers huge creative benefits when you tap into Dual Path audio technology.

• Two-channel mixer is perfect for balancing dual-pickup systems like Matrix Infinity Mic Blend
• Separate A and B mixes allow you to toggle between two different two-channel mixes
• Premium DI output featuring Fishman's acclaimed balanced line driver circuit
• Also serves as a compact ABY to split your signal to dual amplifiers
• Unlocks the full potential of Fishman's Dual Path audio technology when used with other AFX Mini pedals
AFX Mini — Compact and Affordable Effects Pedals, Optimized for Acoustic Guitar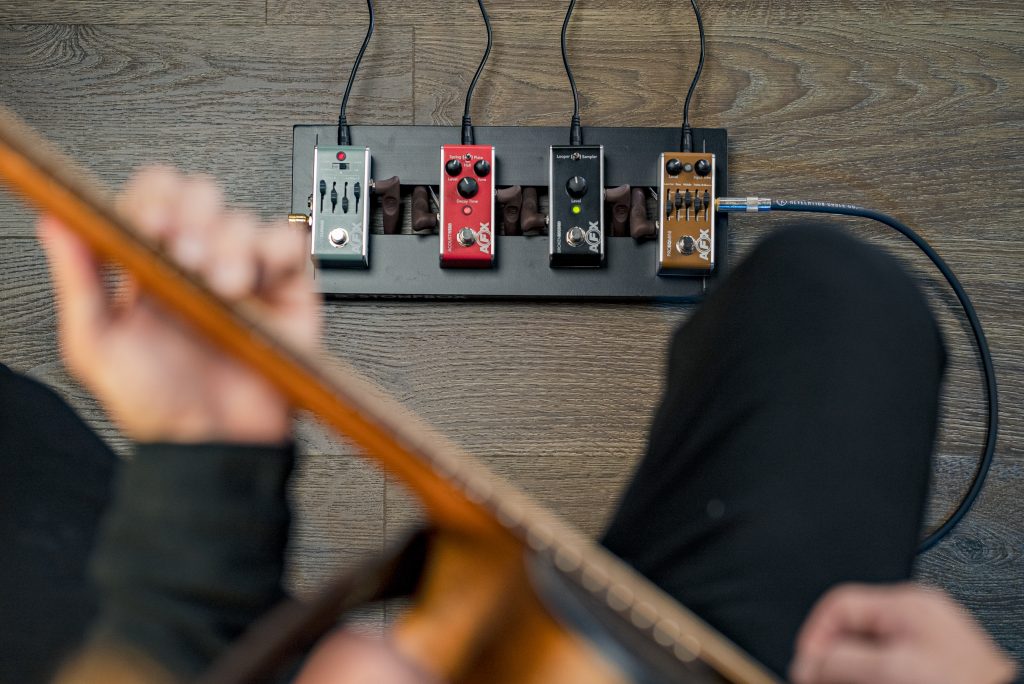 If you've ever wanted to enhance your acoustic guitar tone with effects pedals, and have been disappointed by the lack of pedals designed for acoustic guitar, you should be excited about the Fishman AFX Mini Effects Pedals For Acoustic Guitar. Fishman has long been a leader in acoustic amplification and knows exactly what it takes to create acoustic guitar effects pedals that maintain the complex dynamic and harmonic nuances that make up your signature tone. Across the range of AFX Mini pedals you'll find must-have solutions for playing out live, studio-quality effects that will inspire any player, and powerful performance tools that unlock new creative potential, all packed into compact and affordable stomp-boxes that maintain the integrity of your acoustic tone. Try an AFX Mini pedal with your acoustic guitar, and you'll know why so many electric players have a "pedal problem"!
Want to learn more about guitar effects pedals? Check out these informative articles:

HOW FILTHY CAN A DISTORTION PEDAL GET? MEET THE GAMMA HADES METAL DISTORTION PEDAL

CAN THE GAMMA ATLAS BOOSTED OVERDRIVE BE YOUR ALWAYS-ON DRIVE PEDAL? TOP INFLUENCERS PUT IT TO THE TEST
Was this post helpful?
Let us know if you liked the post. That's the only way we can improve.