Talent and creativity matter but your choice of the best DJ controller can have a significant impact on the evolution of your mixing and DJing skills. Read ahead for an overview of some of the best DJ controllers available in the market for amateur DJs seeking to upgrade their skills to the professional level.
Looking for record players? Check out our other buyer's guides:
Best DJ Controllers for Beginners and Pros Ranked By DJs
---
Pioneer DDJ-1000 4-Channel DJ Controller
Very rarely does one find a product that's significantly better and considerably less expensive than the brand's flagship product. Happily, the Pioneer DJ DDJ-1000 is a comprehensive upgrade over contemporary DJ controllers that's much lighter on your pocket. The DDJ-100 is an industry-standard and highly regarded as one of the best DJ controllers in 2021.
The Pioneer DJ DDJ-1000 sports an intuitive layout with all features like the jog wheels, performance pads, fader sliders, and other controls for effects and track control facilitating a smooth DJ experience.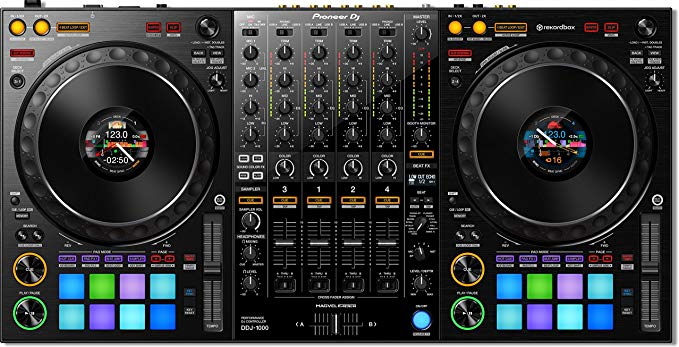 Features
Top-notch build quality combined with lightweight design makes it an ideal choice for mobile gigs as well as professional tours.
Versatile Pad Scratch feature allows you to add scratch effects and patterns to current as well as cued songs with the press of a button.
Master song transitions like a pro with the FX fade feature offering eight combinations to blend tracks smoothly without worrying about BPM mismatch or loss of rhythm.
On-board sound card means connecting the Pioneer DJ DDJ-1000 to your computer is a standard plug-and-play experience.
Specifications
24 bit/44.1 kHz sound card.
20 – 20 KHz frequency range.
128 mm durable aluminium jog wheel.
Input- One 1/4″ jack microphone and one USB B port.
Output- One RCA Master and One Headphone monitor mini jack.
---
Pioneer DJ DDJ-SB3 2-Channel DJ Controller
Designed for beginners, the Pioneer DJ DDJ-SB3 strikes the right balance between being easy to use and, simultaneously, challenging you to explore your creativity and sharpen your mixing skills. We really recommend this one as the best DJ controller for beginners.
A sturdy plastic body encases all standard features and components that a professional DJ is expected to master.
The jog wheels, multiple input-output options, traditional effects at your fingertips and suitably-located performance pads and loop section are easy to master, leaving you free to give vent to your creative mixing ideas.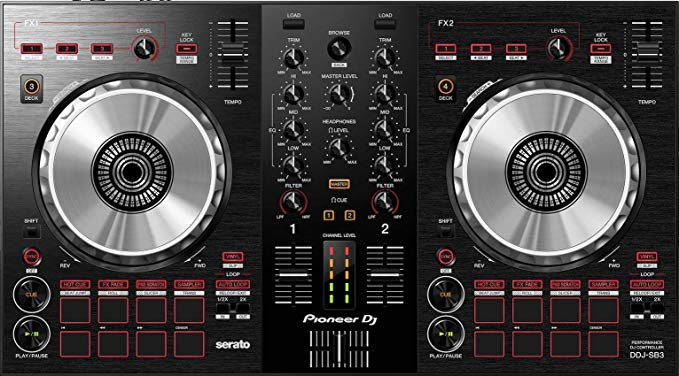 Features
Option to customize pre-crafted scratch patterns to add scratch effects to tracks with the press of the Pad Scratch button.
Clear visual division between the player and mixer sections, which makes it easier for an amateur to master the various features and functions of this versatile tool.
Option to upgrade to Serato DJ Pro software for access to additional features like Slip mode, Beat Jump and Hot Cues.
Dedicated mic input slot for distortion-free audio even at high levels of audio input.
Specifications
24 bit/44.1 kHz sound card.
20 – 20 KHz frequency range.
128 mm durable aluminium jog wheel.
Input- One 1/4″ jack microphone and one USB B port.
Output- One RCA Master and One Headphone monitor mini jack.
Pioneer DJ DJ Controller, Black, (DDJSB3)
Intuitive layout, all of the features were designed to be where you need them, when you need them
Add scratch effects to cued and currently playing songs without a turntable thanks to Pad Scratch
Mixing is Seamless with the FX Fade feature .5 inch durable aluminium jog wheel. Weight-4.6 pounds
---
Pioneer DJ DDJ-SR2 Portable 2-Channel DJ Controller
The Pioneer DJ DDJ-SR2 controller improves upon the popular Pioneer DJ DDJ-SR to provide more power, better performance and better features in your hands.
This controller can work as a standalone mixer or can be connected to a computer like a basic controller or even paired with a turntable for a more versatile performance.
Attractive features like multicolored tactile performance pads and large low-latency jog wheels combine with dual level meters, a LCD screen and touch-based track search options to help you create a memorable DJ performance.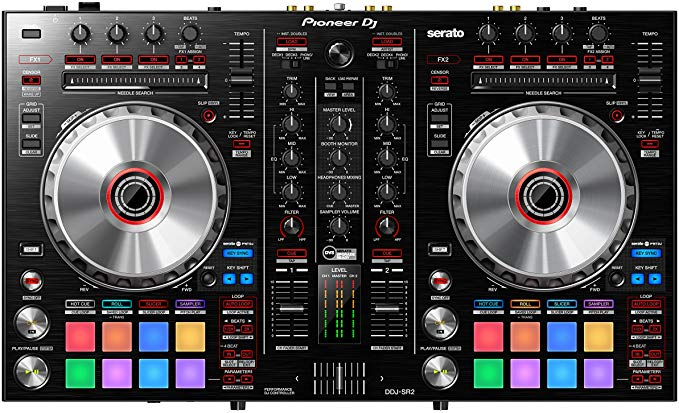 Features
Multi-colored performance pads for triggering features like Hot Cues, Roll and Sampler with visual feedback indicating selection and playing status.
Versatile connectivity features allowing the controller to be paired with a professional PA system without interrupting the mixing functionality.
Pair the controller with external turntables or media players and control audio using trims, equalizers and the channel faders.
Touch-enabled needle search feature allows you to search and jump to any part of the sound track with just a finger touch.
Specifications
24 bit/44.1 kHz sound card.
20 – 20 KHz frequency range.
1280 x 720 display screen
Input — Two RCA Phono/Line, one 1/4″ jack microphone and one USB B port.
Output — Two RCA and XLR Master, one Booth and two headphone monitors.
---
Denon DJ MC4000
Two decks, a premium 24-bit sound card, dual microphone inputs, and in-built studio-grade echo effects are some features that set the Denon DJ MC4000 apart from other DJ controllers in the market.
Dedicated sample pads and hot cues, touch-activated jog wheels, clutter-free layout and built-in FX features like ducking and echo effect allow you to unleash your creative skills for a superlative DJ performance at all times.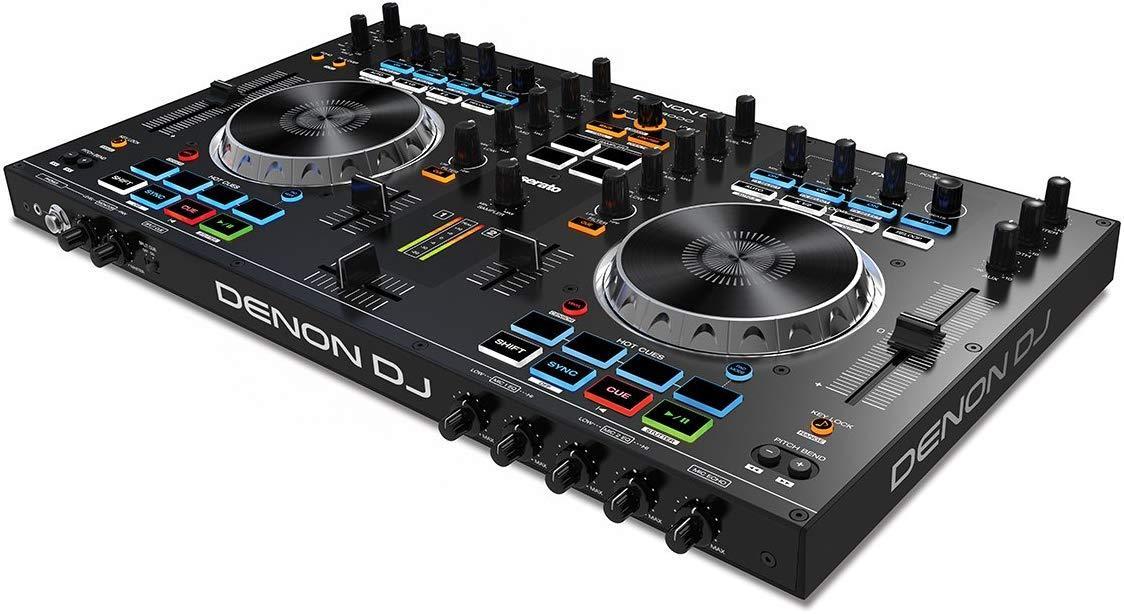 Features
Touch-activated jog wheels for easy deployment of scratch effects and quick track cuing.
Spacious and clutter-free layout for optimized workflow during professional performances.
Pro-grade steel body assures durability and protection from rough usage without impairing portability.
Compatible with Serato DJ Intro, Traktor 2, Virtual DJ 8 and any other DJ application supporting MIDI mapping.
Specifications
24 bit/44.1 48 kHz sound card.
20 – 20 KHz frequency range.
Input- Two balanced microphone inputs
Output- Two XLR and one RCA Master, two Booth and two headphone monitors.
---
Numark Mixtrack Pro 3
Numark Mixtrack Pro 3 is designed to raise your amateur DJing skills to the next level and achieve musical creativity and mixing expertise expected only from professional DJs.
Top-notch features of this DJ controller include visually-stunning five-inch metal jog wheels, mixing capabilities over two channels with independent filter and gain controls for each channel and high-resolution audio output.
The crossfader and mixer filters combine with the multifunction touch strip and backlit performance pads to create the perfect platform to showcase your ever-improving audio mixing skills.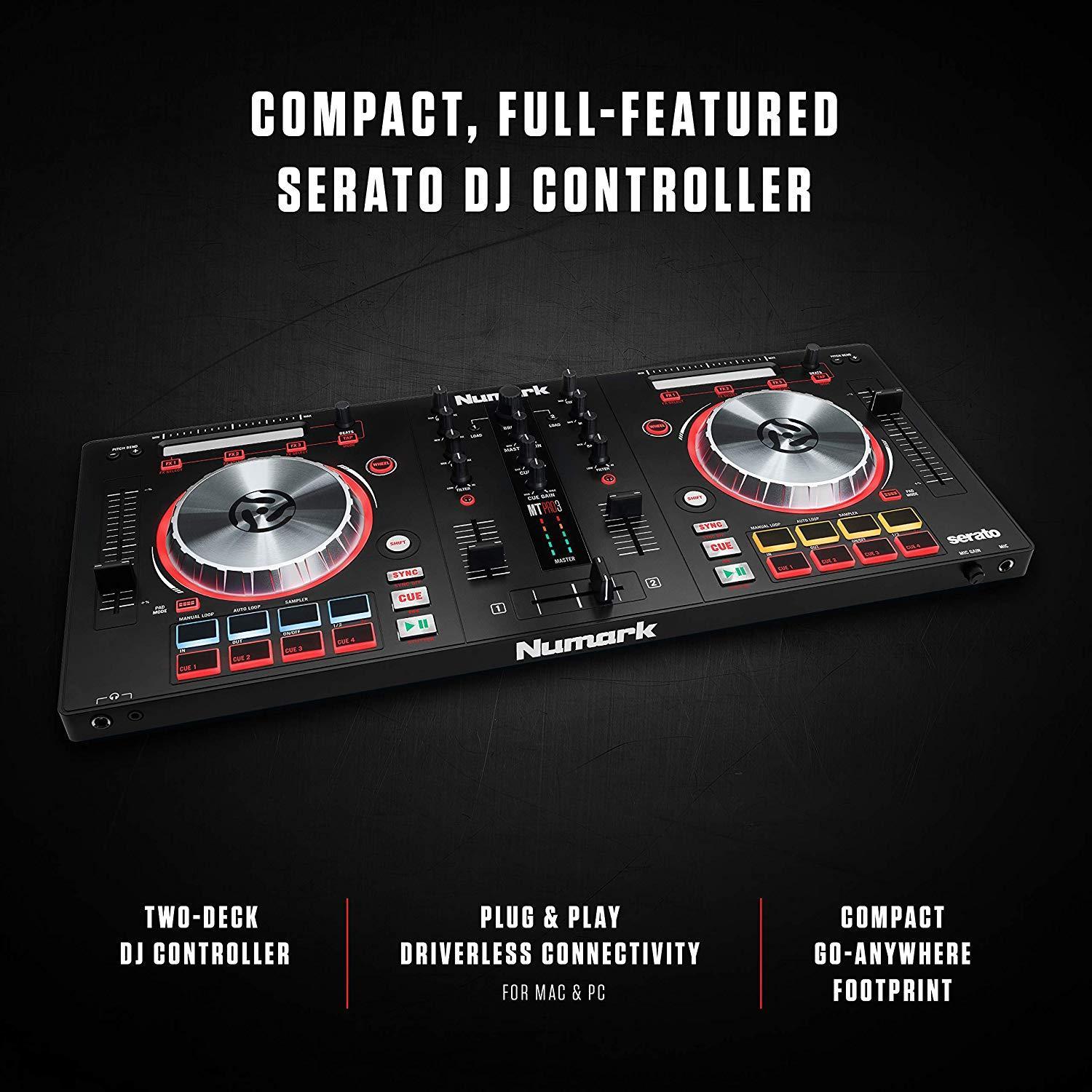 Features
Pre-installed premium content from Prime Loops offering six sample packs containing close to 400 instrumental loops, drum kits, one shots and many other customizations.
Pro-level on-board audio interface along with two dedicated headphone outputs allowing you to create a smooth interface between the mixer, powered speakers, recorders and your headphones.
Multiple pad modes, auto and manual looping and sample playback features to help you hit the right note at every performance.
Specifications
24 bit/44.1 sound card.
20 – 20 KHz frequency range.
Input- One microphone input.
Output- One RCA unbalanced output and two headphone monitors.
Five-inch high-resolution jog wheels.
---
The Final Word on The Best DJ Controllers for 2021
Give your creativity and talent a fair chance by equipping yourself with the right DJ controller. Beginners can consider machines that come with access to samples and premium content while more experienced DJs can focus on features and functionality instead.
The five controllers described above are a good shortlist for you to research and identify the best machine to boost your DJing ambitions.
Was this post helpful?
Let us know if you liked the post. That's the only way we can improve.