When it comes to choosing your first electric guitar, you might have a variety of ideas and brands to look into and you want to ensure that you pick one of the best electric guitars out there. If you're a beginner who has just decided to set a foot in your musical journey, well, you've got a wide array of brands and styles which can make things quite confusing for you. That's what we're here to help you with this article. We've curated a carefully selected list of highly-functional best electric guitars under 500 dollars and their reviews, we've got some assistance from our side to help you find your perfect beginner's electric guitar.
Checkout our guides to learn more about electric guitars:
5 Best Electric Guitars under 500 Ranked by Guitarists
---
Epiphone SG Special

The Epiphone SG Special is the epitome of musical instruments for rock music. Crafted with twin open-coil Humbucker pickups and the Tune-o-matic bridge/Stopbar tailpiece, this one of kind electric guitar is what most beginners prefer to elevate their musical journey. Designed in a fully-carved SG body, the SG Special series is a perfect amalgamation of devilish looks and sturdy performance.
The Epiphone SG Special has marked its place as a favorite and most desired rock guitar of all times. Crafted with simple basic controls, this electric guitar is the perfect pick for beginners. Whether you want to shatter the stage with your chords or scream your tune in the solos, the SG Special series from Epiphone fits the bill as the best electric guitar you could ever have.
Features
Crafted with an integrated killswitch/tone pot.
LockTone Tune-o-matic bridge and Stopbar tailpiece for convenient string changing.
Chrome hardware and rosewood fingerboard for a stylish appeal.
Specifications
Scale: 24.75″
Nut Width: 1.68″
Neck: Bolt
---
Yamaha Pacifica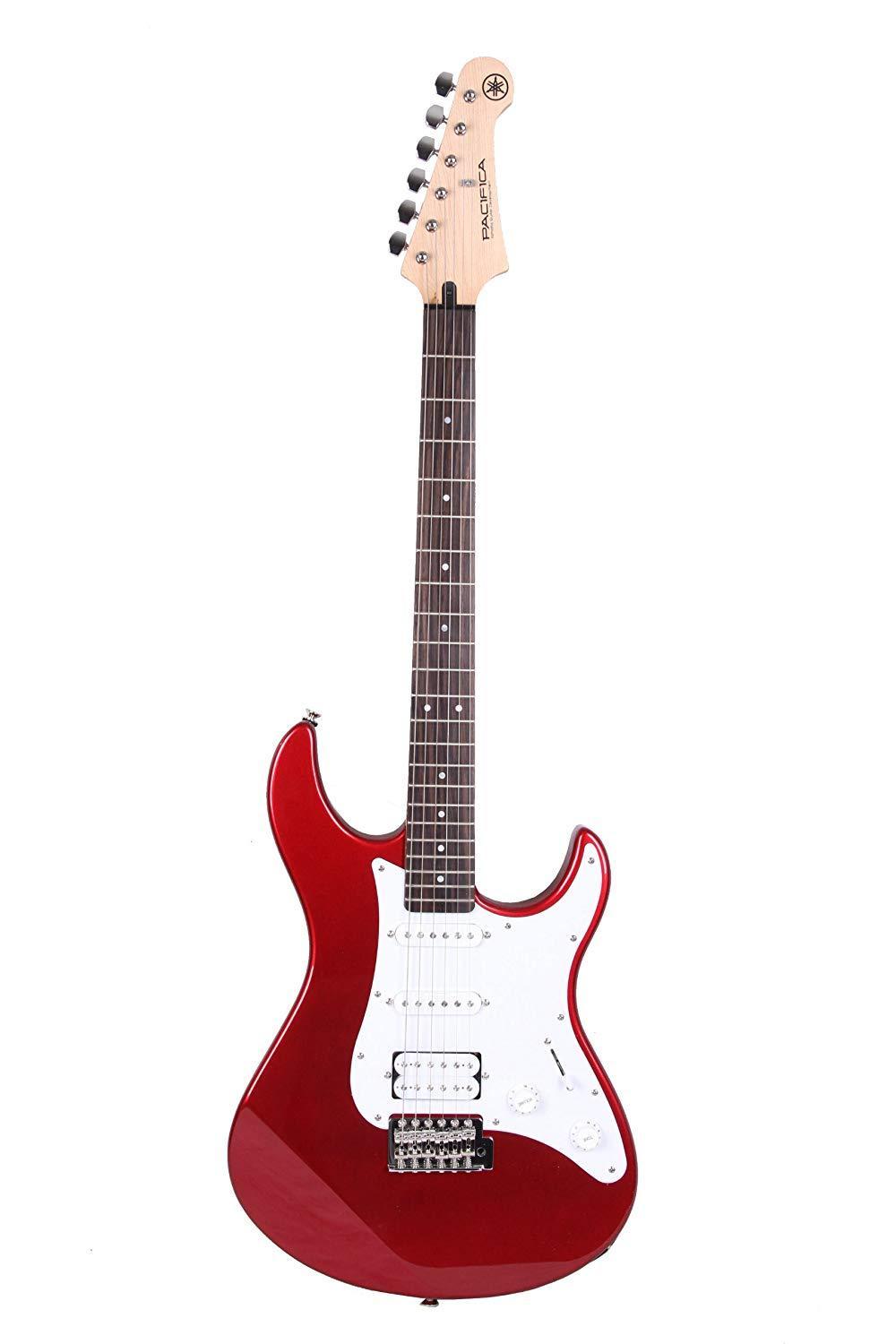 The Yamaha Pacifica is a terrific example of a professionally-designed electric guitar, made especially for the modern music lover like you. Unlike any other model, the Pacifica series features a Strat-style twin-cutaway body built with more curvy and edgier sides. Furnished with a solid agathis body, the Yamaha Pacifica is covered in a high-gloss finish, adding a modern theme to a vintage-inspired look.
Just like other Strat-style guitars, the Pacifica series features a 25.5-inch scale length and a sturdy bolt-on neck. The body of this amazing electric guitar is finished with maple and is topped with a fretboard, making it an affordable pick. While the playability is too good for a budget guitar, the satin-finished neck feels right and overall, the Yamaha Pacifica is a commendable electric guitar for beginners.
Features
Agathis body and fingerboard- rosewood finish for long-term durability.
Vintage-style Tremolo
Power-packed with machine heads-Chrome Tuners, Frets-22.
Specifications
Brand: Yamaha
Model: PA012RM
Weight: 3.4 kilograms
---
Ibanez GRX70QATBB Electric Guitar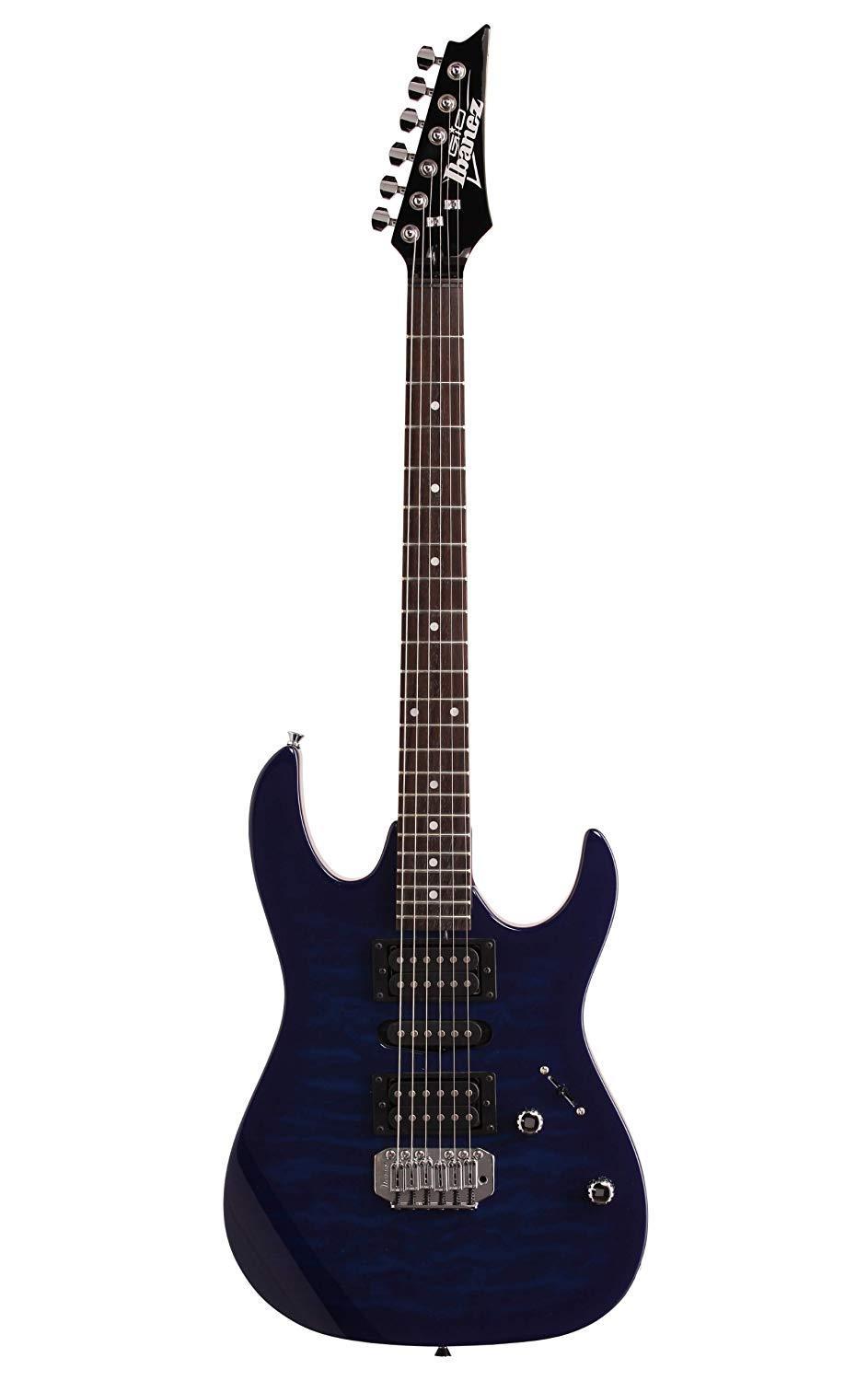 Crafted with quality, the Ibanez GRX70QATBB Electric Guitar is an affordable pick you've been looking for. The Ibanez GRX70QATBB series is one of the best electric guitars that feature a stylish body, maple neck and pine fretboard furbished in a solid tone. The neck, middle and bridge infinity pickups featured in the GRX70QATBB series help you to bring your killer tone with an amplified musical attack.
If you're a beginner who loves everything from the warm and clear sounds of the country to the rugged sounds of rock and metal, then the Ibanez GRX70QATBB is the best electric guitar you could swear by. Its FAT 6 tremolo bridge is always ready for any tune you string. Whether you love to immerse your audience in the 50s-era dips or the jazzy metal dives, the GRX70QATBB series from Ibanez is always tuned and ready to adapt to your rhythm.
Features
GRX maple neck paving the way for smooth playability.
Quilted maple art grain top and poplar body for solid-toned finish.
Treated pine fretboard is too easy on the fingers while shredding.
Specifications
Model: GRX70QATBB
Weight: 3.63 kilograms
Guitar Bridge System: Tremolo
---
Danelectro '59 Electric Guitar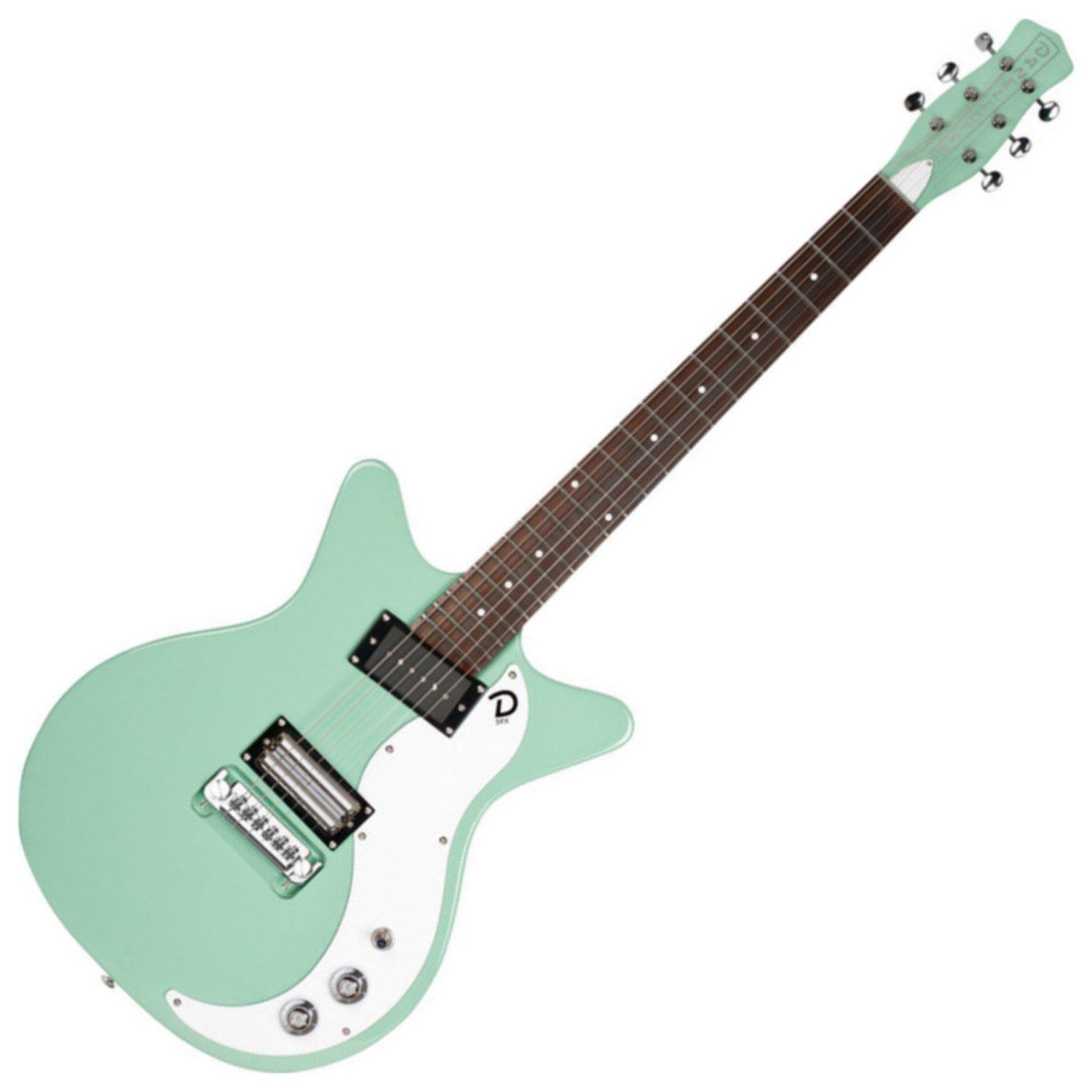 The Danelectro '59 Electric Guitar is a perfect combination of stylish looks and metallic tones. The 59X Shorthorn series features a Masonite top with hollow inner chambers and finished with tonewood snobs for added looks and comfort while tuning to your favorite rock melody. Crafted with signature three-on-a-side headstock shape and die-cast chrome volume, the Danelectro 59X Shorthorn is a great electric guitar for beginners.
Embodied with stunning color selections and humbucking pickup, picking and dropping a pitch wouldn't have been this fun and entertaining. If you're a beginner who loves the classic looks fused with versatile and modern performance, then the Danelectro '59X Shorthorn Electric Guitar Bundle is what you're looking for.
Features
2 stacked tone and volume controls
3-way pickup selector
Double cutaway
Specifications
Brand: Danelectro '59 Electric Guitar
Weight: 6 pounds
Color: Light Aqua
---
Epiphone Les Paul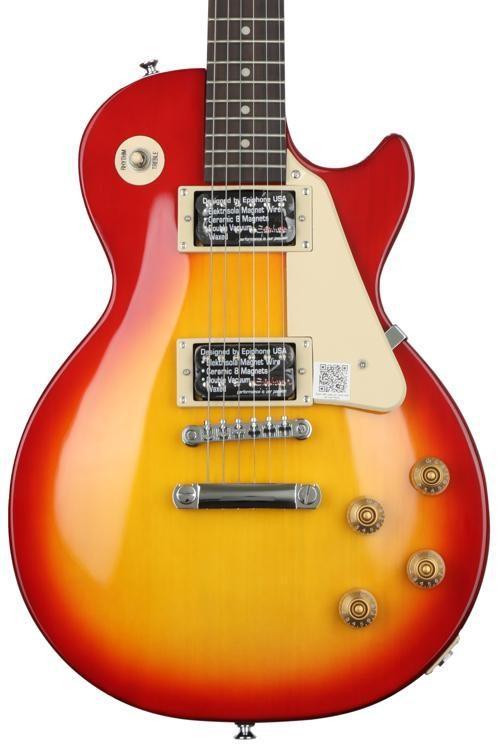 Designed in a solid body finish with a bevy of features, the Epiphone Les Paul is the heartthrob of many professional guitarists and beginners. The Les Paul 100 series is adorned with a heritage cherry sunburst tone, making it one of the stylish electric guitars that feature a fusion of classic and modern makes. Its slimmer body paves the way for a comfortable grip, making it a very playable electric guitar of all times. With plenty of output and blasting leads, the Epiphone Les Paul 100 tunes up to your taste and preference.
Its lightweight design is a perfect fit for beginners who love to try out their rock music and classic tunes. If you're looking for an affordable electric guitar packed with plenty of amazing features to start your musical journey, then the Epiphone Les Paul 100 is definitely the ideal guitar you're looking for.
Features
Astonishing electric guitar at a budget-friendly price.
Mahogany body and okoume neck for rich output.
LockTone Tune-o-matic bridge paves the way for easy adjustments for better tuning performance.
Specifications
Brand: Epiphone Les Paul
Color: Heritage Cherry Sunburst
Body Type: Solid body
Sale
Epiphone Les Paul Special Satin E1 (Heritage Cherry Sunburst)
This guitar has a Poplar body with a sleek look thanks to the Vintage Worn finish and no binding on...
The Les Paul VE has a comfortable and fast Mahogany bolt-on neck with a 1960s Slim Taper D profile....
It's also loaded with Epiphone's world famous open-coil humbuckers with a warm 650R in the neck...
---
The Final Word on The Best Electric Guitars under 500
Starting your musical adventure as a guitarist might be an exciting moment you've always been looking forward to. But it is always worth the while to buy the best electric guitar to elevate your passion for unbound heights.
If you're looking for a sturdy electric guitar with features that help you withstand your musical passion for lifelong, then famous brands such as Epiphone SG Special, Yamaha Pacifica, and Ibanez GRX70QATBB are the best choices you could rely on without a second thought. Electric guitars from Danelectro and Epiphone Les Paul are also ideal if you want a life-long commitment with rock music and jazzy classic tunes.
Overall, any beginner electric guitar from our carefully assorted list is a fabulous choice to cultivate a harmonious musical career as a beginner.
Was this post helpful?
Let us know if you liked the post. That's the only way we can improve.