If you're someone who uses your laptop or PC to make music, you might not know how beneficial an audio interface can be to your music production. If you're totally new to audio interfaces, please check out our in-depth audio interface guide.
Why? For the uninformed, an audio interface lets you make high-quality audio, whether you're playing it on your system or an external one and whether it's connected to studio gear or not.
Looking for some cheaper audio interfaces, Check out our article: Best audio interfaces under $200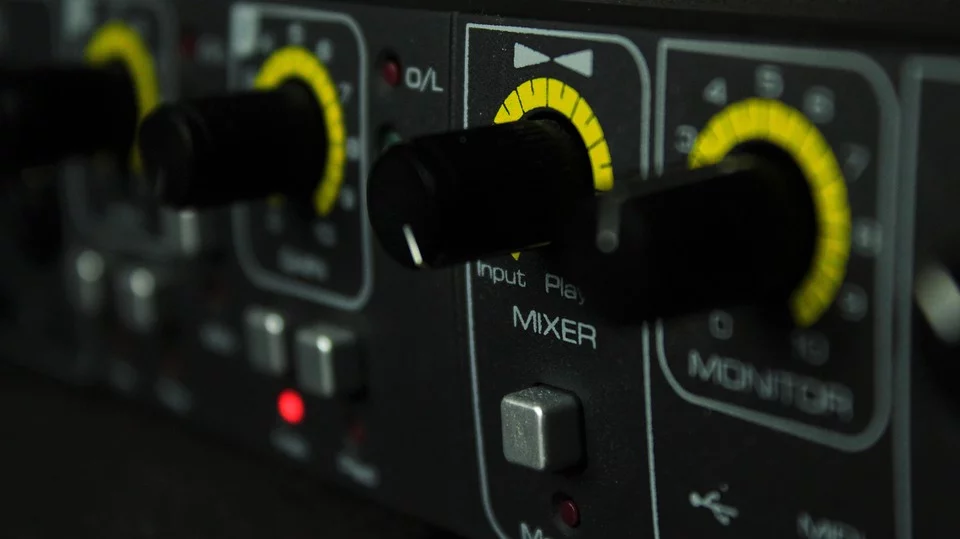 With an audio interface, you enjoy quite a bit of diversity – you can plug in guitars, microphones, synthesizers and any other compatible instrument, including MIDI equipment.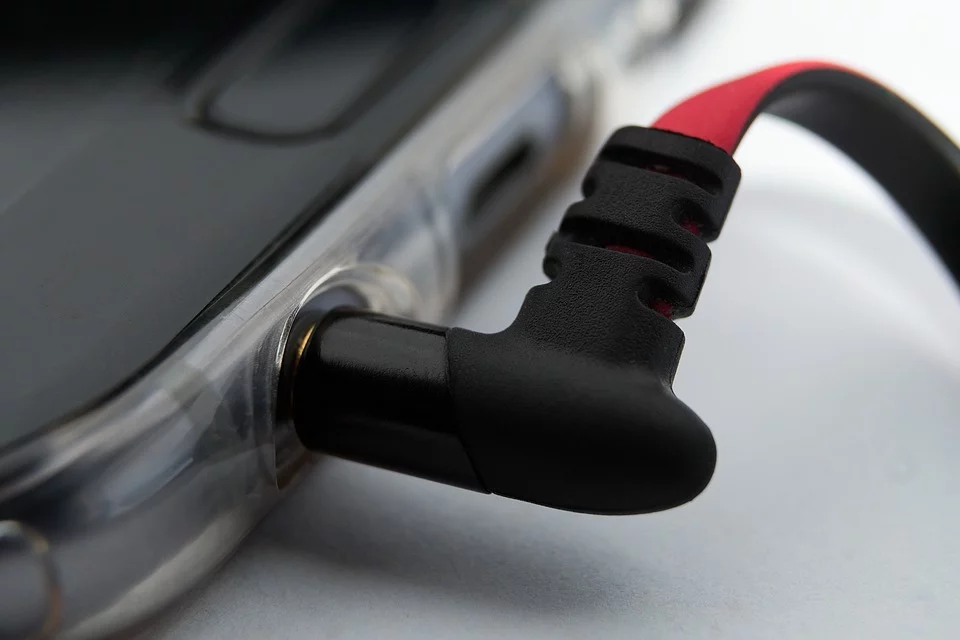 Additionally, audio interfaces help you capture vocals perfectly and play them back through your monitors or systems.
If you're a beginner, you may just end up being overwhelmed by the tons of audio interfaces available in the market – you might not know where to start! After all, interfaces are designed very specifically, catering to the needs of different studios!
Well, we're here to make life a little bit easier for you – we've rounded up our top 5 audio interfaces for you! Whether you're a beginner setting up a new home studio or a professional upgrading your current one, these interfaces should have you covered!
---
5 Best Audio Interfaces Ranked by Real Musicians
MOTU M4 4×4 USB C Audio Interface
If you're looking for an audio interface that gives you exceptional quality but won't blow a nuclear hole through your savings, the MOTU M4 is it! This impressive interface comes packed with a ton of features that gives you sound of the highest quality.
The M4 is a 4-in/4-out interface equipped with ESS Sabre32 Ultra DAC technology, as well as optimized drivers that result in performances of low-latency. The 2 mic preamps on the interface have phantom power and individual gain adjustment.
Additionally, with one-touch hardware, you're assured of smooth tracking; you're also sure to benefit from the front-panel metering via the M4's impressive LCD screen (full-color).
If you're a podcaster, you'll love the inbuilt loopback functionality; there's also a know to balance your system's playback and live input.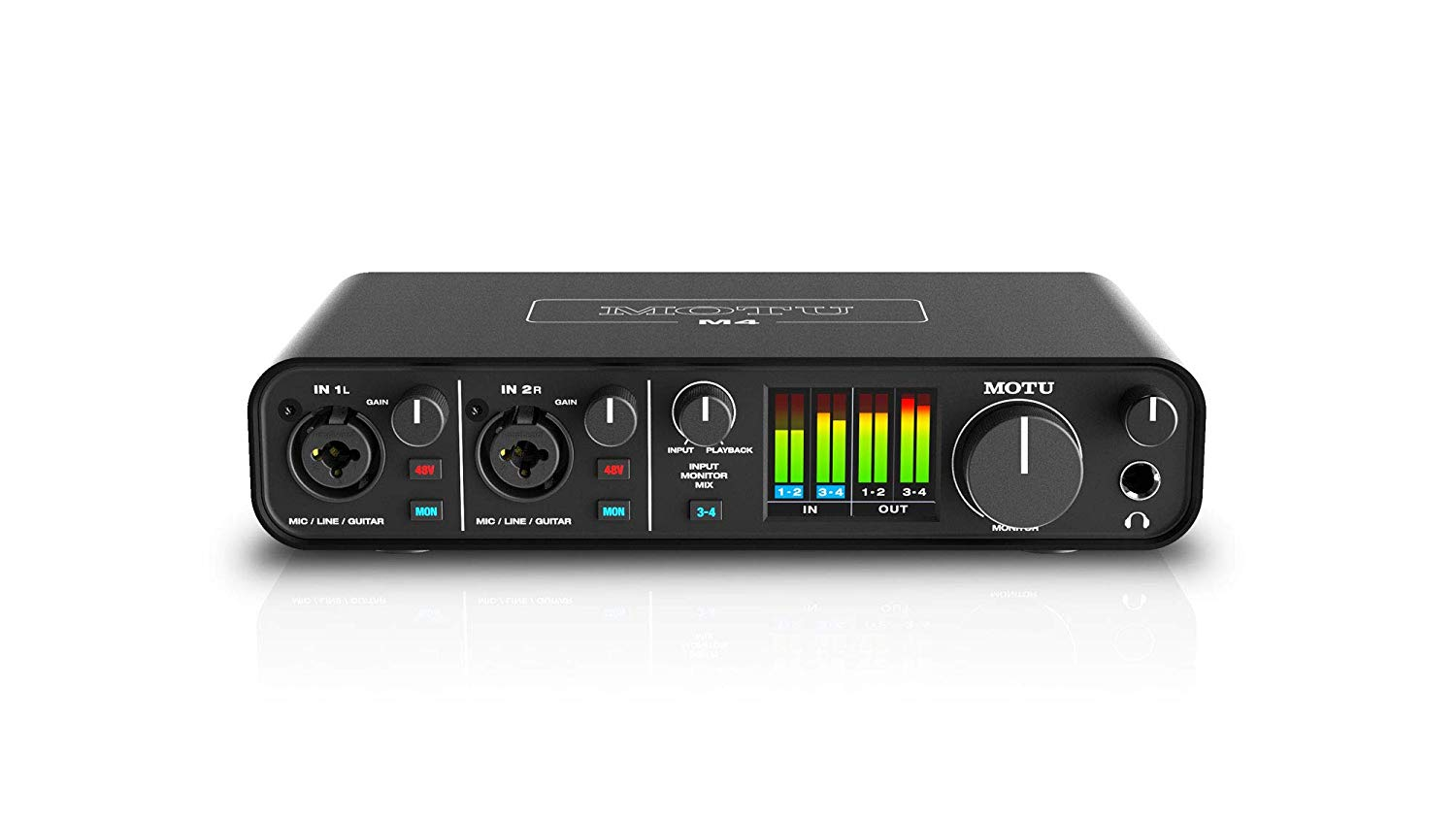 Features
4-in/4-out USB C interface
Includes 2 mic preamps
Over 6 GB of free content
Hardware monitoring
Full-color LCD screen
Inbuilt loopback functionality
Specifications
Weight: 1.92 pounds
Dimensions: 8.2 x 4.2 x 1.8 inches
Model: M4
Battery: 1 Non-standard battery required
MOTU M4 4x4 USB-C Audio Interface
Speed: The M4 provides best-in-class speed for monitoring live inputs (mic, guitar or keyboard)...
Metering: When recording and mixing, nothing is more critical than achieving optimum levels. The M4...
Loopback: The driver provides convenient loopback channels to your host computer, so you can easily...
---
Focusrite Scarlett 4i4 3rd Generation
The Focusrite Scarlett Audio Interface is a great option if enhanced connectivity is what you're after – the interface is a 4-in/4-out device that lets you simultaneously record music while connected to drums, mics, instruments and synths without any compromise on the audio quality.
What enables this is high-performing 24-bit AD-DA converters and the brand's signature 3rd-gen mic preamps with an optional Air setting to let your vocals sound more open and brighter.
The interface also features dual high-headroom instrument inputs sans any distortion as well as flexible inputs with gain control and 2 fixed-line on the back; the latter lets you record 4 mono sources or 2 line-level stereo sources with startling clarity.
Lastly, you get a pair of virtual loopback inputs to capture stereo feed of any combination; the Plug-In Collective membership (offered with the purchase of any Focusrite product) is the icing on the cake!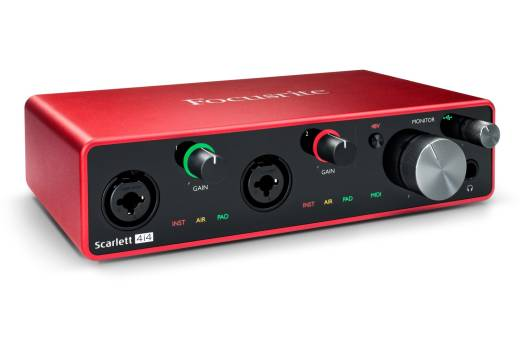 Features
2 microphone preamps with switchable Air mode
2 high-headroom instrument inputs to plug in instruments such as the bass/acoustic guitar
Membership allows you great discounts, free software downloads and a 2-year warranty
Dual balanced line inputs to connect to line-level sources such as synthesizers and drum machines
4 balanced output to send out audio to effects pedals and for clean monitoring
A converter to record and mix up to 24-bit/192kHz
Comes with software included, such as Ableton Live Lite, Splice Sounds (3-month subscription), Pro Tools, and Focusrite Red 2 and Red 3 Plug-In Suite to name a few
Specifications
Connectivity: USB Type-C
Model: SCARLETT4I4MK3
Bus-Powered: Yes
Sale
---
Audient iD4
The iD4 is a high-quality audio interface that packs in the performance of a large format console into a portable, compact desktop form, letting you simultaneously record vocals and guitar.
The interface is equipped with high-quality AD-DA converter technology, dual headphone outputs, monitor control console style, as well as an innovative "ScrollControl" feature with JFET D.I input technology to support and enhance overall performance.
The machine's volume encoder automatically becomes a scroll wheel at the touch of a button, letting you adjust DAW hosts, plug-in parameters and scroll through as though operating hardware.
Exceptional quality and exceptional affordability are perfectly balanced in this audio interface!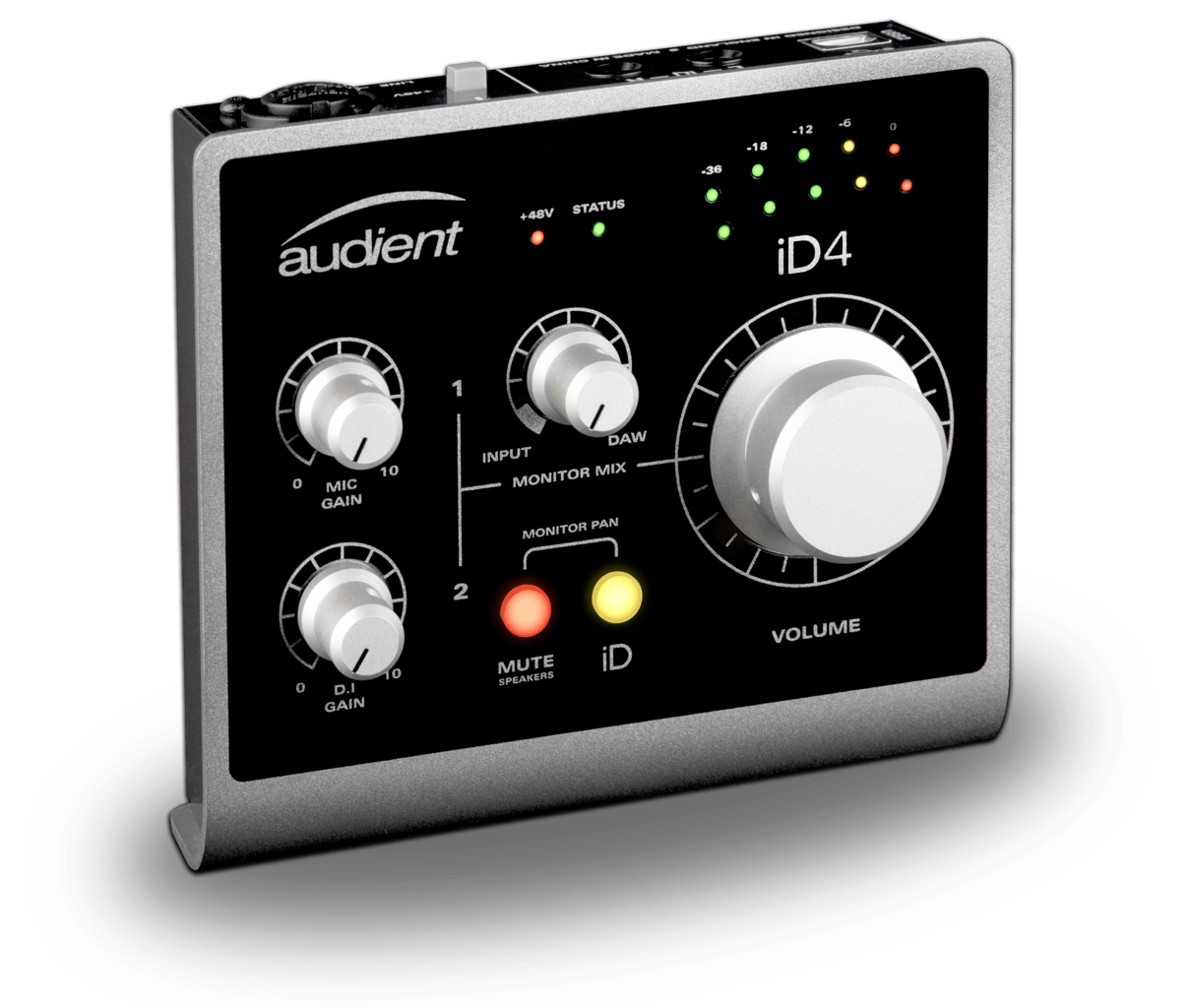 Features
2-in/2-out interface
1 mic preamp
iD ScrollControl Mode
Zero-latency monitoring, equipped with monitor mix and pan
Headphone amplifier with dual outputs
All-metal outer enclosure with hand-finished aluminum knobs
Compatible with Mac, iOS and Windows
Comes with free software and plug-ins
Specifications
Bus-Powered: Yes (USB 2.0-powered; 2.5 watts maximum)
Connectivity: USB Type-C
---
Native Instruments Komplete Audio 2
Designed to highly simplify the process of stereo recording, the Native Instruments Complete Audio 2 audio interface is a great option for musicians and performers looking to quickly capture music and high-quality audio.
The dual XLR/jack combination inputs make it super simple and quick to capture any stereo sounds as well as connect to external gear. Additionally, the system comes with the required software to make ideas materialize.
These include Ableton Live Lite, MONARK, and MASCHINE Essentials to make recordings more polished and refined.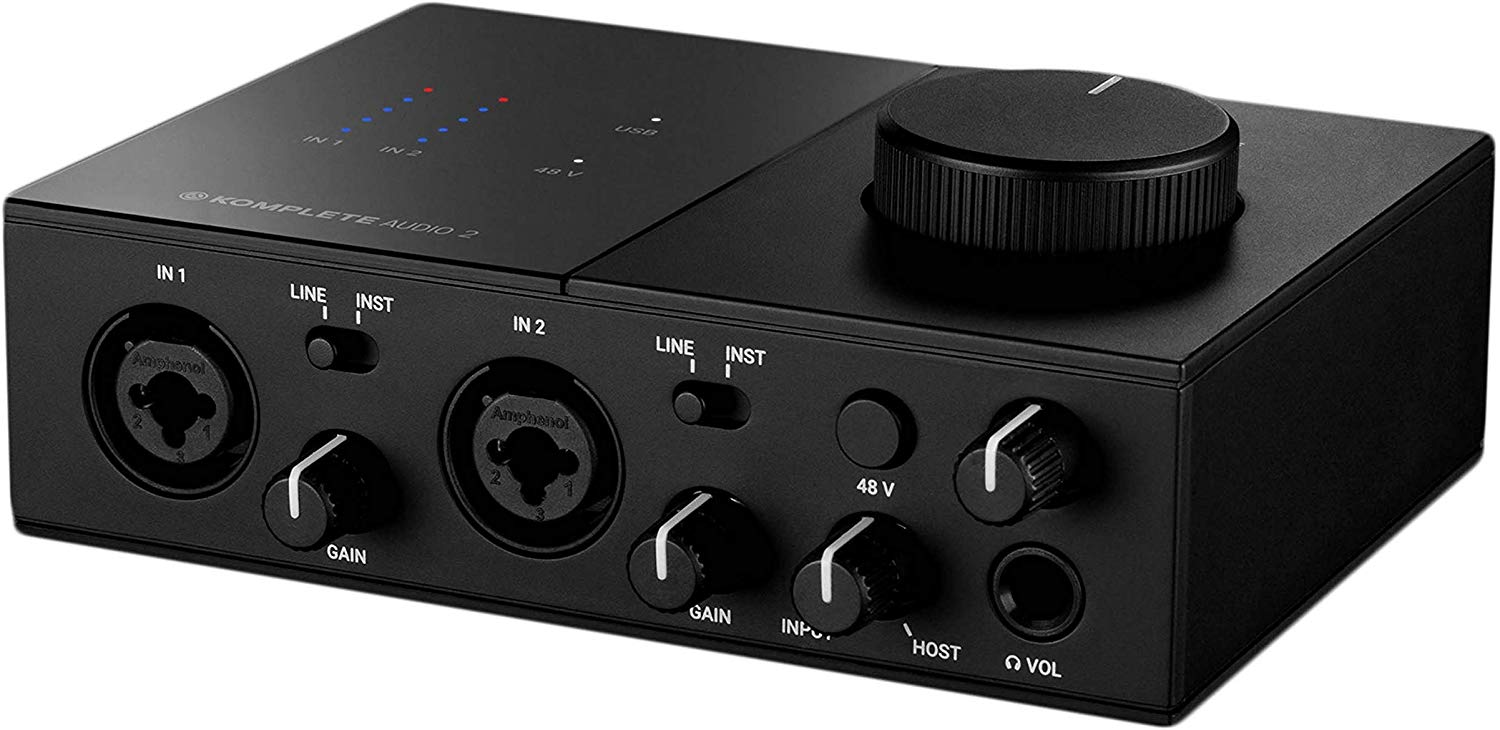 Features
Quarter-inch outputs
Headphones with volume control
24-bit/192kHz bit conversion
Dual combination XLR/jack inputs with phantom power of 48 volts
Volume knob for adjustments
Direct monitoring to enable simultaneous audio playback blending and recording
VU-metering
Includes a wide range of software, including a 2-months free subscription at Sounds.com
Specifications
Weight: 0.82 pounds
Dimensions: 5.98 x 5 x 2 inches
Model: 26148
Bus-Powered: Yes
Sale
---
Universal Audio Arrow Thunderbolt 3 Audio Interface
The first audio interface in the world to be equipped with Thunderbolt 3-powered desktop recording, Universal Audio Arrow Thunderbolt is equipped with high-tech audio conversion, dual Unison mic preamps, and UAD plug-ins for professional-sounding results.
The 2×4 interface has Unison technology and in-built UAD-2 solo core processor, letting you record using classic audio tools including the 610 Tube Preamp, LA-2A and 1176 compressors, as well as an authentic Marshall Plexi amp plug-in.
The interface is also equipped with AD-DA conversion for quality recording.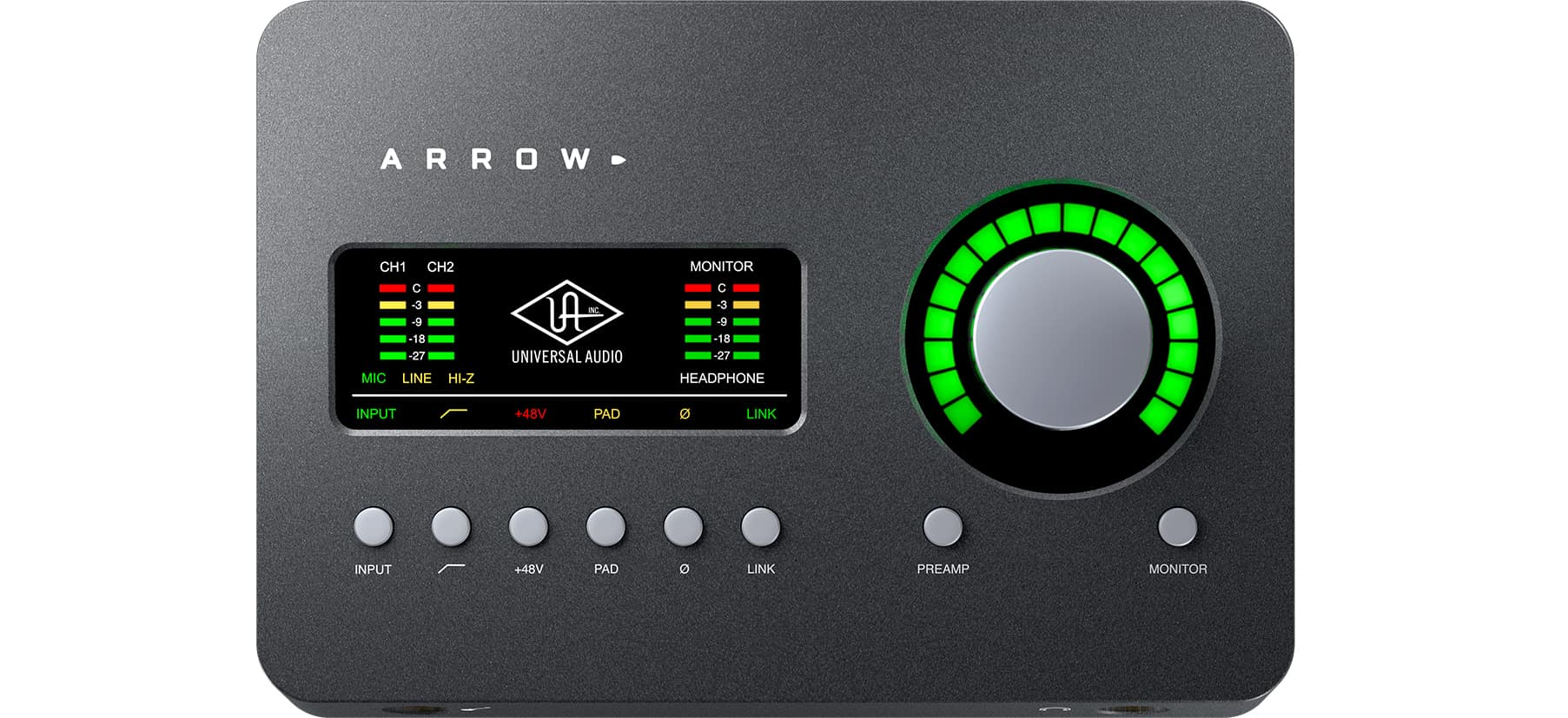 Features
2×4 audio interface with a 24-bit/192kHz audio conversion
Unison mic preamp and emulations of guitar amp from API, Neve, Marshall, Fender and Manley
UAD processing in real-time with nearly zero latency tracking supported by UAD plug-in effects
Includes EQs, reverbs, studio compressors, and guitar amp emulations
Durable all-metal construction
Specifications
Bus-Powered: Yes
Weight: 1.99 pounds
Dimensions: 10 x 7.9 x 4 inches
Model: ARROW
Universal Audio Arrow Thunderbolt 3 Audio Interface,Gray
Desktop 2x4 Thunderbolt 3-powered audio interface with class-leading 24-bit/192 kHz audio conversion
Unison mic preamp and guitar amp emulations from Neve , API , Manley , Marshall, Fender , and more.
Real-time UAD processing allows near-zero latency tracking with classic UAD plug-in effects,...
---
The Final Word on the Best Audio Interfaces
An audio interface is essential to produce music of professional quality. Luckily, though, you don't have to spend a "professional" amount on getting an audio interface that can give you such results!
The interfaces on our list are affordable yet high-quality, regardless of the settings they're used in. Give one of these a shot for superior quality sound!
Was this post helpful?
Let us know if you liked the post. That's the only way we can improve.