So, you just bought your first piano. Congratulations!
Now, it's just a matter of sitting down and picking out "Moonlight Sonata" by ear, right? Hold your proverbial horses.
Before you can start making sweet music, it's important to make sure you're all set up for success. The piano itself is priority number one, but there are a few other things you'll need if you want to become the next Frédéric Chopin or Herbie Hancock.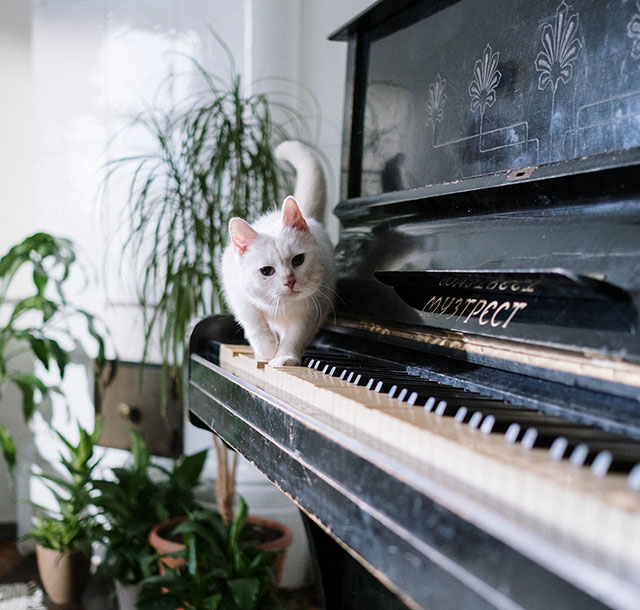 In this guide, we'll be going over the piano accessories that are a must for all aspiring virtuosos.
A Comfortable and Adjustable Piano Bench
First thing's first—you need a place to sit. If you've just purchased a piano this will be the first piano accessory that you will want to buy.
A good piano bench should be supportive, of course, but also comfortable. There may be times when you find yourself playing for hours on end (either intentionally or unintentionally), so quality cushioning makes a big difference.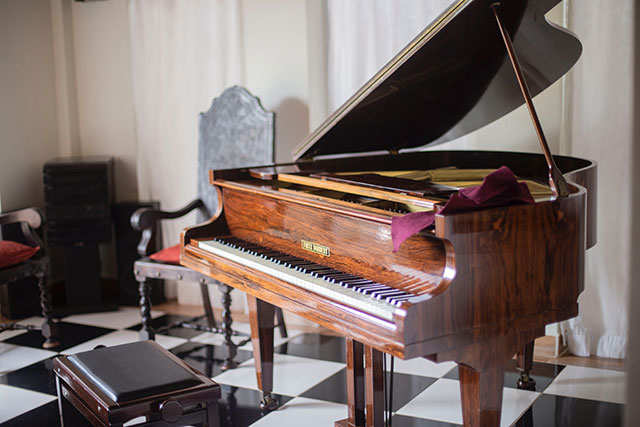 If presentation matters to you, go with a bench upholstered in a material like genuine leather. It'll cost you more, but it'll also look nicer and is more likely to compliment your majestic baby grand than a cheaper perch.
For maximum comfort and performance, look for a bench that allows you to adjust the height to your preferred level. You'd be surprised how much difference a couple of inches can make in terms of your ability to play without undue strain.
It also never hurts to have built-in storage. That way, you'll have a place to stash your sheet music and other materials at the end of each session.
The 3 Best Piano Benches Ranked by Real Pianists
Greenpro Adjustable X-Style Padded Piano Bench
Greenpro Adjustable X-Style Padded Piano Bench
High Quality - The Greenpro keyboard chair is made of heavy-duty steel construction that provides...
Padded Keyboard Bench Seat - Our piano seat has a thick cushion padded seat for maximum comfort. The...
Portable & Easy to Store - This music stool is made with an x design so it folds flat for easy...
RockJam Padded Wooden Piano Bench with Storage
RockJam Padded Wooden Piano Stool with Storage
Comfort: The faux leather finish hides away a Deep layer of cushioning, this makes this padded...
Sturdy: made from wood the Rock Jam keyboard bench supports up to 300lbs and has rubberized feet to...
Convenience: The Rock Jam digital piano keyboard bench provides you with a roomy storage area to...
Neewer Wooden Duet Piano Bench with Storage Compartment
Neewer Wooden Duet Piano Bench with Storage Compartment
Made of solid wood,cushioned PU leather,wood trimmed edge, can hold up to two persons in comfortable...
The piano bench is 29.8"/75.7cm long, 14"/35.7cm deep and 18.9"/48cm high
Sturdy solid wood frame, polished black piano finish
---
Practice Piano With a Metronome to Improve Your Rhythm
Aside from your ten fingers, your right brain, and your unwavering commitment to daily practice, your metronome will be your best friend when you're learning how to play the piano.
A metronome is a simple time-keeping device that consists of a stand and a mechanical arm. When activated, the arm moves back and forth in measured intervals, emitting an audible click with each pass. The user can manually program these clicks to different speeds to learn how to play in different times.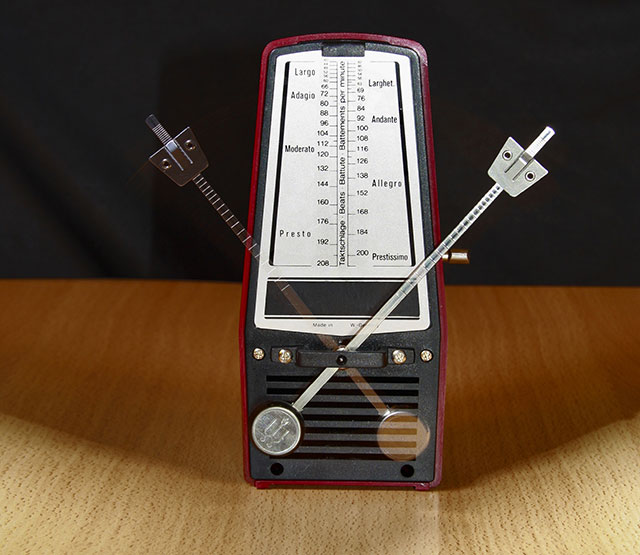 The metronome is an indispensable part of every pianist's musical arsenal, as it will develop your sense of rhythm and timing better than any other tool, technique, or exercise.
The 3 Best Metronomes for Piano Players
Seiko SQ50-V Quartz Metronome
Sale
Seiko SQ50-V Quartz Metronome
Seiko sq50-v easy-to-use Quartz metronome
Choose from 2 types of sounds for tempo and beat
Red LED light on the top gives a clear visual tempo indication that is great for practicing without...
Wittner Wood Case Black Metronome with Bell Tuner
BOSS DB-90 Dr. Beat Portable Metronome
BOSS DB-90 Dr. Beat Portable Metronome
The most advanced metronome available. Trigger input to access unique Rhythm Coach exercises
MIDI in for syncing to external sequencer temposPCM sounds with "drum machine" style patterns
50 memories.Human-voice count
---
Stop playing in the dark and get a piano lamp
This one is rather self-explanatory: you can't play the piano if you can't see two feet in front of your face.
The light source you utilize doesn't have to be anything fancy. It could be a big old-fashioned standing lamp, a portable desk lamp, or even a headlamp if you hope to one day play the Carlsbad Caverns.
What matters most is that your light source is able to provide ample illumination and submits to being positioned in such a way that you can see your music, your hands, and all 88 keys clearly at all times.
That said, many contemporary keyboardists prefer the adaptable high-lumen brilliance and affordability of LED clip-ons.
Best Piano Lamps for All Night Practice in 2021
Lumiens L9 – Clip On Music Stand LED Light
Sale
Lumiens L9 - Clip On Music Stand LED Light
✔ NO FLICKER - The Optical Grade Lens Provides Evenly Distributed Light with No Hotspots
✔ MULTI-USE - Great for Music Stands, Pianos, Orchestra Pits, Reading, Work Tables, Mixing...
✔ FULLY ADJUSTABLE - 9 lights and 2 Levels of Brightness. 1 Flexible Arm Can Moved the Way You...
Cocoweb 19″ Adjustable and Dimmable Grand Piano Lamp
Cocoweb 19
Clamp on design fits directly onto music boards 1" thick or less
Advanced LED lighting technology offers bright light for over 50,000 hours and generates no heat or...
Elegant Lamp with Sleek Design is an Attractive and Functional Accessory for Any Piano Room
Boston Harbor ATB-8004 Piano Desk Lamp
Boston Harbor ATB-8004 Piano Desk Lamp
Package Dimensions: 28.194 H x 18.288 L x 22.86 W (centimetres)
Has a round base and metal shade with a satin nickel finish
Package Weight: 1.656 kilograms
---
Optional Piano Accessories
While the above-mentioned accessories are all you need to begin playing and progressing, these other items can be a big help when it comes to transporting your beloved piano and giving it the TLC it deserves.
Castors
Castors are small attachable wheels designed to make it easier to move large, heavy objects, like full-size pianos, from place to place.
It's a good idea to grab some castors for your piano, even if you don't currently have any plans to take it on tour. You're presumably going to have to move it at some point, and when you do, you'll be glad you made the investment.
Luckily for you, castors tend to be fairly inexpensive, and are readily available at any major hardware store or home improvement center.
Piano Polish
There are few things sadder than a once-stately piano that's been left to collect dust.
It's therefore your solemn duty as an artist to clean your music-maker regularly, for the sake of both appearance and appreciation. With a convenient spray-on polish, you can simply aim, spritz, and wipe clean.
A quick note: always wipe your piano with a soft, lint-free microfiber cloth or similar non-abrasive cloth. Otherwise, it's possible to leave fine scratches on the instrument's surface. Over time, these scratches can accumulate and decrease its aesthetic and financial value.
Wrap-Up on the best piano accessories
There you have it! With each of these necessary piano accessories adorning your music room, you'll be ready to master the most complex and exquisite compositions ever written—though you might want to start with "Chopsticks".
Was this post helpful?
Let us know if you liked the post. That's the only way we can improve.