Thrones aren't just for royalty! As a drummer, the throne is what you sit on to conquer the hearts of listeners. But more importantly, it keeps you comfortable while you play your set! We've compiled a list of the best drum thrones whether you have a bad back or are just looking for a simple, comfortable drum throne.
If you're interested in learning more about drum sets, check out our guide:
Drum Kit 101: All You Need To Know When Buying A Drum Set
Often underestimated or overlooked, the throne is a very important part of drumming; your throne can make a huge difference to your overall drumming, and help you keep solid posture.
Sure, you can splurge on great drum sticks and drum heads, but how comfortable you are while drumming can impact your performance for better or for worse!
You'll need to sit on something that's good for your back and also comfortable enough to sustain and support long periods of sitting and playing, which is important to consider if you practice long hours or perform long shows frequently.
Additionally, your drum throne and how you sit on it also impacts your footwork. Long story short, get a good drum throne!
To help you pick out a good throne, here's a roundup of our 5 best drum thrones. Don't just invest in something cheap to save money and then regret it; instead, take a look at the thrones on our list for quality options!
Best Drum Thrones Chosen by Real Drummers
Drum Workshop, Inc. CP5100 5000 Series Throne
It wouldn't be an exaggeration to say that Drum Workshop, Inc. is the reigning monarch of the drum kingdom; these guys are an almost one-stop need for all things drum-related!
Their 5000 series throne are prime examples of the quality and care that goes into each Drum Workshop product; these mid-priced thrones are a great option for the comfort and ease of playing they bring to the table.
The DWCP5100 is a standard-height throne equipped with a range of features that make drumming a supremely comfortable experience, including swivel height adjustment and a double-braced base, among others.
Bid adieu to an aching bottom thanks to your current way-past-expiry-date throne and invest instead in this throne that gives you a bang for the buck like no other.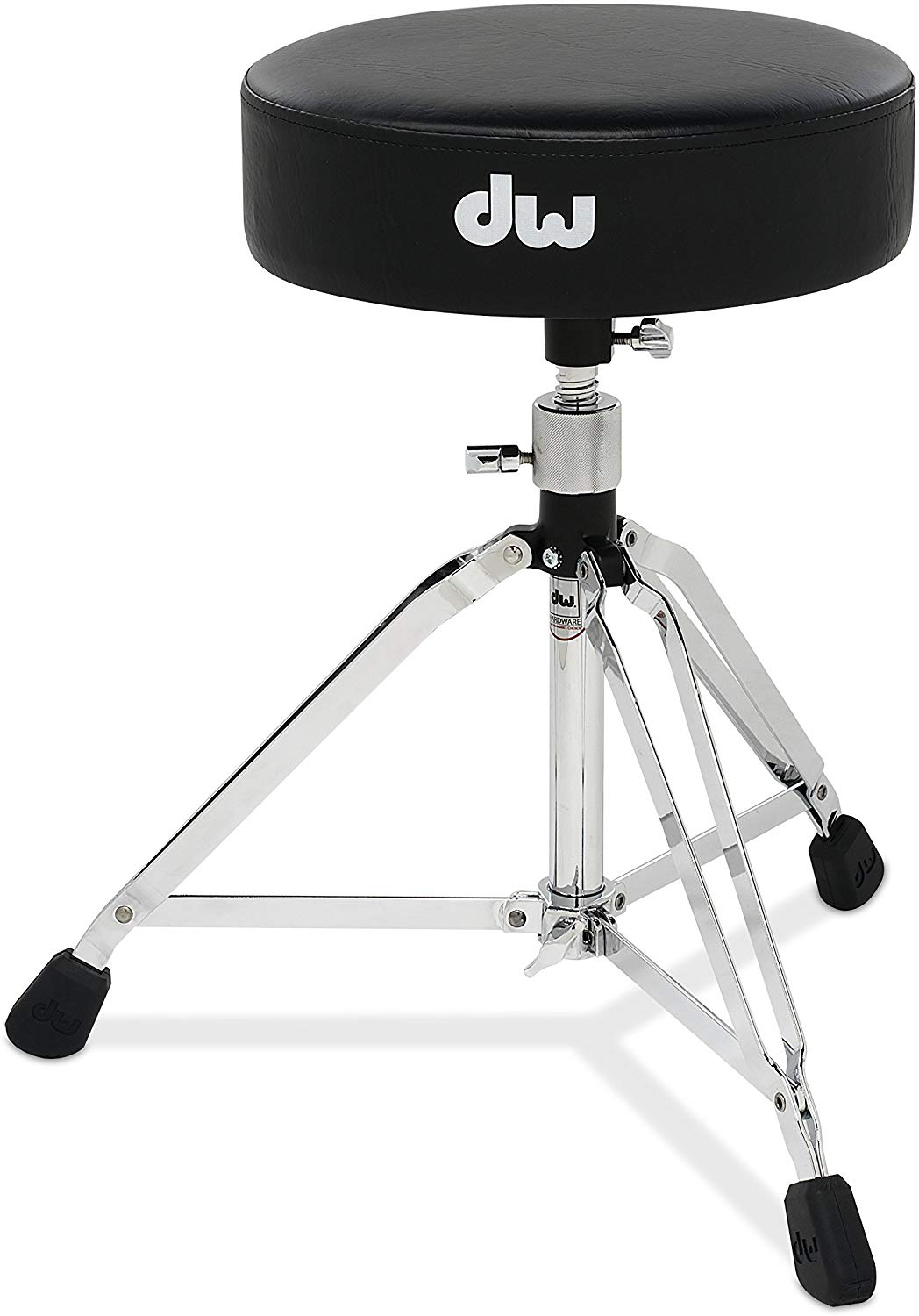 Features
Solid ear-casting for reliability
Durable vinyl-covered seat top that's 13 inches
Full-sized 1.18-inch double-braced base
Dual foam set seat of 3-inch thickness
Oversized locking nut
Tripod base
Specifications
Weight: 8.81 pounds
Dimensions: 23 x 20 x 7 inches
Model: DWCP5100
Color: Black
---
Donner Drum Throne Upgraded
With "upgraded" in its title, you know that this Donner Drum Throne is a new and improved version designed to give you the ultimate comfort and stability so that you only concentrate on playing the drums and not an aching back or numb backside!
The throne comes with a range of impressive features that enhance the comfort and convenience it brings to you. This includes the ability to shrink the shelf by adjusting the bottom knob for better portability, a 360-degree rotating seat and high-density sponge seat.
Additionally, it's pretty sturdy and durable, with the ability to support up to 250 pounds of weight!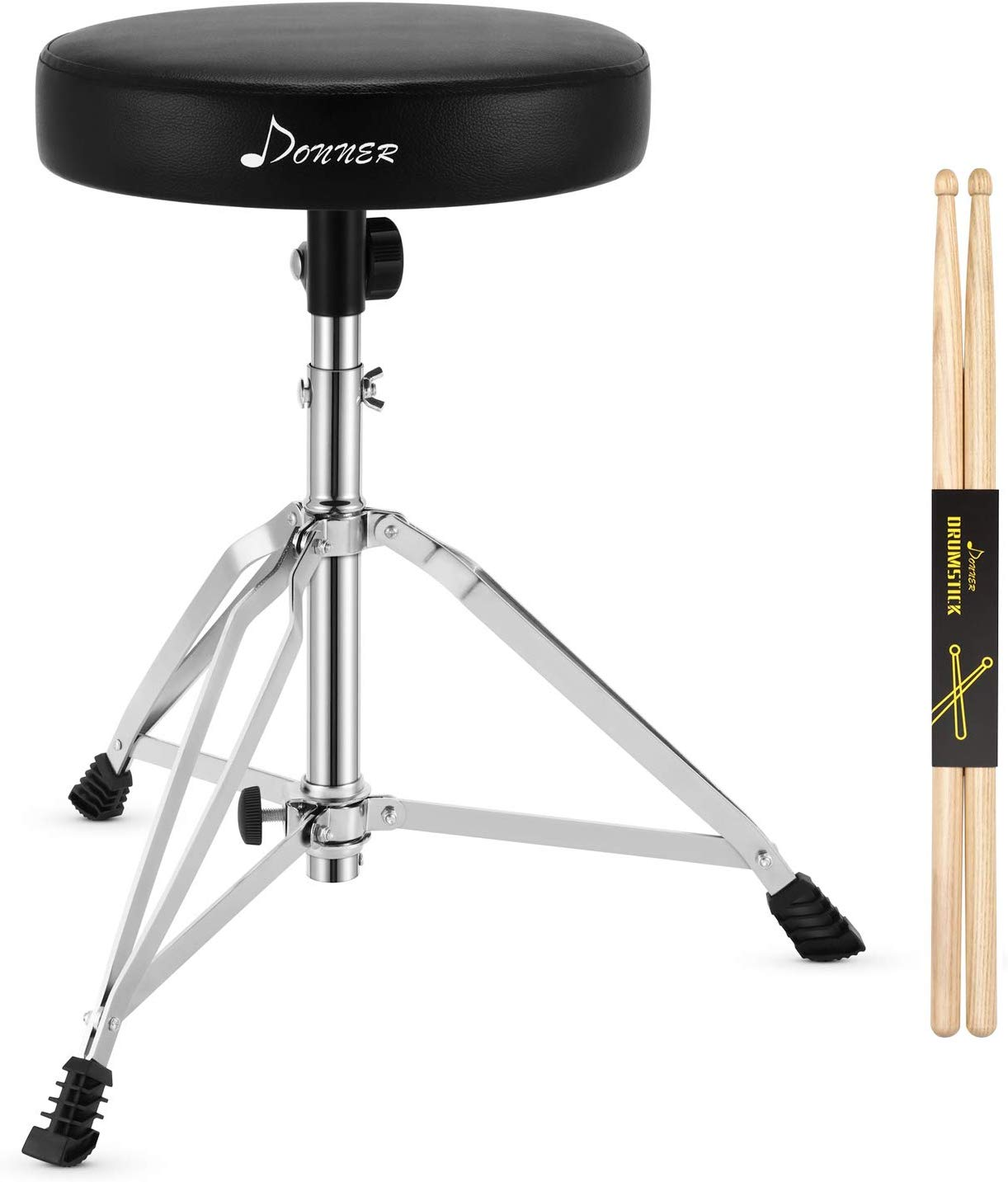 Features
PVC leather and high-density sponge seat to support heavy weights and prevent deformation
Adjustable height, thanks to a 4-position bolt lock at the bottom
No-skid three-legged stool; equipped with rubber non-skid sleeves
11.4-inch diameter on top seat
Triangularly designed aluminum alloy bracket for stability
Can be used with a variety of different instruments and not just drums
After-sales guarantee
Specifications
Weight: 6.43 pounds
Dimensions: 13.7 x 12.99 x 6.69 inches
Model: –
Color: Black
Sale
---
Pacific Drums and Percussion PDDT810R Round Top Throne
Practical and ergonomic, this drum throne is all kinds of comfortable and highly affordable! A part of Pacific Drums and Percussion's pro-level 800 series, this throne comes with adjustable seat height, memory lock, and a comfortable seat.
Above all, though, it comes with excellent quality and durability, with double braced legs to keep your base solid – you wouldn't expect anything less from a subsidiary of Drum Workshop!
PDP has made the quality of Drum Workshop available at extremely affordable prices to working drummers; you get boutique-inspired drumming equipment at half the price – no catches!
Similarly, the PDDT810Ris re-imagined and designed particularly for the working drummer, to get the best of comfort and durability without breaking the bank.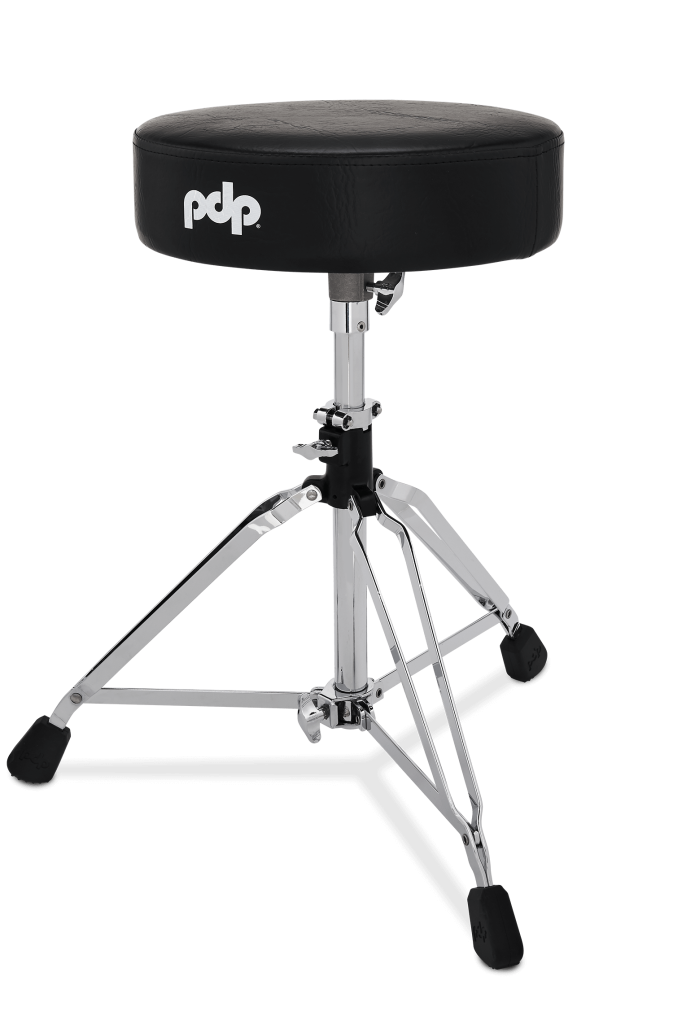 Features
13-inch round seat

Carriage bolt with memory lock for quick setup & height adjustments
Double-braced legs with non-slip rubber feet
Specifications
Weight: 10.47 pounds
Dimensions: 15 x 15 x 6
Model: PDDTC00
Color: Black
Sale
---
MAPEX Double Brace Round Top Drum Throne
This MAPEX drum throne comes packed with a ton of features, generally found in professional-level thrones, all ensuring the comfort and durability that a drummer expects!
It has a double-braced wide tripod base for stability and security. The throne also has a steel spindle that allows for height adjustment, making it a great option for all drummers regardless of their height.
Additionally, the throne is extremely affordable, making it a great option for those who are just starting out on their drumming journey or are dabbling in the art form. All in all, a no-frills, ergonomically-designed seat that efficiently does what it's designed for!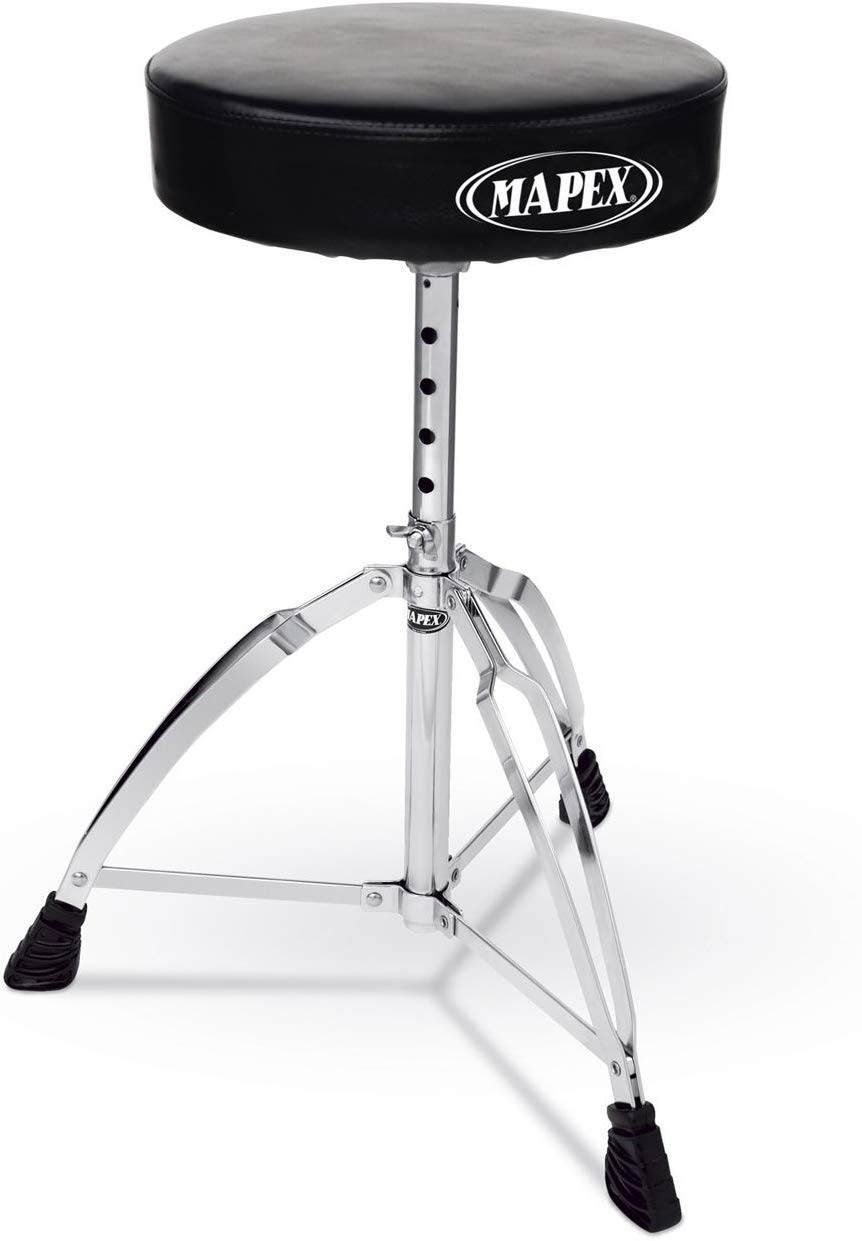 Features
12 x 25 inches cushioned seat
Soft-yet-durable vinyl-covered seat
5-position bolt lock allowing height adjustment between 17.3 and 22 inches
Quad legs are double-braced
Specifications
Weight: 3.99 pounds
Dimensions: 20 x 12 x 12 inches
Model: T270A
Color: Chrome
Mapex Drum Throne (T270A)
12" Wide x 2. 5" Thick Round Cushioned Seat
Soft but Durable Vinyl Covering
5 Position Bolt Lock Height Adjustment with 17. 3" to 22" Height Range
---
Ahead Spinal G Drum Throne – Best for Bad Backs
If backache is your most common complaint while drumming, this seat is for you! The Ahead Spinal G Drum Throne is designed specifically to do away with the bad back so that you can focus on becoming the next Buddy Rich or Ringo Starr!
The Ahead Spinal Drum Throne is an ergokinetic seat and features a thick cushion with memory foam, as well as a split seat for comfortable seating. It's also spring-balanced for better suspension and comfort.
Additionally, it's height-adjustable, with a heavy-duty quad-pod base and a sturdy connector plate. What makes this throne extremely appealing, though, is its uniqueness and the innovation in its design!
The open space in the middle negates any pressure on your tailbone, a leading cause of back pain, whereas the support cushion for each glute offers individual support for both halves of your body.
While this drum throne may be on the slightly more expensive side, it's definitely worth the investment, with features like these!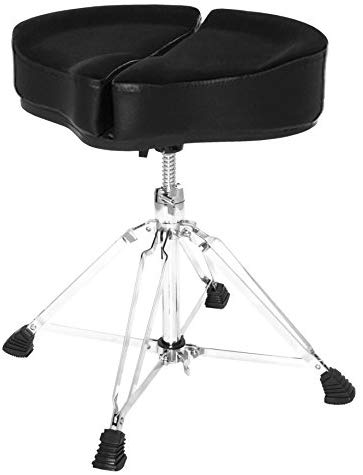 Features
Memory foam cushions and split seat
Double-locking threaded height adjustment
Seat connector plate
Tripod base
Velour seat top
Specifications
Weight: 19.9 pounds
Dimensions: 20.5 x 19.44 x 8.26 inches
Model: SPGBL
Color: Black
Ahead Drum Throne (SPGBL)
New line of ahead drum thrones offer style stability and adjustability exclusive Nonespinal gNone...
Allowing the tailbone (coccyx) to hang naturally versus being compressed against a seat
Allowing the pelvis to move reciprocally in three dimensions
---
The Takeaway on The Best Drum Thrones and Seats
Whether you're a professional drummer or just a beginner, the need for a comfortable drum throne is universal! Not only does it allow better footwork but it also lets you play long hours without sacrificing your back and bottom for it!
If you've been looking for a drum throne to replace your old worn-out one or are buying your first drum throne, our list should have you covered. Try these best drum thrones for a comfortable, hassle-free drumming experience!
Was this post helpful?
Let us know if you liked the post. That's the only way we can improve.