With so many keyboard synthesizers and modules available today, what are the best synthesizers for beginners in 2023? The answer will vary depending on how you plan to use it. Are you looking for a beginner's synthesizer to learn the core concepts of synthesis? Is your goal to play synths live in a band? Are you planning to sequence your synthesizer from a DAW instead of playing it in real time? To find the best synthesizer to begin your sonic journey with, focus on what you need as a music producer or performer. Let's explore some of the most common ways musicians are using synthesizers, and take a look at some great options for beginners.
How to Go from Beginner to Master with Any Synthesizer
One of the best pieces of advice for any beginner synthesist is to pick one synthesizer, and learn it inside and out before growing your synth collection. Whether you choose an analog subtractive synthesizer, a digital wavetable synthesizer, a modular synth based around FM synthesis or anything else, take the time to explore your instrument and understand what it's doing — the manual will be your best friend at first. Learn what oscillators are and what different oscillator wave shapes sound like, and understand how envelopes and LFOs change parameters over time. When you tweak a parameter, try to understand why it's changing the sound the way that it does.
The fact that there are so many different types of synthesizers available to beginners is why this type of focus is so beneficial. If you bounce between many different synthesizers without learning any of them fully, it's easy to lose focus of the core concepts at play. If you take the time to learn one synthesizer — any synthesizer — as deeply as possible, you'll be much better equipped to understand any other synthesizer much faster. Of course, you'll eventually want to add more synthesizers to your collection to diversify your creative options. If you first take the time to learn how to get the most out of one synthesizer, many of the core concepts you've learned will translate to other synths even if they have completely different interfaces.
To sum it up, the best way to grow your synthesizer skills is to fully learn how to use your first synthesizer. Along the way you'll learn about oscillators, signal flow, envelopes, LFOs, and other core concepts of synthesis. Once you're familiar with the inner workings of your synth, you'll be able to adapt to any other synthesizer much quicker.
Best Synthesizers for Beginners for Learning Synthesis
You may currently be a beginner when it comes to synths, but you intend to become a synth master. You want to understand how relatively simple vintage synths created iconic sounds, and how modern producers are using synthesizers to explore new musical territory. You want to understand every parameter and how it alters the sound, and you want to create your own sounds from scratch as intuitively as you can draw a doodle. If this sounds like you, here are two of the best beginner synthesizers you could choose.
Moog Subsequent 25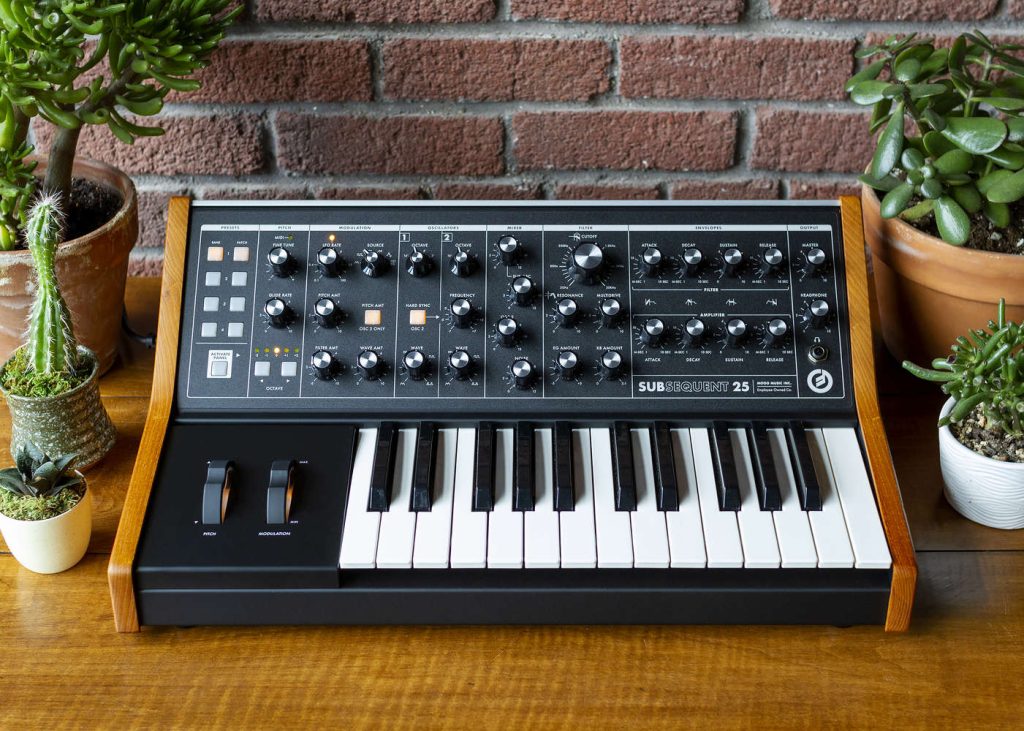 With large, sturdy knobs for every individual parameter, the Moog Subsequent 25 analog synthesizer serves as the perfect platform for learning synthesis. With two oscillators and a sub-oscillator, various waveforms, an LFO, dual envelope generators, and the iconic Moog ladder filter, you have all the tools you need to learn how famous synth sounds were created.
The manual is especially helpful, offering comprehensive explanations of how the different synth parameters work and interact with each other, and also provides starting points to explore from. Beyond the massive bass and lead sounds Moog is famous for, you'll also discover a huge range of textures and sound effects you can create with a bit of ingenuity.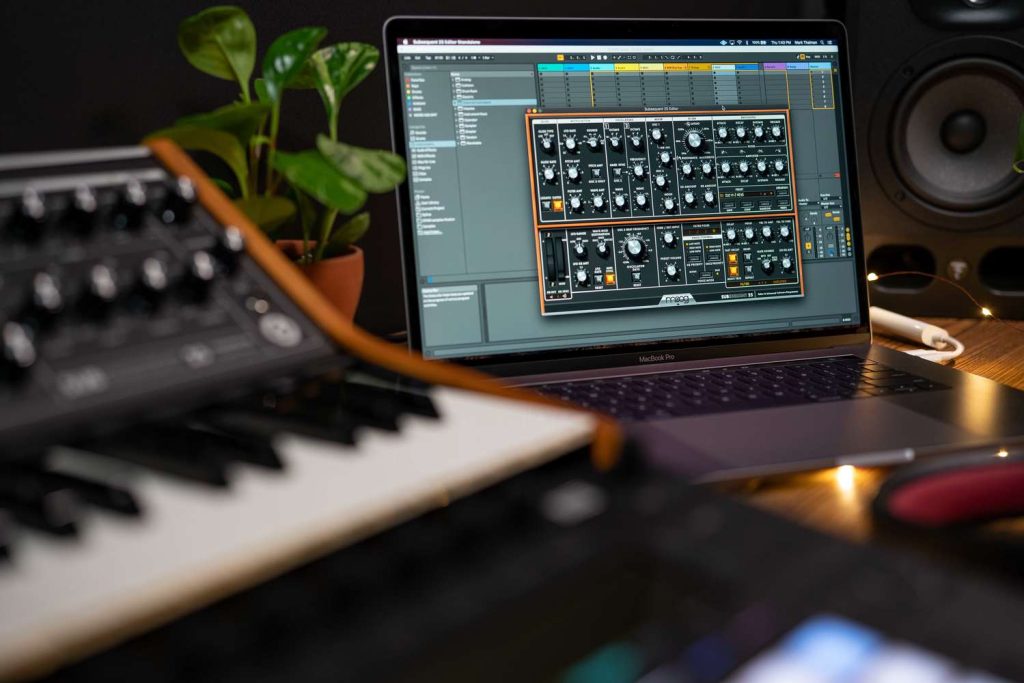 Once you've learned how the different oscillator wave shapes sound, how modulation with envelopes and LFOs works, and have an intuitive sense of the signal flow through the Subsequent 25, you'll be in a great starting point to learn any other synthesizer. Moog basically invented the concept of the synthesizer, and Moog instruments continue to remain musically relevant decades later, so the Subsequent 25 should serve you well in your musical endeavors for a very long time.
ASM Hydrasynth Explorer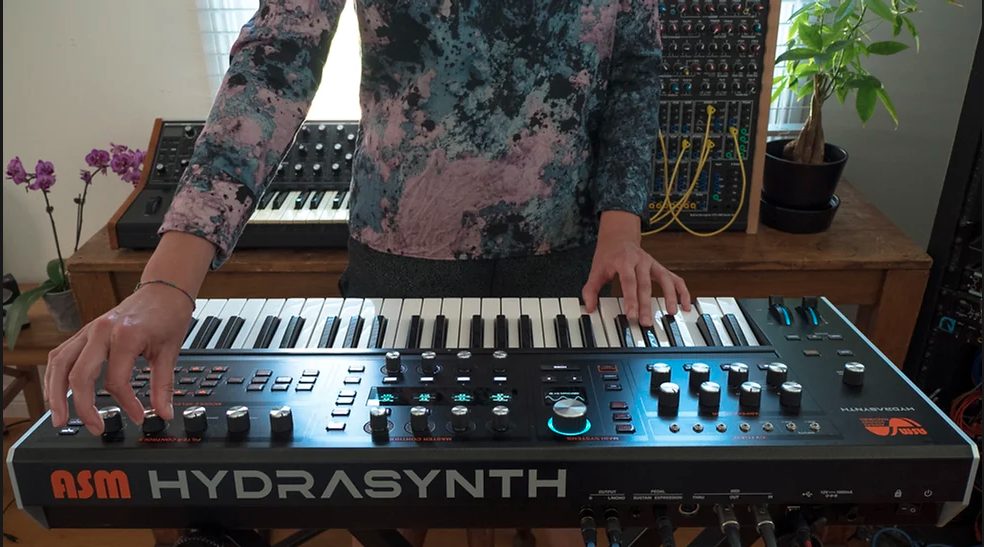 The ASM Hydrasynth Explorer gives you all the tools to learn basic and advanced synthesis techniques, from classic subtractive synthesis to frequency modulation, wavetable synthesis, and more.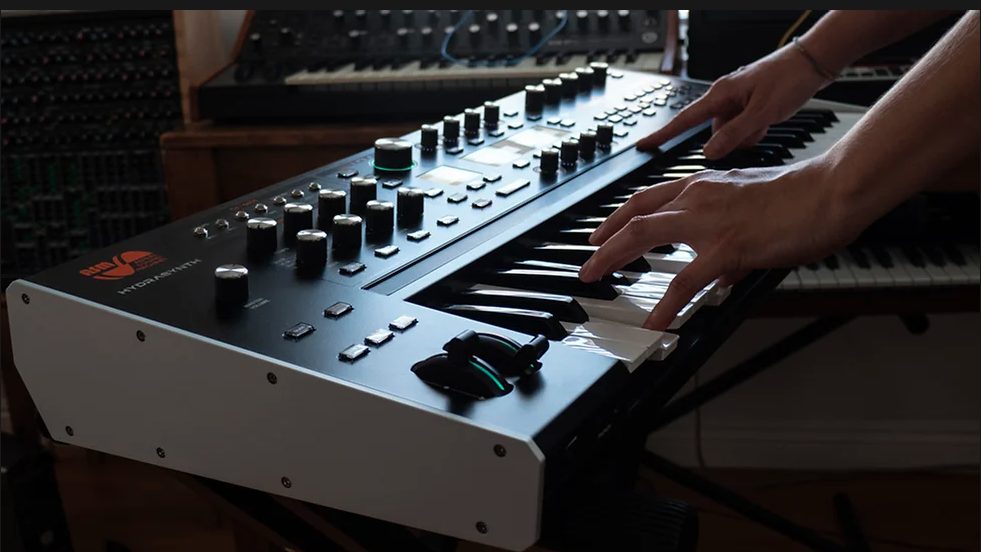 Beginners will benefit from the intuitive interface: every step in the signal chain is represented by a button on the front panel, and a set of multi-function controls adapt to whatever you have selected. This helps you visualize your signal chain while also giving you fast access to all necessary parameters.
You can create practically any type of sound you can imagine with the ASM Hydrasynth Explorer, and it includes plenty of presets to showcase its wide-ranging sound design capabilities. If you're a beginner that intends to go well beyond the basics of subtractive synthesis with your sound design, the ASM Hydrasynth Explorer is a smart place to start.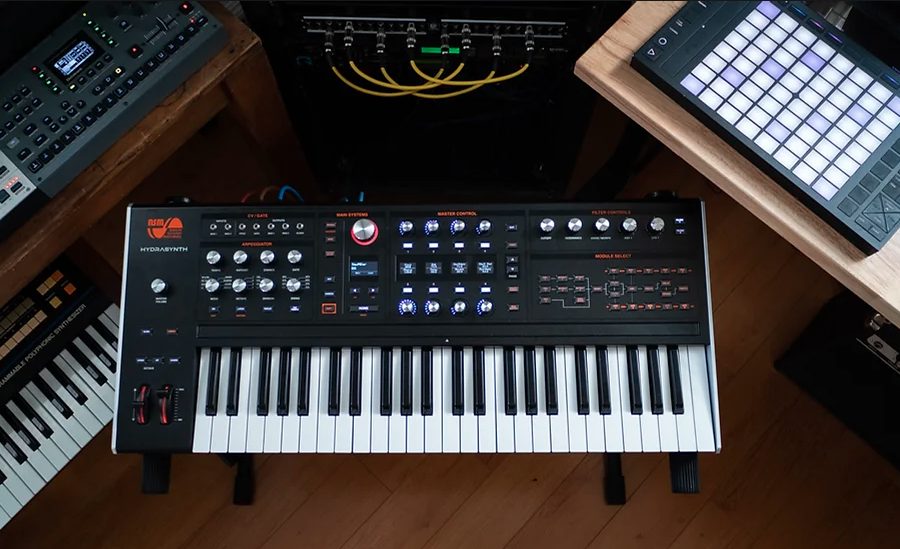 Best Synthesizers for Live Performance with a Band
You dream of playing keyboards on stage with a full band. While you're not as interested in creating sounds from scratch or diving deep into synth parameters, you need a huge range of commanding lead sounds, vibrant pads, commanding bass, and other sonic textures at your command. You need to be able to access your most-used presets quickly and seamlessly as you progress through your set. And you need a keyboard that feels great to perform your best. If this sounds like you, check out these two stellar beginner synthesizers for stage performance.
Nord Stage 3 Compact

The Nord Stage series has always been focused on the needs of performers, and the Stage 3 Compact keyboard equips you for practically any gig. Between Nord's acclaimed A1 synth engine with sample playback, the Nord C2D organ, and concert-quality piano sounds, the Stage 3 Compact sounds fantastic in any musical style. Beyond offering all the sounds you need as a performer, the Stage 3 Compact offers ultra-fast playability with its 73-key semi-weighted "waterfall" action keybed. Most performance keyboards in this class offer more of a piano feel, but if your performances are focused on synth and organ sounds more than piano sounds, you'll love the faster feel of the Stage 3 Compact's waterfall keybed.
While the Nord Stage 3 Compact's interface can look a bit intimidating, that's because it offers a ton of dedicated controls that can actually make operation much simpler for a beginner. Instead of searching through menus (the last thing you want to be doing on stage during a performance), most parameters feature dedicated knobs and sliders for instant access. You'll need to take some time learning any new instrument — once you're familiar with the Stage 3 Compact's layout, you'll be tweaking filters and blending effects on the fly without even thinking about it.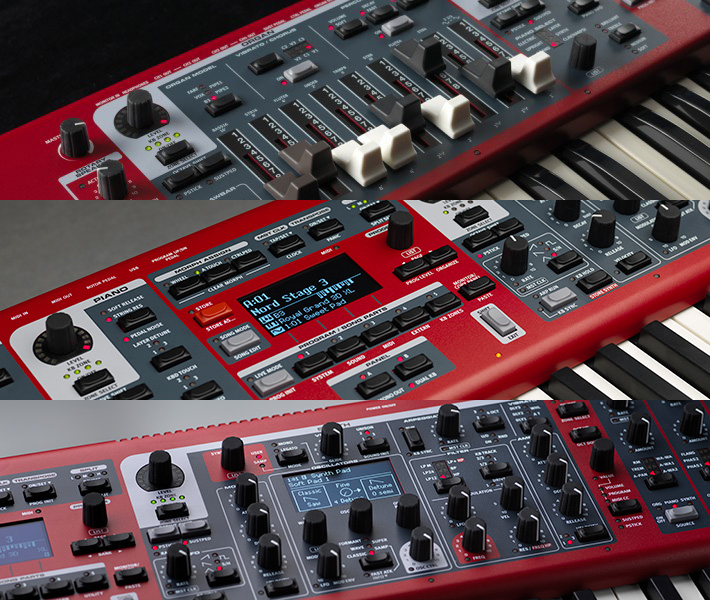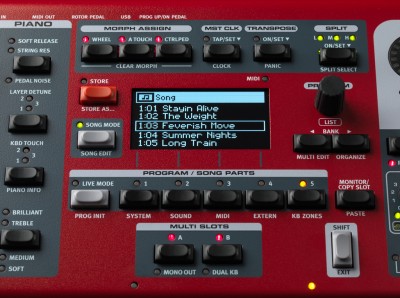 With world-class sounds, fast and responsive playability, dedicated controls, and its ultra-lightweight design, the Nord Stage 3 Compact will give beginners everything they need to perform for years to come. You'll have all the piano, organ, and synth sounds you need to play practically any gig, and the synth engine offers big potential for creating your own sounds as well.
Yamaha MODX6+

Designed for live performance with synth players in mind, the Yamaha MODX6+ synthesizer gives you a ton of sonic potential on stage. The MODX6+ is driven by much of the same technology as Yamaha's acclaimed MONTAGE series, which means you get advanced synthesis engines and an impressive 256 notes of polyphony. Its advanced AWM2 sample-based engine gives you access to acoustic instruments, synths, drum sounds and more. The FM-X engine offers advanced synthesis capabilities to create never-before-heard sounds. And even if you're not interested in building your own sounds from scratch, the MODX6+ offers enough presets to keep you inspired for years.
Onboard flash memory loads sounds fast, exactly what you need when performing on stage. And the Live Set feature makes it easy to organize your favorite sounds for a performance, without having to copy or move presets. Performance controls give you hands-on control over your most-needed parameters, while the large color screen gives you the visual feedback you need to find deeper parameters fast.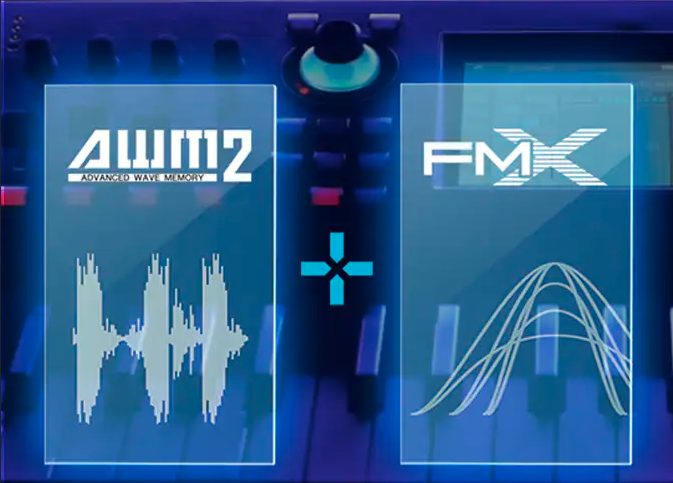 And the MODX6+ makes it easy to assign parameters to its performance controls, so beginners can experiment with different control layouts to find out what works best.
While we're focusing on live performance in this section, it's worth noting that the Yamaha MODX6+ offers a lot of functionality for home studios too. It's equipped with an onboard USB audio/MIDI interface for your computer or iOS device, with VST support for DAW control too.
Best Synthesizers for Beginners for Music Production with a DAW
You want to explore beyond your virtual instruments with a hardware synthesizer for music production. You plan to compose all your music in your DAW software, or perhaps play it from a separate MIDI controller, and want a synthesizer that will integrate seamlessly with your workflow. You may record tracks directly from your synth, or you may want to design sounds and sample them for further processing in your DAW software. In short, you're looking for a synthesizer module that gives you big sound design potential beyond your software instruments, but isn't going to take up a lot of space with a keyboard you won't use very often.
Roland SH-4d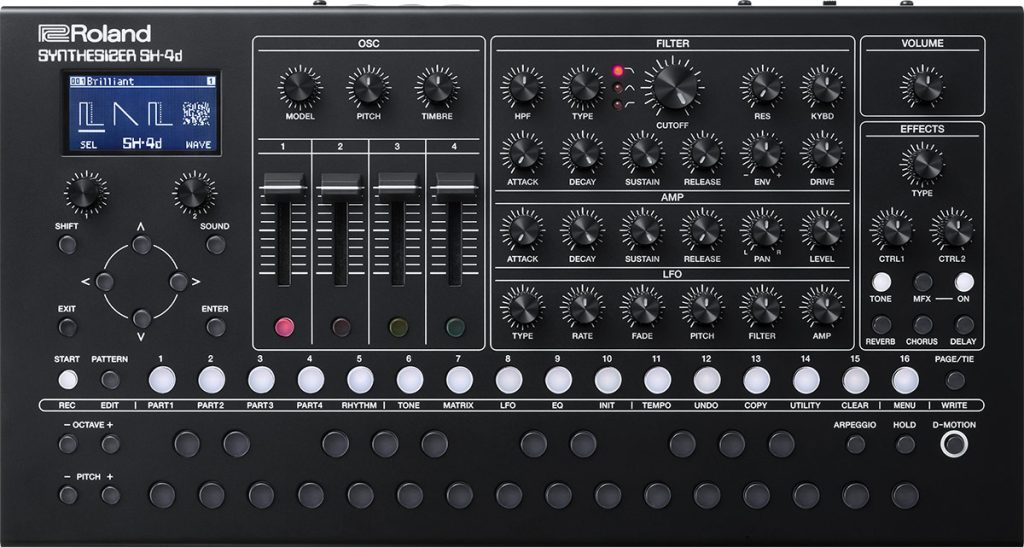 The Roland SH-4d desktop synth module transmits audio and MIDI via USB connection, making it easy to integrate with computer-based music production setups. Its multi-timbral operation means you can work with four different synth sounds at a time, with a fifth rhythm part that makes the SH-4d a great groove generator too. Lots of dedicated controls make it easy to create sounds from scratch without diving deep into menus.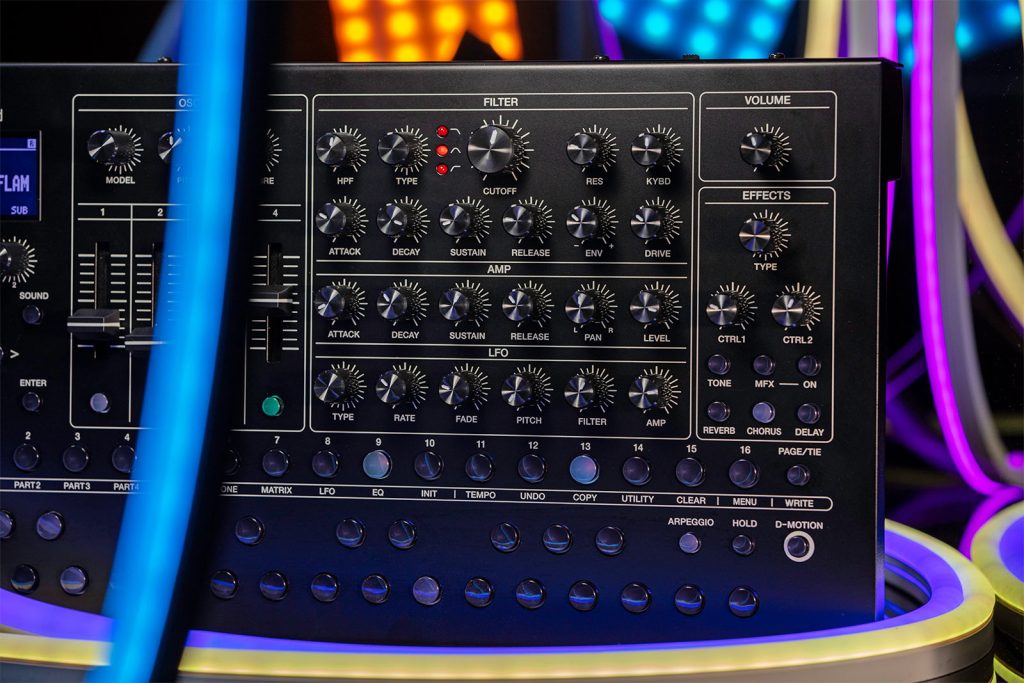 And in addition to lots of oscillators, filter models, and onboard effects, the SH-4d boasts a powerful modulation matrix that offers big potential for creating complex, evolving sounds and textures.
The SH-4d's onboard sequencer and keypads mean you can create sounds and write music even without your DAW or MIDI controller. And because the SH-4d supports USB bus power, it's a powerful solution for portable music production. In short, the Roland SH-4d sounds great, can cover practically any style of music, and is optimized for modern music production with a DAW.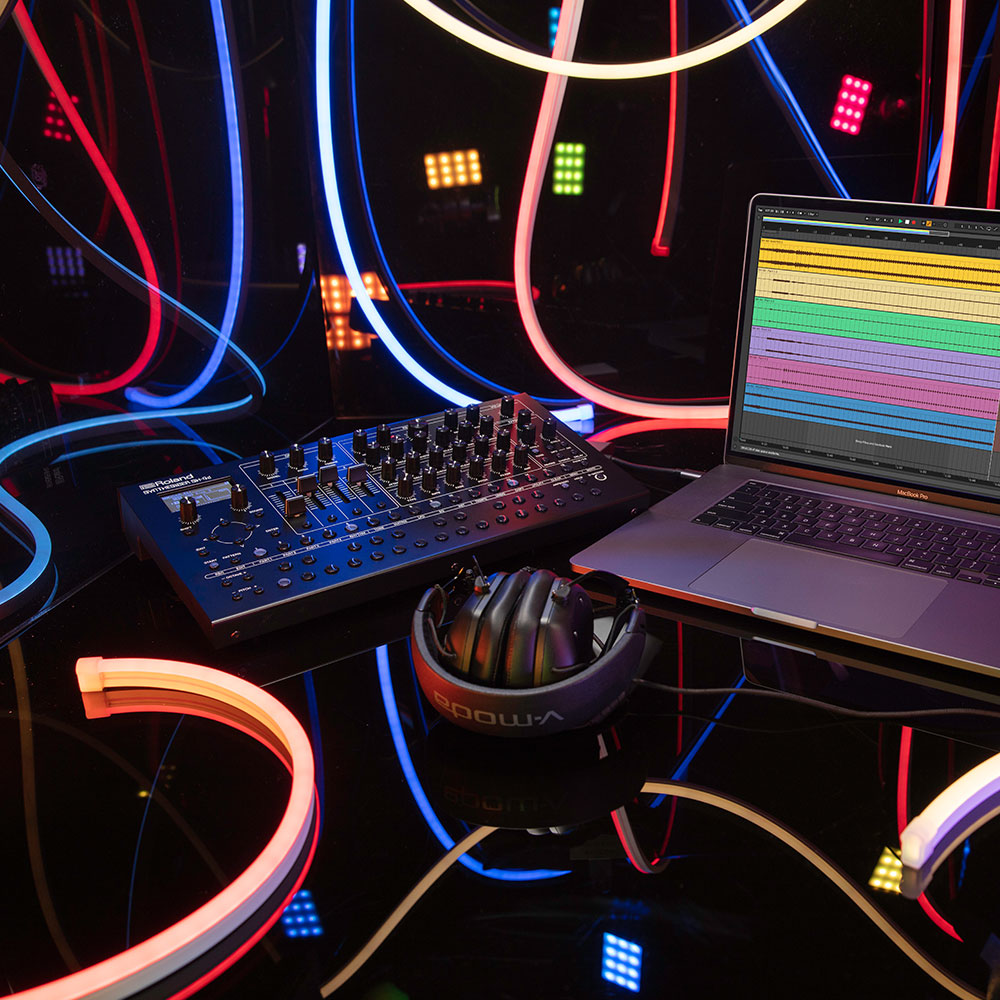 IK Multimedia UNO Synth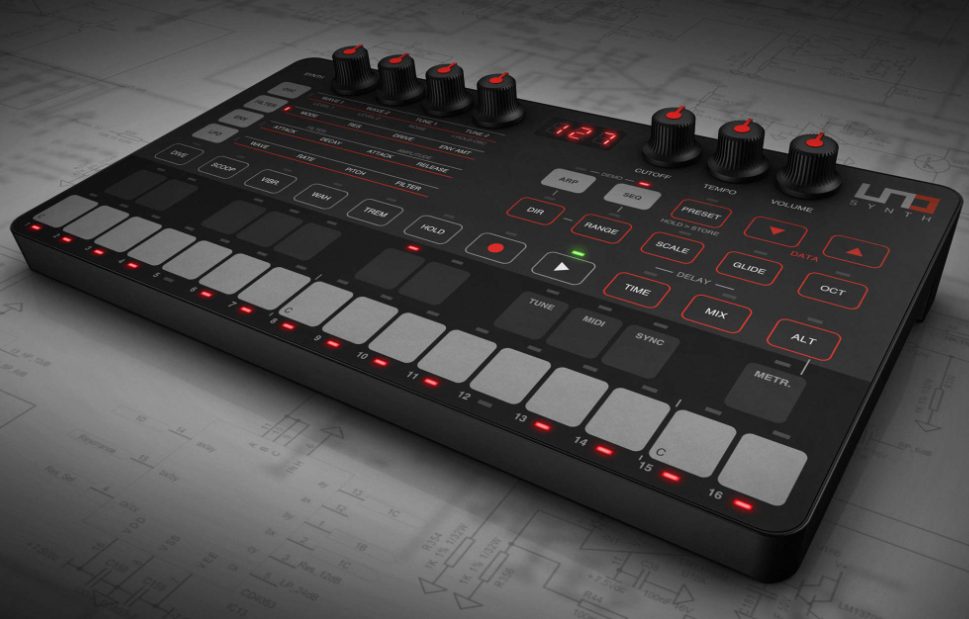 With USB connectivity for Mac, PC, and iOS, the IK Multimedia UNO Synth portable synth module is a compact synth that's perfect for producing music with your DAW software. It's capable of producing a wide range of sounds, from smooth pads and basses to harmonically-rich leads, complex pads, and evocative textures,
giving you a lot of creative potential to explore. And while its interface is simple and streamlined, you have a lot of sound-shaping offered by multi-function controls.
The UNO Synth features a surprisingly playable "keyboard" with 27 touch sensitive keys, allowing you to play and create sounds even without your DAW software. Its built-in sequencer and arpeggiator allow you to experiment with melodies, bass lines, and soundscapes anywhere you go. And you can save up to 100 presets to preserve your sonic creations for later use in your studio.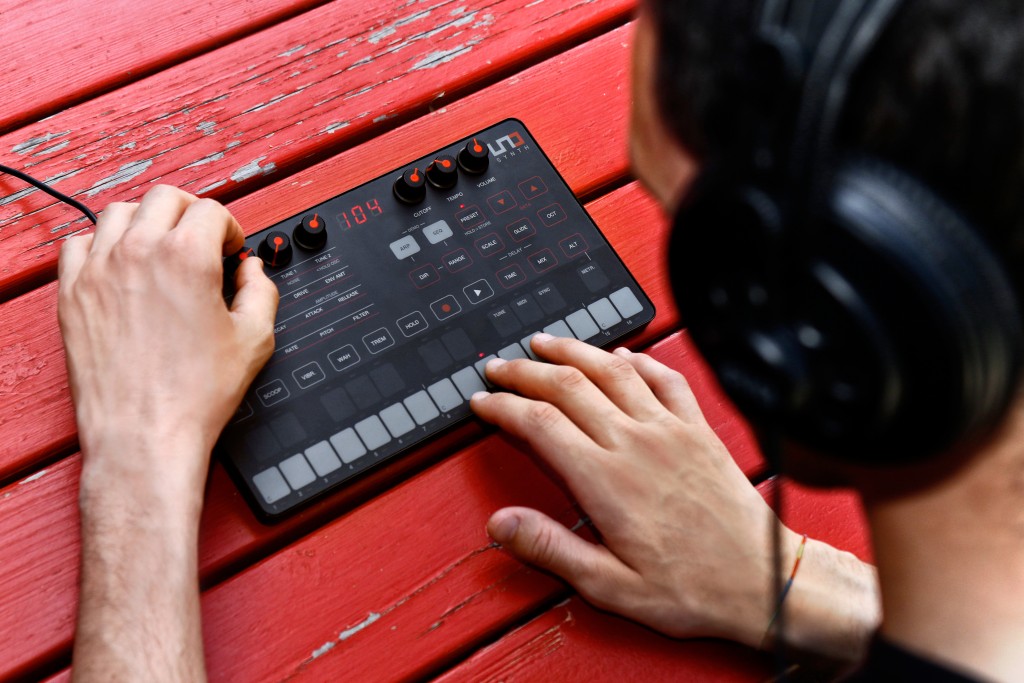 Choosing the Right Beginner Synthesizer for You
Synthesizers are instruments, and it's hard to know how well you'll connect with an instrument until you spend some time playing it. Hopefully this article has helped you narrow down what's most important to you as a performer or producer, and has helped de-mystify the vast range of different synthesizers available today. We have barely even scratched the surface of what each of these synthesizers are capable of, and you'll definitely want to click the links to learn more and hear these synths in action. No matter which synthesizer you ultimately choose to begin your synthesis journey with, the most beneficial thing you could do for yourself is to focus on that instrument and learn it as deeply as you can. Once you have an understanding of how your first synthesizer operates, you'll be well on your way towards mastering any other synth. Choose your first beginner synth wisely, take some time to learn it well, and you'll be amazed at where your creativity takes you!
Check out these other great articles:
5 Best Vocoder/Speech Synthesizers [Reviews & Buyer's Guide]
Best Synthesizers for 2022 | 5 Composer Approved Synths
Was this post helpful?
Let us know if you liked the post. That's the only way we can improve.