Music enthusiasts are turning to drumming as their hobby more than ever before. And that means finding the best beginner drum set for them!
While many decent drum kit brands are queued up with the best deals and offers, it is always advisable to pick the best drum set you can fit into your budget. And to make things easy for every new and professional drummer, we've picked the best beginner drum sets you could have to heighten your drumming hobby and of course, make heads turn with your soaring performances.
Looking for a quieter option? Check out our best electronic drum sets guide.
Top 5 Best Beginner Drum Sets Ranked by Real Drummers
Ludwig Breakbeats by Questlove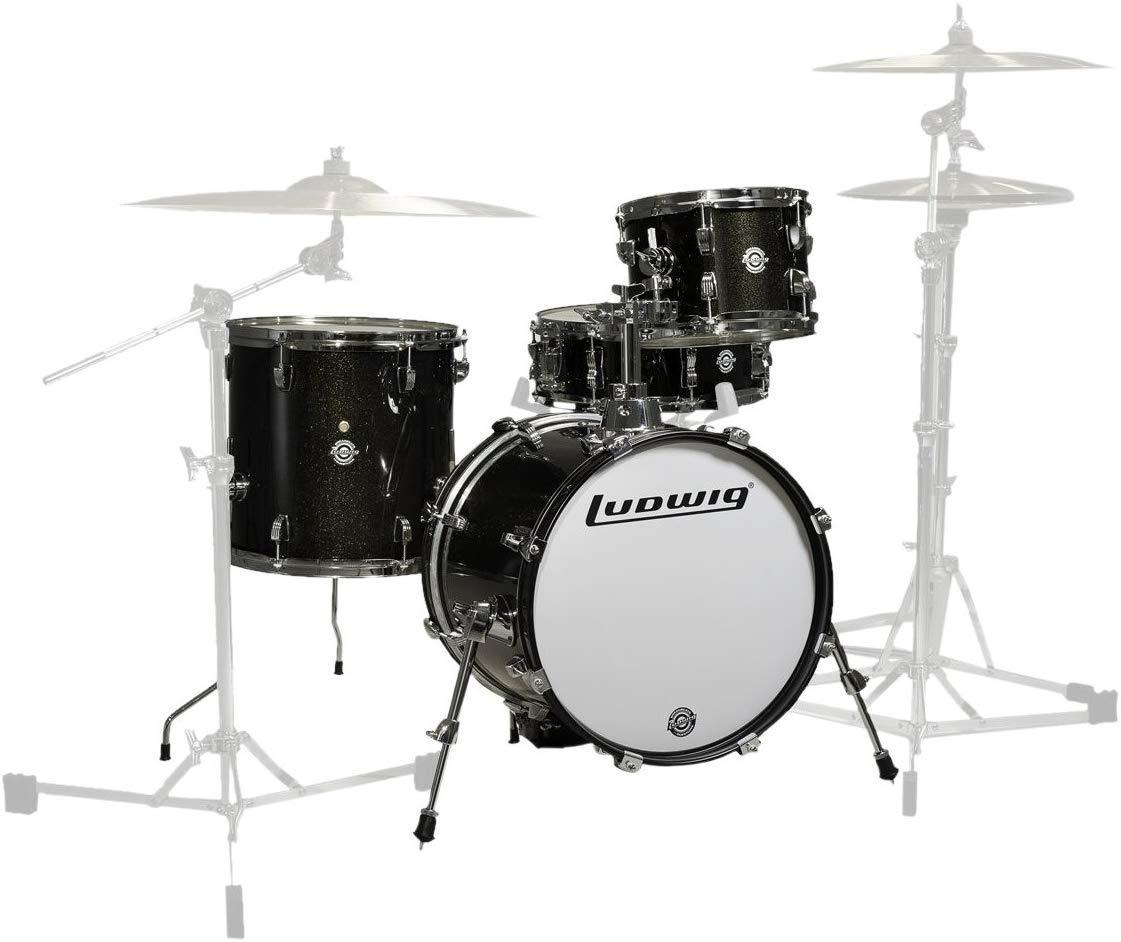 If you want a compatible drum kit that's totally meant for a street musician like you, then the Ludwig Breakbeats is what you're looking for. This apartment-friendly drum kit is the best in its class for quality sound and performance. Hard-rock performances in clubs won't be much better than with the new Breakbeats drum kit. The compact bass drum is positioned on a riser for ultimate reach and efficiency, giving you an unmatched performance on the streets. The Ludwig Breakbeats is one of the favorite drum kits preferred by young drummers who rule their rehearsals and drumming gigs with unsurpassed sound.
This easy-to-stack and portable drum kit's bearing edge shells are crafted with 7-ply hardwood, making it an ideal choice for beginners and professional drummers. Its ultra-smooth surface makes way for easy head seating to offer a crisp and unmissed drumming experience. Overall, this amazing drum kit is a perfect choice for anyone looking for a compact instrument with the best online deals. Ludwig Breakbeats is the best pick for beginners who would like to take a tour with their drumming hobby.
Features
Apartment-friendly and compact design
14×16″ bass drum, 7×10″ tom and 13×13″ floor tom for optimum bass effect
7-ply hardwood shells
Specifications
Brand: Ludwig Breakbeats
Model: LC179X016
Weight: 47.2 pounds
---
Pearl Roadshow Drum Set 5 piece RS525SC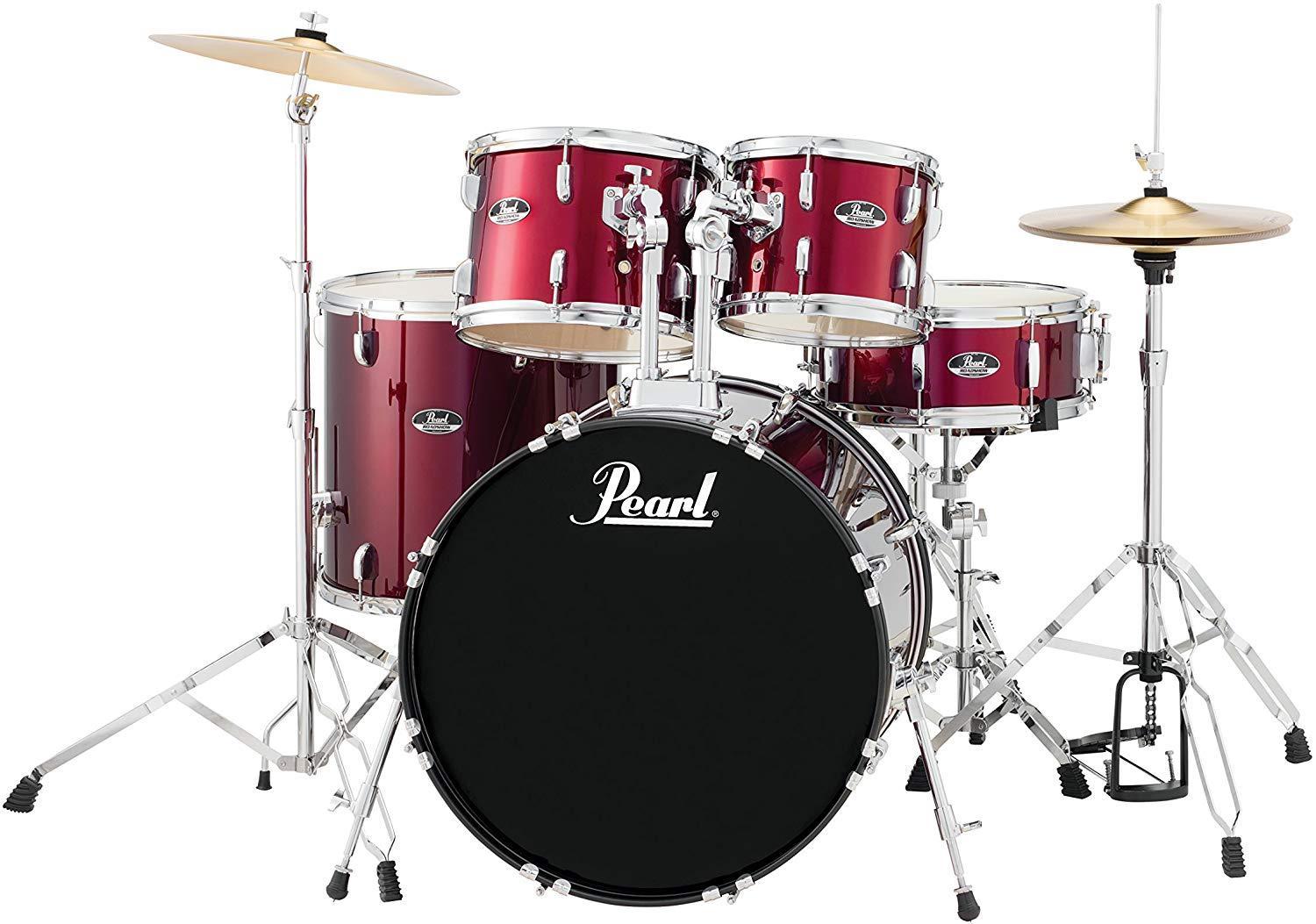 The Roadshow series from Pearl, the world's largest drum manufacturer, is the best instrument for a passionate drummer. This 5-piece RS525SC series comes with a 22×16 inch bass drum, 16×16 inch floor tom, 12×9 inch and 10×8 inch toms, and 14×5.5 inch snare drum for optimum sound and quality. Crafted to perfection in a full hardware and cymbal package, the Pearl Roadshow Drum Set 5 piece RS525SC lives up to your expectations. Speaking of the price, well, this brand comes with the best deal in any online store. The Roadshow series has everything you need to begin your career as a show-stopping drummer.
This Roadshow drum kit from Pearl is a decent pick that has a balanced proportion of looks and performance. Its sturdy mounting hardware and stands offer a precise and hassle-free playing experience. Pearl Roadshow Drum Set 5 piece RS525SC is the choice of many professionals and drumming enthusiasts across the globe, especially those who wish to get away with a budget-friendly and quality buy.
Features
9-ply Poplar shell for optimum tonal power
Double braced hardware included
Comes with cymbals and matching snare
Specifications
Brand: Pearl Roadshow Drum Set 5 piece RS525SC
Model: RS525SC/C91
Weight: 50 pounds
---
Pearl 5-Piece Export Drum Set EXX725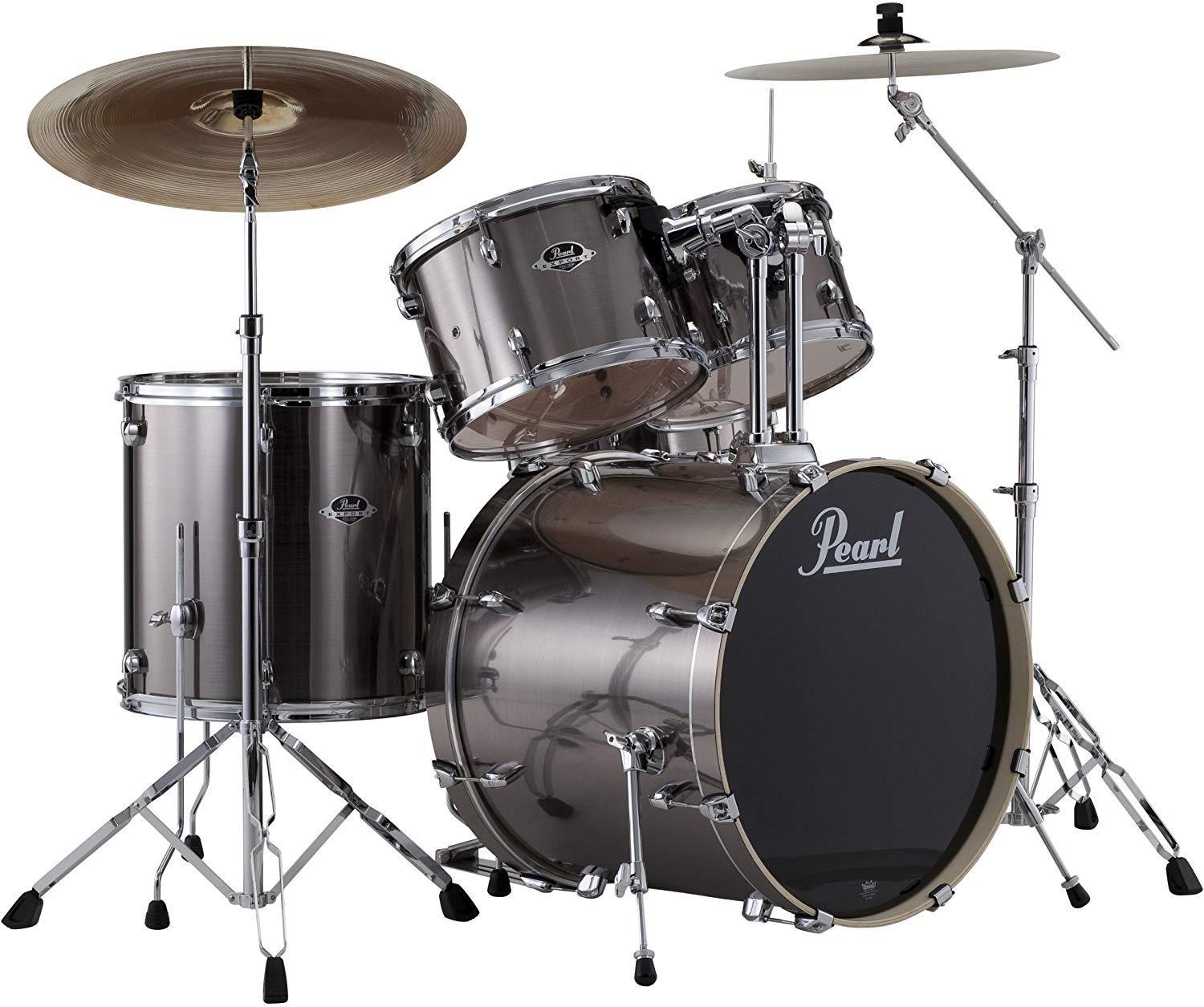 Featuring the best-selling drum kit of all time, the Pearl 5-Piece Export Drum Set EXX725 is here to captivate your hobby with its highly-functional looks and performance. This Export Series from the world's largest drum manufacturer is one of the best picks for any drummer, beginner or advanced.
Crafted with superior shell technology and Opti-Loc tom mounts, this 5-piece drum kit is all you need to rule the streets and stage with a thundering performance. Pearl's Export Series is fabricated with 830 series hardware with a P930 Demonator Pedal and choice of 5 amazing stocking finishes.
The Pearl 5-Piece Export Drum Set is a great deal for the quality, making it a fabulous choice for live stage performances and street gigs. Well-crafted shells and robust hardware make way for long-term durability, no matter how rock hard your performance is. This one-of-a-kind drum kit from Pearl is a must-have for drumming enthusiasts who're looking forward to a quality purchase at a decent price.
Features
P930 Demonator pedal
Brand new 830 hardware
Matching snare, REMO snare batter side head
Specifications
Brand: Pearl 5-Piece Export Drum Set EXX725
Model: EXX725/C
Weight: 48 pounds
---
Yamaha Stage Custom Drum Set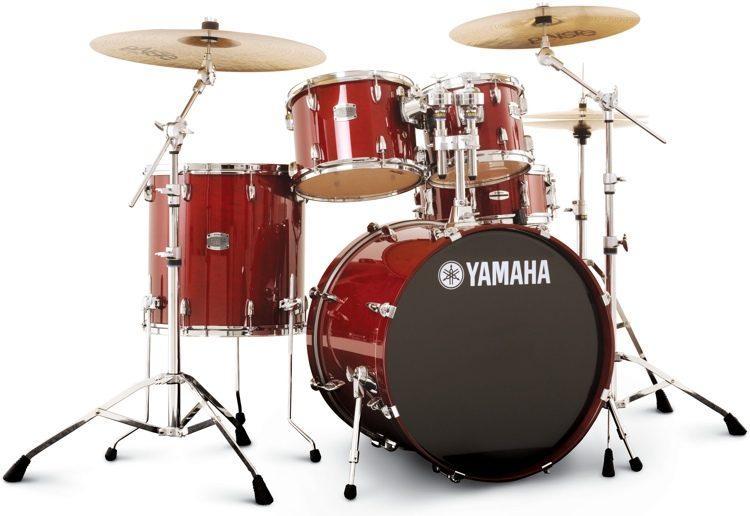 Crafted with rock-solid 780 series hardware with an extended punch and robust finish, many drummers swear by the Yamaha Stage Custom Drum Set. This amazing drum kit comes with 100% birch shells to provide an open-tone finish to every beat by the drummer. Crafted to perfection with a crisp attack and warm resonance feature, many recording drummers prefer this custom drum set from Yamaha. Fabricated with a complete set of 780 series hardware, this drum kit never compromises with its superior stability and performance.
Yamaha Enhanced Sustain System (YESS) seamlessly brings out the rumble and resonance of each shell, paving the way for a thundering performance on stage and in studios. The bass drum legs with stoppers allow a smooth set up for easy kicks while beating the best tune to your performance. Finished in glossy cranberry red, this custom drum kit from Yamaha is a must have for every drummer who lives and breathes music.
Features
100%-birch shells
780 Series Hardware — Cranberry Red
12″ rack toms, 16″ floor tom, 14″ snare
Specifications
Brand: Yamaha Stage Custom Drum Set
Model: SBP2F57-CR
Finish: Cranberry Red
---
Mapex Mars 5-Piece Shell Pack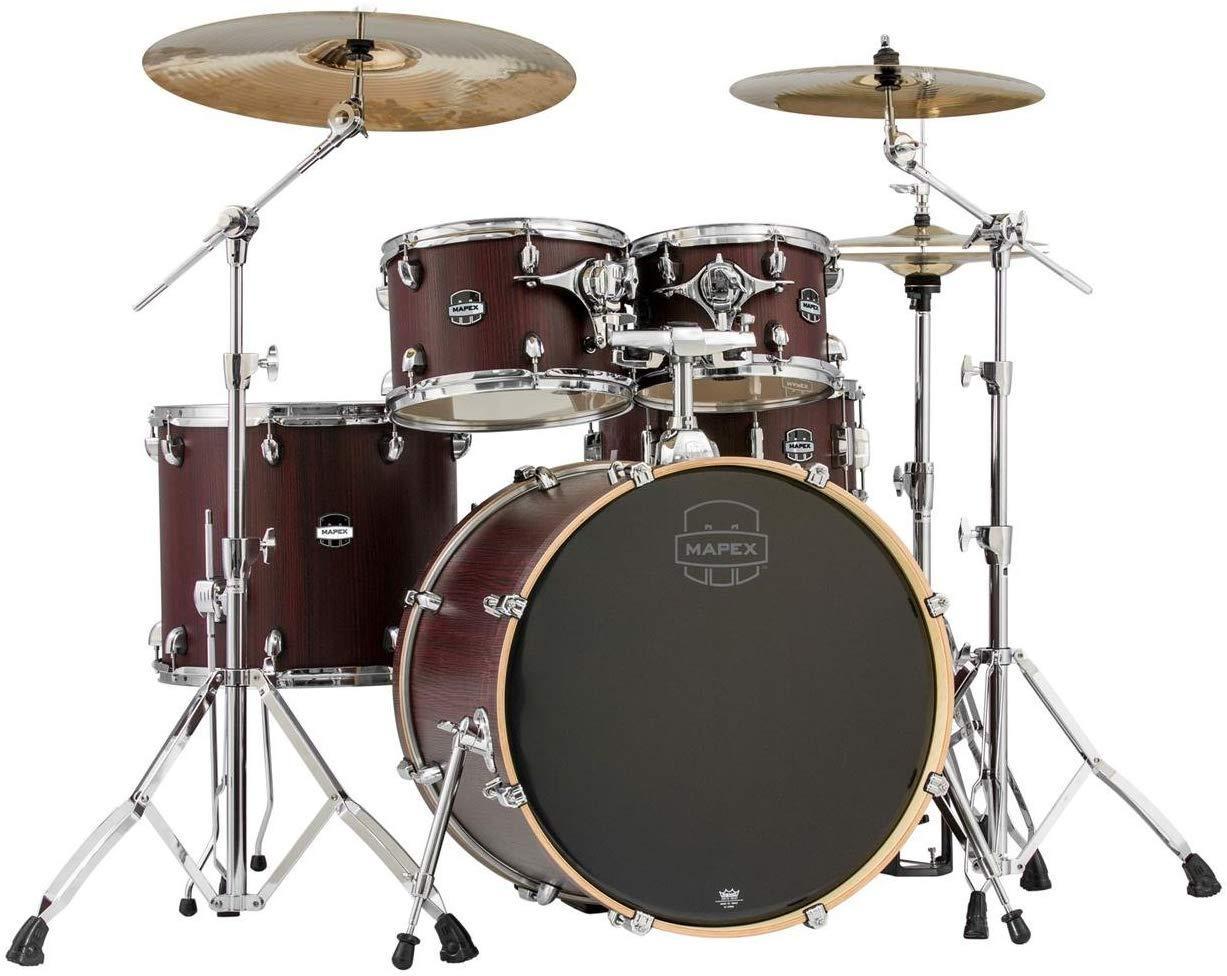 The Mapex Mars 5-Piece Shell Pack is the best drumming kit for those who love fast and clear tones with a quick rebound. Crafted with 100 birch, shallow-depth shells along with SONIClear bearing edge, this drum kit from Mapex is a perfect instrument to exhibit different playing styles and rhythms. Configured with a perfect blend of power and versatility, this 5-piece shell pack is made to produce a strong and centered pitch for an easy-tuned sound.
Mapex is known for its design innovations fused with premium style and performance-enhancing drum kit series. Whether it is the SONIClear trade or the rack tom suspension system, this drum kit is finished for giving a breakthrough performance at every stage and studio. If you're looking for a quality drum kit at an affordable price, then the Mapex Mars 5-Piece Shell Pack is something you could swear by without a second thought.
Features
14″x6.5″ snare drum
SONIClear tom suspension
16″x14″ floor toms, 12″x08″ mounted tom, 10″x07″ mounted tom and 22″X18″ kick drum
Specifications
Brand: Mapex Mars 5-piece shell pack
Model: MA529SF
Weight: 20.5 pounds
---
The Final Word on the Best Beginner Drum Sets for 2022
Whether you're a beginner or a professional drummer, you can't go wrong with any of these sets. You'll end up with a well designed and durable kit, with sturdy hardware, and robust sounds.
Well-known drum kits from Ludwig, Pearl, Yamaha, and Mapex are known for their powerful and robust performance and offer some of the best beginner drum sets.
Was this post helpful?
Let us know if you liked the post. That's the only way we can improve.