When it comes to choosing the best drum pedal, you can never afford to compromise performance, durability, and looks. We've all played bad single drum pedals and have probably missed a kick due to shoddy construction. Don't skimp on hardware; having quality components will elevate your drumming drastically.
If you're interested in learning more about drum sets, check out our guide:
Drum Kit 101: All You Need To Know When Buying A Drum Set
---
The 5 Best Drum Pedals Chosen by Real Drummers
To help you pick the ultimate single drum pedal, we've narrowed down a list of the best drum pedals you could swear. They are all approved and rated by real drummers. You can't go wrong with any of them.
---
DW 5000 Turbo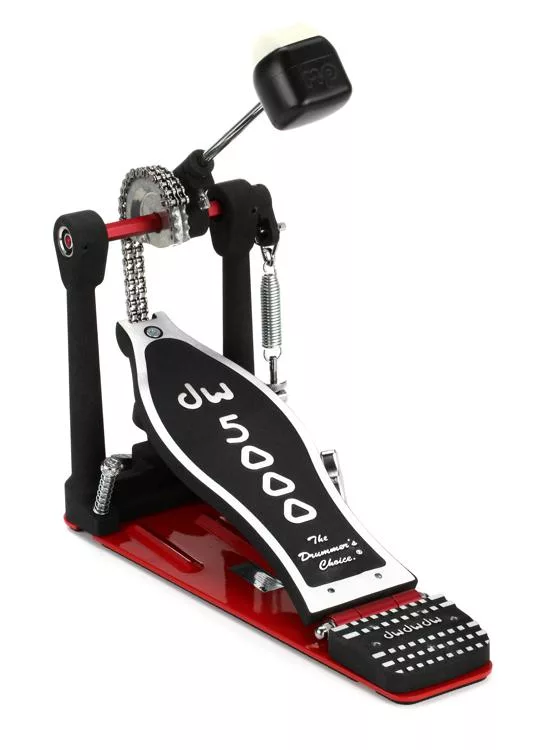 Building the perfect drum kit is tough; you want high quality and comfortable hardware. And when it comes to buying a drum pedal, you need one with strong grip and connection. The DW 5000 Turbo Single Bass Pedal is a patented drum pedal crafted with three independent 360 rotating rubber pads for an uncompromised grip while drumming your ear-piercing beats. These add-ons are crafted keeping in mind the professional drummer who never gives in to slips and improper grip. An ultra-smooth finish with a dual bearing spring rocker makes the DW 5000 series one of the best single drum pedals you could ever have.
This amazing single drum pedal comes with a sturdy concentric drive system to make way for a strong grip between the sprocket and footboard, giving you a solid and consistent feel every time you drum. As one of the most popular and highly rated pedals around, there is no doubt the DW 5000 Turbo Single Bass Pedal is an ultimate add-on for mastering your performance, without hassle or discomfort.
Features
Dual-Chain Turbo Sprocket
Delta II Ball Bearing Hinge
Tri-Pivot Toe Clamp
Specifications
Brand: DW 5000 Turbo Single Bass Pedal
Model: DWCP5000TD4
Weight: 6.5 pounds
Sale
DW 5000 Turbo Single Bass Pedal
Dual-Chain Turbo Sprocket
Tri-Pivot Toe Clamp (U.S. Patent No. 8330032)
Delta II Ball Bearing Hinge (U.S. Patent No. 5431081)
---
Ludwig L203 Speed King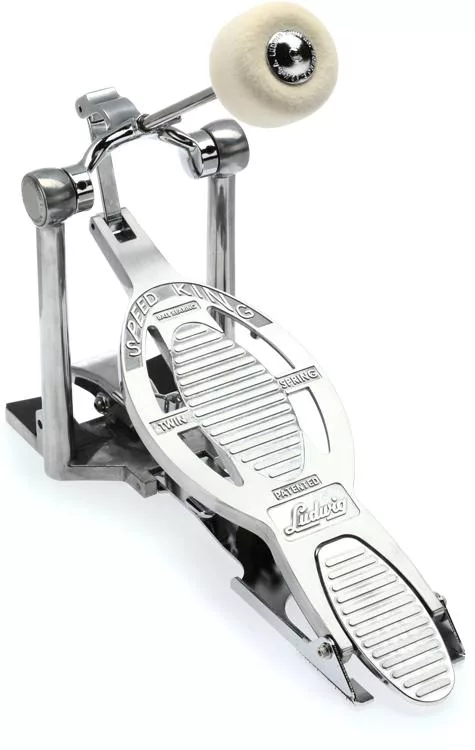 Its the Return of the Speed King! And its got one thing on its mind! Speed!
This super responsive direct-drive pedal builds on its long history, adding a few modern gadgets to its historically loved design. It boasts improved cam bearings and the smoothest direct drive link yet.
The arms contain two compression strings for quick and powerful reactions. And they're both adjustable to your liking to increase or lower the speed the pedal resets for your next kick. Additionally, the ultra wide pedal keeps you on target, even with occasional foot slippage.
If you've heard the old Speed King in action, you may have heard some squeaking. This squeak came from the heel plate. Ludwig's solved the squeaking with new and improved heel plate bearings, eliminating that squeak altogether. The only sound you'll hear from this pedal, is your rocketing bass.
It looks sharp, too! Its finished in high polish chrome for that sweet, sharp, clean look. If you're looking for a super fast pedal, you've found it!
Features
Modern-classic footboard design
Maintenance-free bronze sleeve bearings
Stainless-steel driveshaft
Specifications
Brand: Ludwig LAP15FP Atlas Pro Bass Drum Pedal with Rock Plate
Model: LAP15FP
Weight: 5 pounds
---
Dixon PP-9270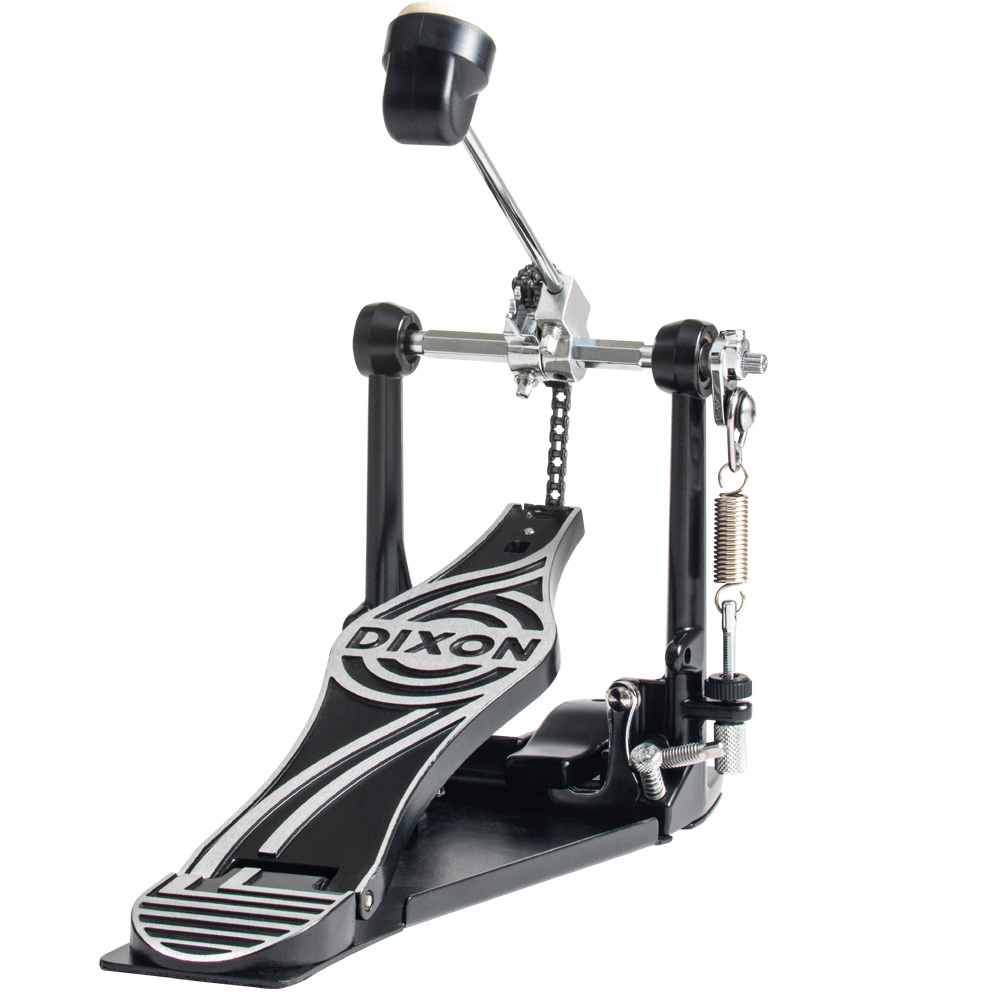 Dixon PP-9270 Single Bass Drum Pedal is the next-generation gear for an unsurpassed drumming experience for both beginners and professional drummers. This astounding PP-9270 drum pedal is crafted with single chain CAM action to give you a sturdy grip with added comfort. With built-in spurs, the Dixon PP-9270 Single Bass Drum Pedal keeps your drum from scooting, especially during hard rock performances. Its dual surface beater is an added advantage for drummers who look forward to filling the arena with thumping acoustics.
The ever-amazing Dixon PP-9270 single drum pedal series is the best choice for beginners who need a decent gear for their concerts or practice sessions. If you want a budget-friendly drum pedal that doesn't compromise on quality and performance, then the Dixon PP-9270 Single Bass Drum Pedal is what you're ultimately looking for.
Features
Single chain CAM action
Stabilizer platform for a sturdy finish
Dual surface beater
Specifications
Brand: Dixon PP-9270 single bass drum pedal, Cam-Drive
Model: PP-9270
Weight: 4.75 pounds
---
TAMA Iron Cobra 900 HP900RN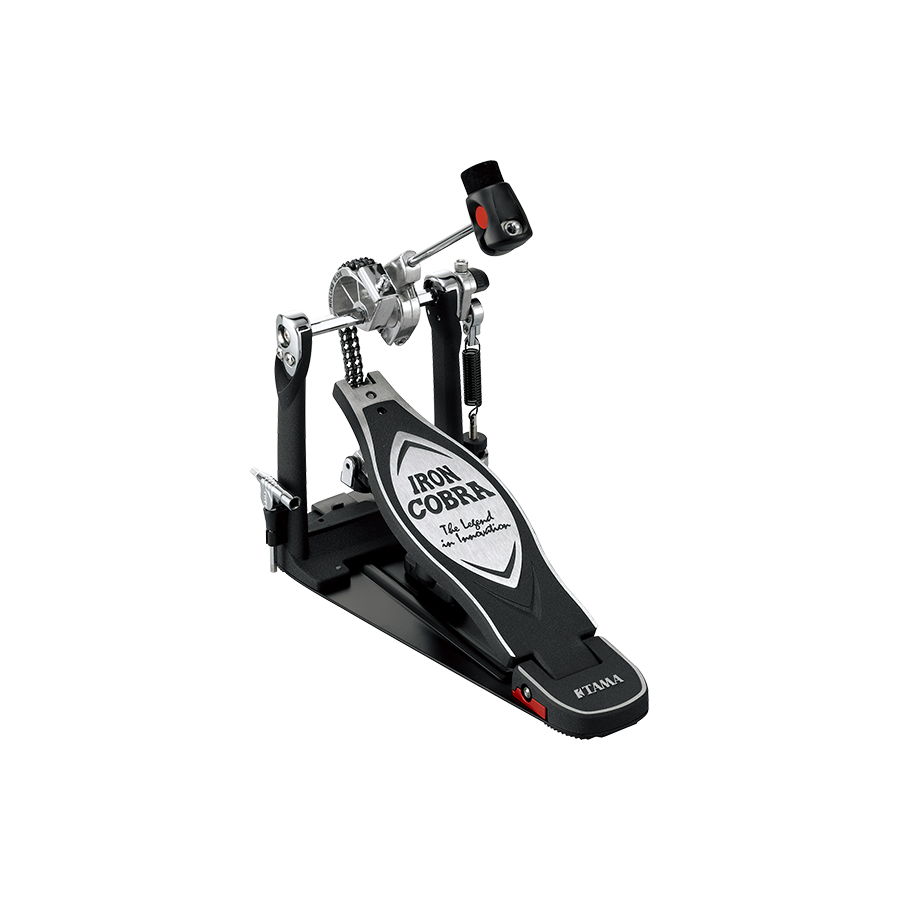 When looking for the best drum pedal, you have to pay attention to the TAMA Iron Cobra. The Iron Cobra series has been tuned and improved over two decades, so you can be confident in this time tested and feature full pedal.
Its Rolling Glide CAM provides a smooth beater movement, giving you more control and power from the pedal to the beater. The Cobra Coil spring underneath the pedal helps to quickly reset and raise the pedal for consistently fast beats. The beater itself has been redesigned with a small diameter but thicker head provides greater attack. Add to these features the dual-chain drive… You've got yourself some power!
Additionally, you can adjust the beater angle & footboard angle independently, letting you fine tune for the most comfortable and powerful setup. The clamp is reworked, too, making it hard to find a bass drum you won't fit to.
This pedal is featured packed. Its comfortable, customizable, and did we mention powerful?
Features
Two-way beater
Rolling Glide CAM
Cobra Coil Pedal Spring
Adjustable Beater Pitch
Para-Clamp II fits on almost any bass
Specifications
Brand: TAMA Iron Cobra 900
Model: HP900RN
Weight: 4.8 pounds
Tama Iron Cobra 900 Power Glide Single Bass Drum Pedal
Rolling Glide CamLiteSprocketQuick-Hook spring attachmentCobra Coil return springSpeedo-Ring rocker...
The pedal's solid foundation can be attributed to its Super Stabilizer design that incorporates a...
At each pedals heel, the specially designed 3-piece Hinge Guard Block provides a more durable hinge...
---
Gibraltar Hardware 9711GS-D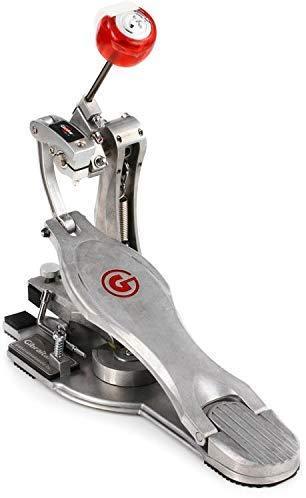 For those of you looking to start a fabulous journey as a drummer, the Gibraltar Hardware single drum pedal might turn out to be the best drumming gear you've ever had. Made from ultimate G-Class pedals, the 9711GS-D series is designed to match the passion of the modern drummer who loves to engulf the streets with thumping beats and acoustics. This one of a kind single drum pedal is loaded with a variety of control features, paving the way for a fine-tuned performance on the go.
Gibraltar Hardware (9711GS-D) is a perfect fusion of stylish looks and durable finish, making it an ultimate choice for hard rock performances on the street and in studios. Its unique sleek design eliminates the set-up hassles, giving the drummer a smooth and easy start with their beats. If you're looking for a highly-functional single drum pedal that is durable and focused on performance, then the 9711GS-D series from Gibraltar Hardware is the perfect drum gear you're looking for.
Features
Sculpted pillar frames
Easy spring tension adjustment
Helix mounting system
Specifications
Brand: Gibraltar Hardware
Model: 9711GS-D
Weight: 7.52 pounds
---
The Final Word On The Best Drum Pedals
Many professional drummers and beginners spend countless hours finding the right drum sticks and drum heads to create a comfortable and thumping sound. Finding the right bass pedal is just as important. You can't go wrong with any of these best drum pedals. They are tough, durable, tested, and loved. And they'll each bring you soaring acoustics without hassle.
These well-known brands such as the DW 5000 Turbo series, Ludwig, Dixon and Gibraltar Hardware always live up to what they promise. Crafted with a variety of user-friendly features such as two-way beater, built-in spurs, adjustable toe clamp, and lightweight finish, these top picks pave the way for robust performance on the streets and in the studios.
Was this post helpful?
Let us know if you liked the post. That's the only way we can improve.