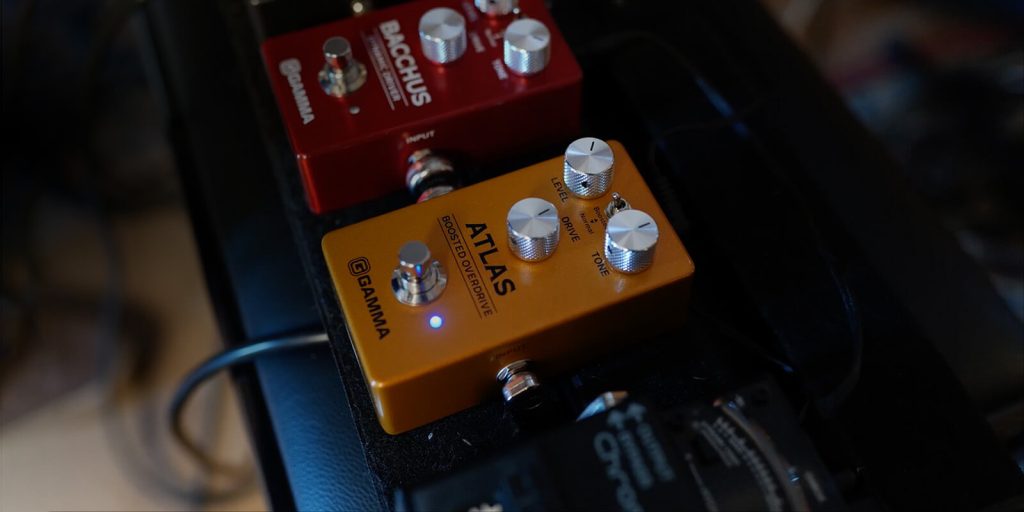 With so many overdrive pedals available today, it's clear that guitarists can never have enough overdrive options. With a simple control set and an affordable price tag, the GAMMA Atlas Boosted Overdrive pedal delivers a wide range of overdrive tones reminiscent of classic TS-style drive pedals — but does it have the tonal tenacity to earn that coveted first-place spot on your pedalboard? Let's tap in to what top guitar influencers have learned about the GAMMA Atlas pedal, give it a listen, and decide if it has what it takes to be your always-on overdrive pedal.
Tube-amp-style Drive Tone with a Wide Gain Range
"Let's take a listen to a demo track that I recorded with this pedal. I used my Gibson Les Paul Standard '60s with a JB in the bridge, into my Orange Rocker 15 Terror." – Sonic Drive Studio
As you can hear in the Sonic Drive Studio demo, the GAMMA Atlas Boosted Overdrive pedal can add a ton of tenacity to your guitar tone. Played into an already-driven amplifier, the GAMMA Atlas pedal can push your amp into full distortion with singing sustain.
"In the first section of the song I used this pedal as a boost with very low gain, into an already-driven channel. But the crunch on this channel was very light, and this pedal was used to take it to the next level for a nice and thick and bitey and punchy crunch." – Sonic Drive Studio
Played into your amplifier's clean channel, the GAMMA Atlas adds grit and bite to an otherwise lackluster guitar tone:
"In the second part of that song I used this pedal into the clean channel of this amplifier, so all the overdrive in that section is coming from this pedal." – Sonic Drive Studio
As you can hear, the GAMMA Atlas delivers mid-forward crunch and plenty of harmonic excitement in Normal mode. But how does the Boosted mode shape your tone?
"For the final section I went back to the dirty channel again with the light overdrive, then enabled the Boosted mode on this pedal for a nice and fat and kind of wild overdrive." – Sonic Drive Studio
As guitarist and content creator Rob Chapman explains, the Boosted mode provides a full-range voice that contrasts well with the mid-forward bark that the GAMMA Atlas pedal offers in Normal mode:
"I happen to know that this adds thickening and brightening, so it's doing both ends for you." – Rob Chapman
Dial Down the Gain and GAMMA Atlas Cleans Up Nice
It's clear the GAMMA Atlas Boosted Overdrive has your gain needs covered, from mid-forward crunch to full-bore distortion. But if it's going to earn the top spot as your always-on overdrive pedal, it's going to need to clean up nicely when you need it to. How does the GAMMA Atlas pedal fare when you want to dial back the aggression? Guitarist and content creator Perfecto De Castro reports:
"With the gain knob down you can actually use this as an always-on pedal. It doesn't drastically change your tone, it adds just a little bit of bite to it." – Perfecto De Castro
"It does add that little bit of tube character to it — when you hit it hard it breaks up in a nice way, and when you pick softly it cleans right back up. It responds nicely to your guitar's volume knob too." – Perfecto De Castro
"And even in Boosted mode it still responds nicely to the guitar's volume knob." – Perfecto De Castro
As you can hear, the GAMMA Atlas Boosted Overdrive pedal can be dialed back to add a subtle lift to your sound without changing your core tone. In Normal mode, the mid-focused tonality of the GAMMA Atlas pedal helps reduce low-end mud while adding a touch of bite and presence to upper-mid frequencies, creating chiming clean tones that remain clear and distinct when you roll your guitar's volume down. In other words, you can dial in your ideal rhythm tone with your volume knob down a bit, then crank it up for hot leads — that sounds like the makings of an always-on overdrive pedal to us.
Wide-ranging Controls Unlock a Vast Range of Tones
While TS-style overdrive will always have its place in rock and blues, the GAMMA Atlas Boosted Overdrive pedal offers big tone shaping potential suitable for a range of musical styles. Its wide-ranging controls for Level, Drive, and Tone yield a diverse tonal palette to explore, with shades of psychedelic fuzz, heavy metal distortion, and "Top Boost" amp tones waiting to be discovered. But why talk about it when you can just loop a riff and tweak some knobs? Sonic Drive Studios agrees:
"To get an idea of how the controls sound and react, let's take a listen to some looped riffs and I'll tweak all the controls so you guys can hear how they sound." – Sonic Drive Studios
There's plenty of range here to cover a variety of musical tastes. And since the GAMMA Atlas is, at its core, a tube-style drive pedal, let's hear Perfecto De Castro explore the Drive control's full range with Level and Tone controls set at noon. As he begins with the gain all the way down, note how the GAMMA Atlas pedal adds presence, clarity, and bite without altering his guitar's core character:
As he rolls the Drive control up to around 9-10 o'clock, that rich tube-style saturation turns to responsive rock crunch:
With the Drive increased to 2 o'clock, the GAMMA Atlas pedal gains impressive sustain, and just a touch of velcro-ripping fuzz character as well. Note how Perfecto increases the Tone control at this point to compensate for the added gain, enhancing high-end response while reducing some low-end grind
That's about as much gain as you could ask for from any overdrive pedal. But for the sonically adventurous among us, let's hear the GAMMA Atlas pedal with the Drive control all the way up:
As these content creators have demonstrated, the GAMMA Atlas Boosted Overdrive pedal has the tonal tenacity and sonic versatility that you want at the start of your effects pedal signal chain. Its versatile voicing and tone-shaping capabilities practically guarantee you'll find plenty of stellar tones with whatever guitar and amplifier you use. And while tone is ultimately subjective, there's no denying that these guitarists had a ton of fun playing with the GAMMA Atlas Boosted Overdrive Pedal.
"This pedal sparks joy — I recommend that you get one!" – Rob Chapman
(See Rob's full review of the GAMMA Atlas Boosted Overdrive here: https://youtu.be/5BTR5zQiJBU)

"A pretty cool pedal and quite sturdy too, I like this thing!" – Sonic Drive Studio
(See Jon's full review of the GAMMA Atlas Boosted Overdrive here: https://youtu.be/NqoODBCdfZA)

"I am very impressed — it's very comfortable under the fingers, even when ran into a solid state amp." – Perfecto De Castro
(See Perfecto's full review of the GAMMA Atlas Boosted Overdrive here: https://youtu.be/bhlja-eco7w)
Are you looking for effects pedals for your acoustic guitar? Check out this post: https://homestudiohub.com/are-there-effects-pedals-for-acoustic-guitar-meet-the-fishman-afx-acoustic-guitar-pedals/
Was this post helpful?
Let us know if you liked the post. That's the only way we can improve.