A passionate drummer must possess the best electric drum set for an unsurpassed drumming experience. While most of the online markets are flooded with a series of branded drums with various makes and finishes, it is always worth the while to go for the best instrument.
If you're interested in learning more about electronic drum kits, check out our essential drum set guide.
We've summarized our best electric drum sets to help you identify a great kit for you. Whether you're looking for a beginner electronic drum set for your apartment or professional studio setup, we've got it covered.
Our Top 5 Best Electric Drum Set Recommendations Ranked by Real Drummers
Alesis Nitro Mesh – All-Mesh Electronic Drum Kit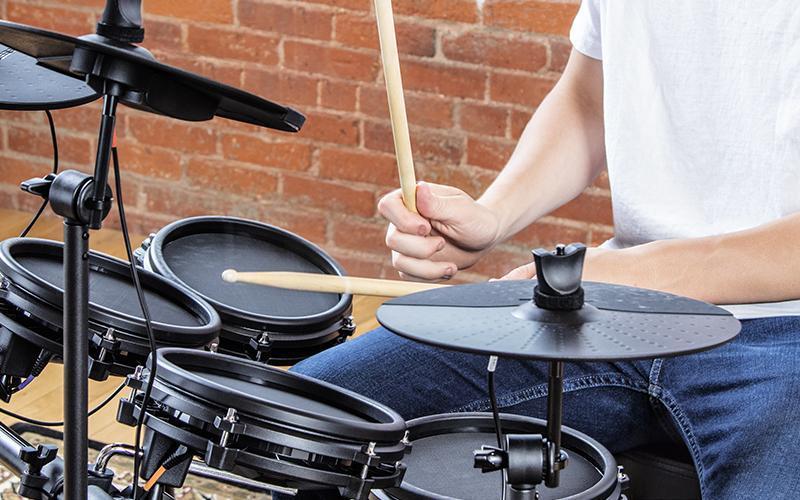 A next-generation electric drum set is all you need to flaunt all your rock concerts on stage and in studios. If you're looking for a premium brand that lives up to the performance and functionality, then Alesis Nitro Mesh is what you're looking for. This fabulous drum kit is packed with everything you need to pierce the air with your hard rock beats and thumping rhythm. Power-packed with the Nitro electronic drum module, Nitro Mesh Kit is ultimately filled with surprises and is designed for someone who lives and breathes music.
Crafted with 40 classics as well as modern ready-to-play kits, tweaking and customization is never a hassle with the Alesis Nitro Mesh. This drum kit also features 60 built-in play-along tracks, onboard metronome and USB MIDI connection for compatibility with computers and mobile devices. The Nitro module also comes with some old-school MIDI jacks to keep you hooked to your sound module and audio gear. And if you're someone who needs ultimate focus to rehearse before your concert, the headphone jack in this drum kit gives you the liberty to warm up with some private practice sessions. The Alesis Nitro Mesh is all you need to jam the streets and studios with your thumping beats.
Features
Mesh drum heads for a quiet, calm and natural response
Kick drum, kick pedal, hi-hat pedal
MIDI in and out ports for direct connection to standalone MIDI gear
Specifications
Brand: Nitro Mesh Drum Kit
Compatibility: Mac OS X 10.9 or later and Windows 7 or later
USB Port: Available
Sale
---
Roland TD 1K Electronic Drum Set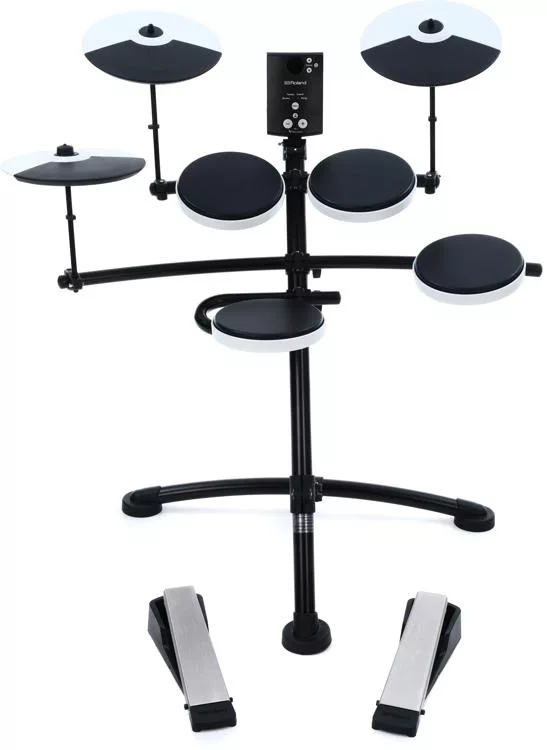 Roland TD 1K is the perfect pick for beginners who are passionate about drumming and those looking forward to owning a decent brand that lives up to what it promises. Crafted to perfection in a compact finish, the TD-1K from Roland is the best fit for those who've just started their exciting musical adventure. With 15 expressive drum kits including perfect acoustics for jazz, rock, EDM and more, this amazing drum kit is more than a blessing to your musical passion. Whether you need to build your playing skills with an onboard coach function and metronome or practice along with built-in tracks, you can definitely swear by the Roland TD 1K without a second thought.
Easy compatibility with your smartphone and music player paves the way for a seamless practicing experience. Finished in a sturdy and compact ergonomic design, the Roland TD 1KV is a stylish drum kit that suits all drummers, both beginners and professionals. If you want to have some fun while cherishing your drumming passion, then this amazing drum kit might fit the bill, giving you ultimate satisfaction and that 'worth-the-buy' feel.
Features
7-inch rubber-head snare pad for support and positioning
Supports advanced hi-hat playing
Space saving, ergonomic design
Can expand with additional drum & cymbal pads
Specifications
Brand: Roland
Weight: 25 pounds
Model: TD-1K
Roland TD-1K Entry-level Electronic V-Drum Set
Advanced Supernatural sound engine based on the flagship TD-30
Sound quality and expressiveness equivalent to the top-of-the-line V-Drums
Simple, logical interface for easily swapping and customizing each drum and cymbal in a kit
---
Yamaha DTX6K Electronic Drum Set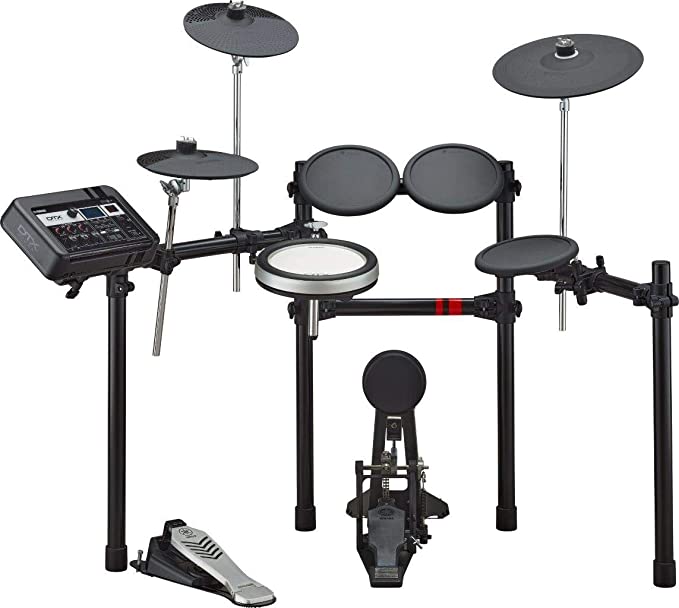 If you have a strong passion for drumming then you might need more than just ordinary drum kits. And with the Yamaha DTX6K, you could elevate your musical spree to unbound heights with thumping performances, and of course, make heads turn. This amazing drum kit from Yamaha is the ultimate choice of beginners who love to give their best when it comes to drumming. Featured with power-packed DTX pads, edge triggers and snare and cymbal pads, the DTX6K is the ultimate series to mold you into a professional drummer.
Yamaha drum kits are meant for a thundering performance and you might never get a chance to compromise with your beats when you have the DTX6K series by your side. With an extensive preset library covering everything from classics to modern styles, this one of kind drum kit is what you need to explore the hard rock drummer in you. USB MIDI connectivity and built-in virtual mixer are an added advantage for on the go performances.
Features
3-zone textured silicon snare, crash, and ride pads with a realistic feel, dynamics, and rim shots
FREE App for easy recording, editing, and sharing
Includes Cubase AI
KP90 Kick Pad provides a realistic feel, and is suitable for single or double kick
Upgraded models include larger cymbal pads and a hi-hat stand
Specifications
Brand: Yamaha DTX6K
Weight: 61 pounds
Model: DTX6K-X
Sale
Yamaha Electronic Drum Set (DTX6K-X)
40 New Preset Kits, 200 User Kits and over 400 New Voices
Faithful reproduction of real sound and ambience recorded in a well-known studio
AMBIENCE, COMP, EFFECT knobs as KIT MODIFIER to create your own sound
---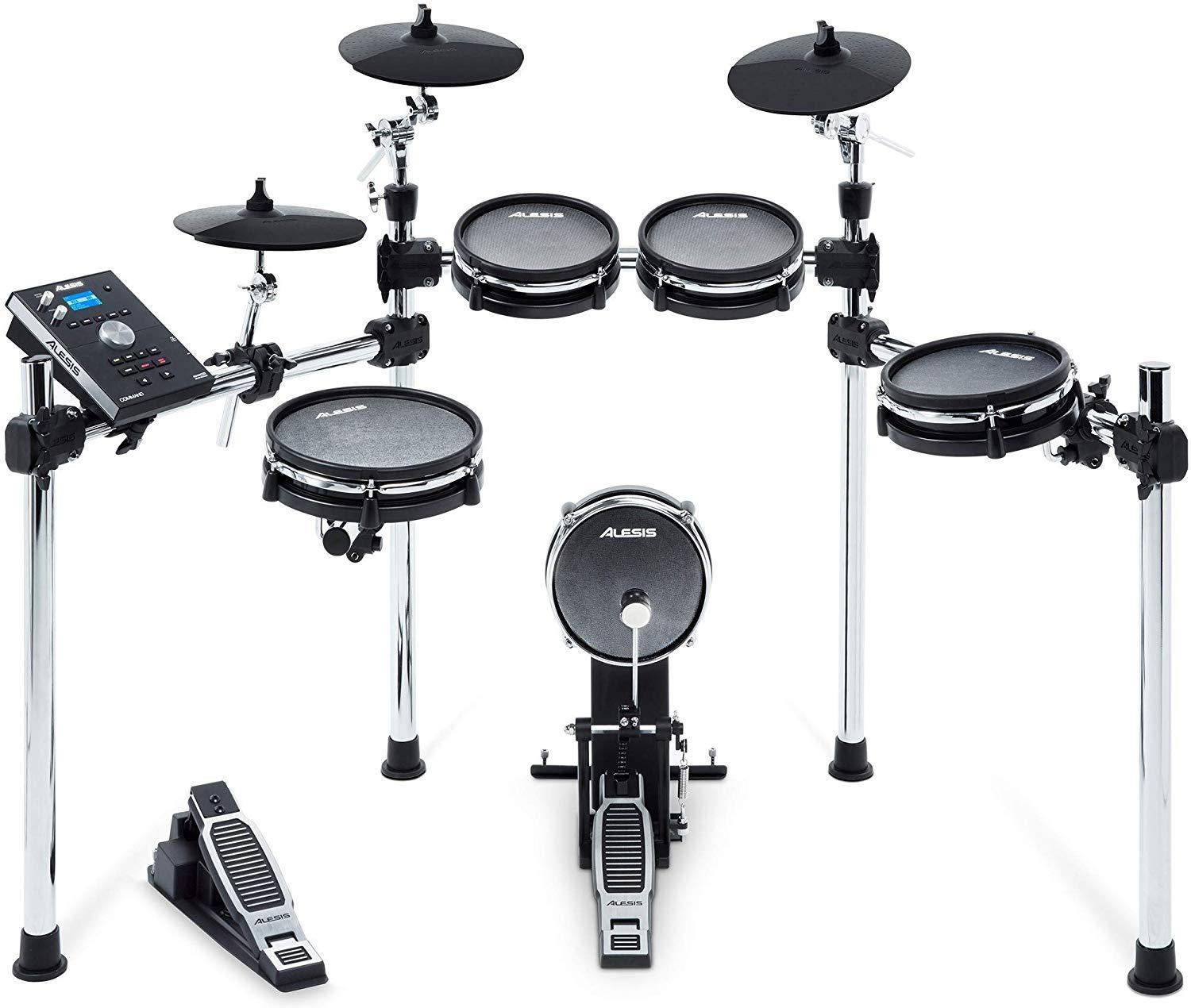 Alesis Command Mesh is what most beginners prefer to elevate their drumming passion to uncompromised heights. This drum kit is an 8-piece electronic instrument crafted to perfection for the modern drummer like you. With its dual-zone mesh snare and mesh tom pads, getting that natural feel and performance is never going to be a hassle anymore. This amazing drum kit from Alesis comes with three cymbals for a virtually unlimited portfolio of expressions and themes. Its compact design and ultimate looks are a seamless fit for a drumming enthusiast who loves to keep it going both on stage and in the studio.
The Alesis Command Mesh is an innovation in electronic drums, made with sophisticated looks and functionality to give you that precise acoustics and sound. Whether it's a street performance or a hard rock concert in your favorite club, this one-of-a-kind drum kit is what you need to discover the professional drummer in you. Its rock-solid build and 40 drum lessons from Melodics makes the way for an engaging practice before you head towards your professional drumming gigs.
Features
In-Demand Sound and Command Drum Module with 70 kits
In-built sequencer to record our playlists
4-post chrome rack, connection cables, drum sticks, drum key and power supply included for a power-packed performance
Specifications
Brand: Alesis Command Mesh
Weight: 50.7 pounds
Model: Command Mesh Kit
---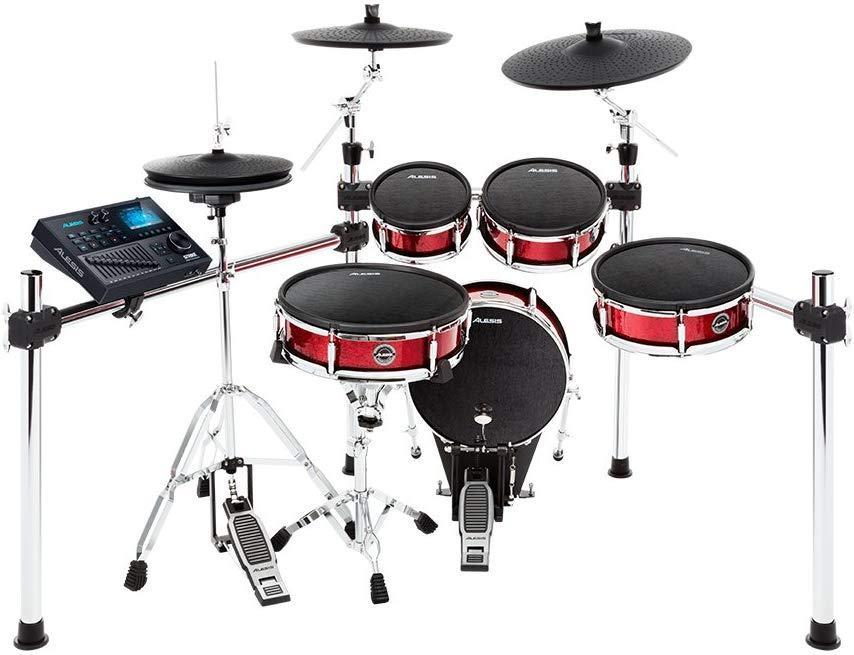 Alesis Strike Kit is what most beginners swear by for that thundering performance during practices and live concerts. This drum kit series is one of the best electronic instruments that comes with an excellent build and great looks. Whether it is its sturdy dynamic mesh heads or the superior module performance, this Alesis series lives up to your expectations. Crafted to perfection with 40 bonus lessons from Melodics and a 4.3-inch full-color LCD screen, manual customization and settings are even simpler in this one of kind drum kit from Alesis.
SD card storage and USB/MIDI compatibility paves the way for practicing in conjunction with your favorite music tracks and software. Alesis Strike Kit is an 8-piece wonder combined with versatility and functionality, making it one of the most desirable electronic drum kits one could ever have.
Features
Dynamic mesh heads
14″ kick drum, 14″ snare pad, 8″, 10″, 12″ tom pads; 16″ triple-zone ride cymbal, 14" crash cymbal and 12″moveable hi-hat
Software editor for creating custom kits/instruments
Specifications
Brand: Alesis Strike Kit
Weight: 101.4 pounds
Model: Strike Kit
Sale
---
Frequently Asked Questions about Electronic Drum Kits
Are Electronic Drum Sets Quiet?
There are many ways to muffle the sound of an electric drum set, if you're using your set in an apartment you might want to look into building a small drum riser or muffling the sound with a rubber mat. Many drummers also use brushes and mesh drum kits such as the Alesis Nitro.
What Electronic Drum Kit Should I Buy?
What electronic drum kit you buy really depends on your skill level and what you want to do with them. For many beginner drummers, they can get away with a cheaper kit whole professionals might lean more towards getting a top-of-the-line Roland mesh drum kit.
Which Electric Drum Set Is Best for Beginners?
Many novice and intermediate drummers choose the Alesis nitro mesh kit. This is one of the best electronic drum sets for beginners. With adjustable mesh drum heads and a great module that has 40 drum kits with USB/MIDI out so you can use some of the best drum VSTs like XLN Audio Addictive Drums or Steven Slate Drums. You can also record your drumming into your favorite DAW easily.
Can you use an Electric Drum Set with Double Bass?
Yes, many electronic drum sets allow other kick drum pedals to be used. This is usually the first upgrade for drummers.
What Is the Best Brand of Electric Drum Sets?
The best brands of electronic drum sets are Roland, Alesis, and Yamaha, in no particular order. They all have their own strengths and weaknesses.
---
The Final Word on the Best Electric Drum Sets
If you're a music enthusiast who has chosen drumming as your passion, then it's always worth the while to buy the best electric drum set in the market. Whether it's your long-awaited rock concert or ear-piercing street performance, you should elevate your drumming passion with the best drumming kit that has a bevy of astounding features. Reputed brands like Alesis Nitro Mesh, Roland and Yamaha are known for their sturdy and fabulous drum kits, making them the most sought after labels by many professional drummers.
Was this post helpful?
Let us know if you liked the post. That's the only way we can improve.