Microphones are expensive pieces of equipment that need to be handled with care. That means your microphone stand is an essential accessory to both protecting your mic and your sound. Finding the best mic stand also helps to boost the quality of the instruments, voices, sounds, tones and maximizes the performance significantly.
The overall performance quality depends on the sound produced by the microphone placed on a stand. If you are not able to adjust the stand properly or if the stand does not support the mic where you need it, your performance can suffer.
There is a wide range of mic stands available on the market that you can choose from. They vary in type, use, shape, size, and materials. It is important to know and understand the various styles that are available so that you can choose the best mic stand(s) to suit your venue and purpose.
In this guide, we will discuss the different types of mic stands and also review some of the best mic stands and their features so that you can choose the one that's best for you.
Looking for a great sounding microphone? Check out our microphone buyer's guides: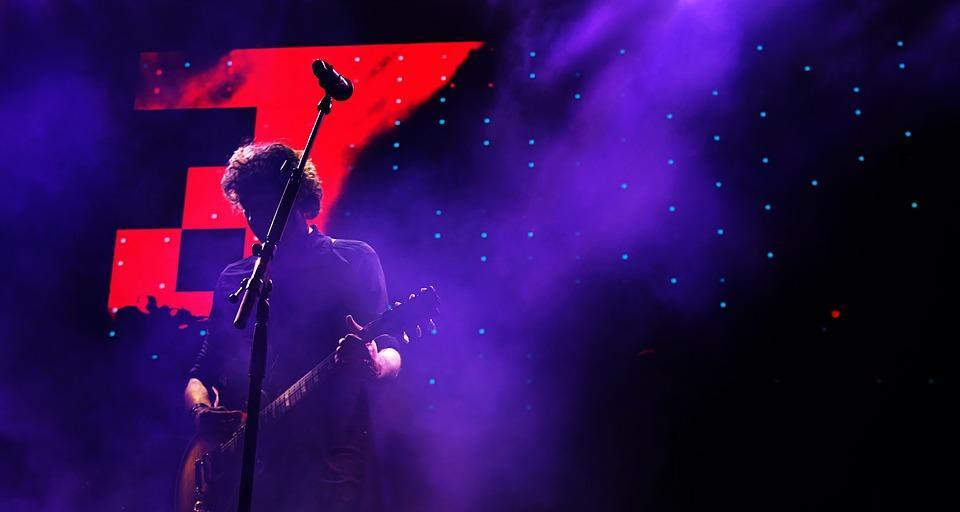 Our 5 Best Mic Stand Recommendations by Vocalists and Musicians
Best Round Base: On Stage MS7201B Round Base Microphone Stand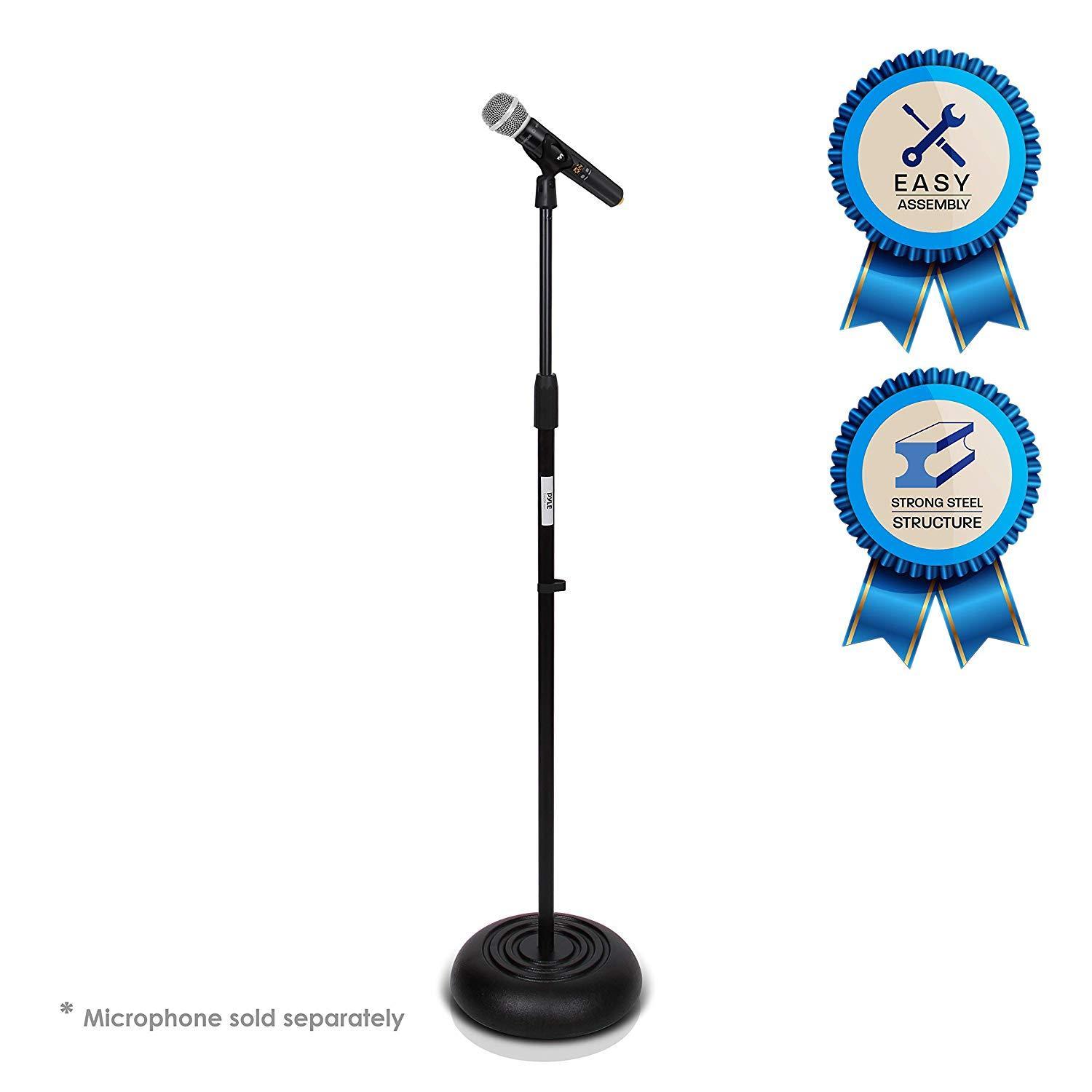 The MS7201B Round Base mic stand from On Stage is quite popular among performing artists. Featuring a 10-inch diameter solid diecast round base, the stand is very lightweight, yet stable. The stand has an internal counter zinc diecast clutch that holds the upper shaft. The clutch is engaged and locks the stand into place securely.
The shaft of the mic stand has a black powder-coated finish that offers protection from dust and moisture and the end cast is solid having 5/8 x 27 threads. The mic stand can be adjusted from 34 to 60" as you require. The microphone stand offers stability and balance that prevents it from falling over.
The MS7201B Round Base mic stand can be disassembled easily and offers convenient transportation and storage and suitable for use in the studio or at home. The simple, compact and ultra-lightweight microphone stand is perfect for professional, as well as amateur use.
Key Features
Floor standing mount design
Solid and sturdy die-cast metal base
Height adjustable clamp
Adjustable microphone clip
Specifications
Dimensions: 1.7" x 8.9" x 8.9"
Weight: 9.92 lb
Height Adjustment: 33.5" – 60.24"
External Thread Size: 5/8 x 27
On Stage MS7201B Round Base Microphone Stand, Black
Classic. Historically popular mic stand featuring a familiar classic-style, low-profile, solid,...
Sturdy. Heavy 10″ metal base delivers stability while maintaining portability. Rubber feet reduce...
Adjustable. Heavy-duty clutch reliably adjusts the height 33″–60″ for precise mic placement...
---
Best Tripod: Samson MK-10 Microphone Boom Stand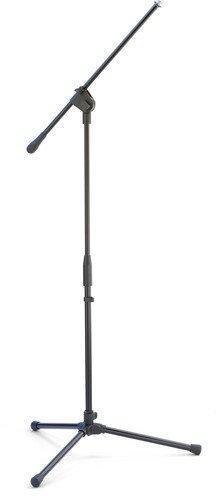 If you're looking for a lightweight, compact, yet durable microphone stand, then the Samson MK-10 Microphone Boom Stand. The tripod stand has a durable steel construction with an attractive smooth black finish. The tripod base mic stand is super lightweight, collapsible and can fold down to 25 inches allowing you to carry it wherever you want conveniently.
The microphone boom stand has a functional design and offers excellent flexibility of positioning. The telescoping stand has a maximum height of 70", a minimum height of 26" and comes with a mic clip holder ideal to hold handheld mics. Available at a very affordable price, the Samson MK-10 is an excellent option for both live and studio recordings.
Key Features
Collapsible tripod base for easy height adjustment and transportation
Lightweight mic stand with a tripod base
Durable steel construction and sleek design
Comes with a mic clip
Specifications
Dimensions: 25.5" x 3.5" x 3"
Weight: 3.31 lb
Height Adjustment: 26" to 70"
---
Best Tripod Boom: On Stage Stand MS7701B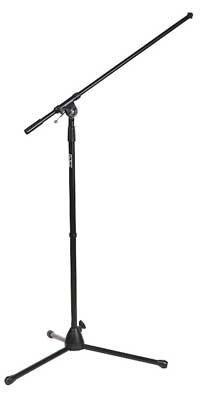 The MS7701B from On Stage is a sturdy, reliable and portable mic stand. The affordable stand has a 30-inch boom, which allows you to position the mics very easily. The leg housing is made of steel-reinforced plastic that is very sturdy and practically unbreakable.
The mic stand has a removable boom arm and can be folded flat, which makes it convenient to store and transport. The mic stand features a midpoint clutch that makes it very easy to adjust the height and you don't have to worry that your stand will collapse even while supporting the weight of the heaviest microphones. Featuring a sleek black finish, the MS7701B microphone stand is a must have for every member of your band.
Key Features
Leg housing made of steel-reinforced plastic that is lightweight and exceptionally sturdy
The 30-inch boom arm is removable and can be positioned easily
Folding legs feature end caps made of plastic helps to reduce vibrations
Specifications
Dimensions: 32.5" x 4" x 4.2"
Weight: 4.95 lb
Height Adjustment: 32" to 61.5"
OnStage MS7701B Tripod Microphone Boom Stand
Durable. Steel construction delivers reliable performance and support for a wide range of...
Portable. Lightweight stand quickly folds down flat for ease of load in, setup, teardown, and load...
Versatile. Height adjusts 32″–61.5″ for precise mic placement in a variety of applications and...
---
Best Desktop: On Stage DS7200QRB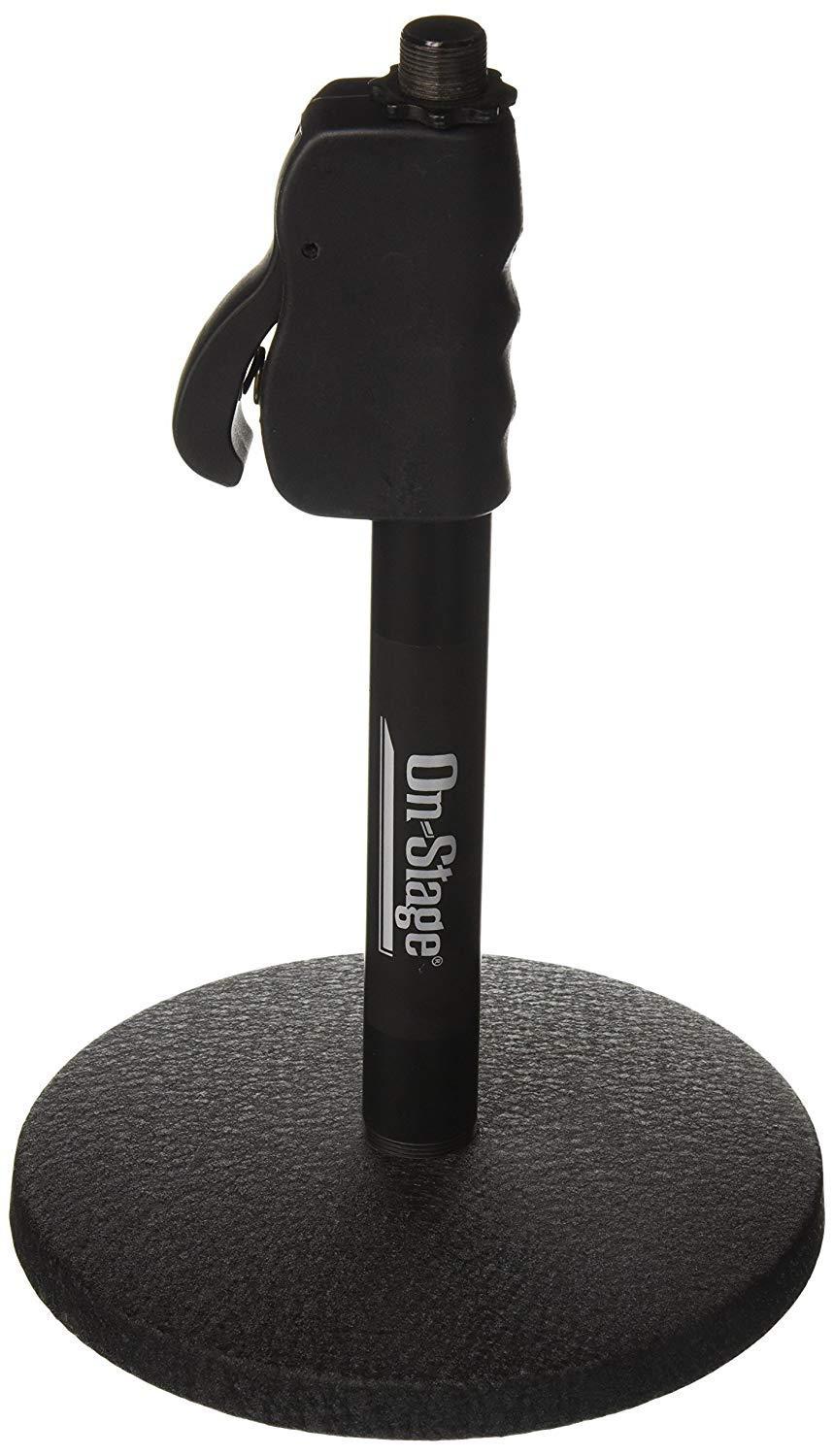 The On Stage DS7200QRB desktop stand is innovative, durable and affordable. The stand features a Quik-Release clutch trigger that allows you to disconnect the mic from the stand instantly and facilitates 2-handed operation making it perfect for paging, announcements, dispatches and use in courthouses.
The stand has a 6-inch solid and sturdy sand-cast base and 5 rubber feet that offer stability and durability. The shaft is removable and offers height adjustments between 9.5 inches to 16 inches. Overall, the On Stage DS7200QRB desktop mic stand is a great option for people who want freedom from the podium.
Key Features
The stand is perfect for short height miking and desktops
The stand has a solid 6-inch sand-cast base that offers stability
The non-slip rubber feet dampen any vibrations
Specifications
Dimensions: 7" x 2" x 6"
Weight: 0.16 lb
Height Adjustment: 9.5" to 16"
---
Best Overhead: Ultimate Support MC-125 Studio Series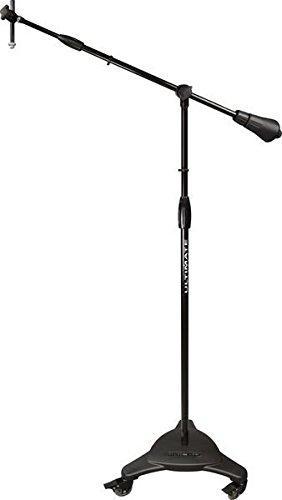 Finally, on our list of best microphone stands is the MC-125 Studio Series. The professional studio boom stand has a large base diameter and its rollerblade style wheels offer extra stability. The stand has a reliable clutch that allows you to raise and lower the height of the stand smoothly.
The MC-125 microphone stand has a long boom that is adjustable from 35"-61" and it has a clutch arm extension that is friction-free. The stand is equipped with a 5.75 lb counterweight that is easily adjustable and offers stable placement of the microphone.
The stand features a threaded shaft and boom that allows you to set up very easily and quickly and also disassemble it for convenient storage and transport. Overall, the MC-125 Studio Series mic stand is a class apart and an excellent buy.
Key Features
The stand has rollerblade style caster wheels that offer very smooth movement in all directions
The wheels can also be locked in both directions to prevent any movement
The MC-125 is the "most adjustable" mic stand on the market
Specifications
Dimensions: 61" x 3.8" x 3.8"
Weight: 35 lb
Height Adjustment: 52" to 83"
Boom Length Adjustment: 35″ to 61″
---
Final Thoughts on the Best Microphone Stands
While any performance depends on the quality of the mic, there is no denying the fact that purchasing the best mic stand is one of the best investments you can make for your studio and an important accessory to have. We hope that our guide and reviews of the best microphone stand helps you in picking the best stand for your needs.
---
Types of Microphone Stand Bases
There are 2 types of mic stand bases – round or tripod. Usually, stands with round bases are made of metal or plastic. They are heavier and tend to be more stable. Mic stands having solid bases are quite sturdy and robust, which makes them suitable for on-stage performances or areas having high traffic.
These types of stands are commonly found in recording studios where the equipment is usually fixed and does not need to be moved around often. Round base stands are preferred by performers as they occupy less floor space and are also less hazardous than tripod stands.
Tripod mic stands have 3 legs that make up the base. Tripod stands are quite common and are quite inexpensive. These stands are usually foldable and are compact, which makes them easy to store. They can be collapsed and packed easily to carry along and they can be unfolded and set up very easily. The only limitation of tripod stands is that you can trip on them very easily, especially if the stage is dark.
---
Types of Microphone Stands
Straight Stands
These floor model vertical tube shaft mic stands have adjustable height and are the most basic and popular. These are very commonly used on stage and typically have a round base. Some models may have caster wheels that offer easy portability.
Tripod Stands
Tripod stands are as popular as round base stands and are usually used by performers because they occupy less space and also lets you stand closer to the microphone comfortably.
Desk Stands
Desk stands are low-profile or shorter versions of straight stands and can be attached to a desk. These stands are commonly used for radio shows, podcasts or presentations. Desk stands are becoming very popular as they are very easy to use with any type of desk and are best in the case of a sedentary setting, where using other types of stands can be cumbersome. And, since desk stands mount on a table, they become a part of your furniture.
Boom Arm Stands
Boom arm stands are like standard microphone stands but have an attached arm that lets you have a longer reach. These stands are very convenient when you have limited floor space. The biggest pluses of boom arm stands are that they can be adjusted to any angle and they provide a longer reach.
Boom arm stands are available in fixed or adjustable lengths and can have a tripod-type or round base. These stands can be adjusted horizontally or vertically and angled to pick up the sound without hampering the performance. Boom arm stands are ideal when you have different heights for instance, you need the mic to reach people sitting at a lower height or musicians playing drums or the keyboard.
Low-Profile Stands
These are short in height and are usually used for guitar cabs or kick drums. These also have an adjustable height; however, their range is smaller when compared to a boom arm or stand-up mic stand.
Overhead Stands
Among all the stands discussed here, overhead stands are the largest and most expensive professional stands. They are usually used when you require extreme heights and angles such as in studios having overhead drums, above green screens, etc.
---
Types of Microphone Stand Attributes
The attributes of microphone stands allow them to be more versatile, functional and mobile.
Gooseneck
This microphone accessory allows you to finetune the positioning of the mic. It also allows you to place the mic in tight spaces that are difficult to reach directly with a boom or stand. Goosenecks offer greater flexibility and are especially useful when you want to use a mic with instruments like the acoustic guitar and drums, as they let you reposition the mic quickly without tinkering with the stand. Goosenecks are available in different lengths and the best gooseneck can handle the weight of a standard handheld mic easily.
Boom Arm
The boom arm has mic clip attachments that are mounted to the top of the mic stands. They allow the microphone to move horizontally and the absence of the vertical shaft allows free movement and also lets the performer be handsfree. A boom arm is especially beneficial in the case of limited space.
---
Types of Microphone Stand Attachments
There are many types of attachments that help to adapt the mic stand of how and where it will be used.
Clip
The clip holds the mic and is attached to the mic stand with screws.
Post
The post comprises a set of telescoping tubes between the base of the stand and the clip and can be extended.
Clutch
The clutch is commonly used on a straight mic stand and allows you to adjust the height of the stand. Typically, the clutch can be operated using one hand.
---
Choosing the Best Microphone Stand
Before you decide to purchase a mic stand, you must consider the following aspects:
The venue where you will be using the mic stand, whether you'll be using it on stage, in a studio, for a live gig, on a desk or for a podcast.
The type of mic stand and the support required – desk stand, floor stand, suspension arm, etc.
How many mic stands you will need.
Required accessories like shock mounts, pop filters, carry bags, etc.
While cost may not be a very important factor, functionality and quality of the mic stand are very important things to consider. Nevertheless, it's a good idea to buy a high-quality mic stand that you can afford. The best mic stand may not be expensive; however, a cheap stand may not be sturdy, balance well or long-lasting.
Some cheaper stands may not be able to support some high-end microphones and may even sag after a while. It may not maintain its grip and could even fall apart completely. The microphone stand should not let the mic drop or slip, since we do not want to replace our expensive mics. Another important factor to be considered is the accessories required, which can add up to the cost of the microphone stand.
While top-quality high-end mic stands may cost more initially, they come with greater benefits like longer warranties, quality accessories, field service and replacement of parts along with reliability, durability and longer life.
Was this post helpful?
Let us know if you liked the post. That's the only way we can improve.