Whether you are recording audio in a studio for a song, creating a monologue for a podcast in your home office, or dictating on your desktop for transcription. Make sure you invest in the best pop filter for your microphone type. They are essential to prevent p-pops, negate other plosives, and protect your microphone from saliva and its corrosive effects.
Read ahead for an overview of the features and specifications of five best pop filters.
Looking for a great-sounding microphone? Check out our microphone buyer's guides:
---
5 Best Microphone Pop Filters Reviewed by Vocalists
Stedman Corporation Proscreen XL
The Stedman Corporation Proscreen XL skips nylon and other fabrics and uses a patented metal material to protect your microphone from unnecessary distortions. It is one of the few filters in the market that's designed to keep the requirements of digital recording in mind.

Features
A six-inch screen with a rubber bezel around it fitted on a 13-inch gooseneck with a rubberized clamp that grips the mic stand for a firm fit.
The mesh allows signals of even high frequencies to go through and yet prevents clipping resulting from the bursts of breath accompanying plosives and other hard syllables.
Very easy to wash and clean, which enhances the life of the filter and ensures proper cleanliness and hygiene in your recording zone
An angled louvered opening pushes the vocal pops down from the back of the screen, which means audio quality remains unimpacted even if you are standing very close to the microphone.
Specifications
Six-inch screen.
26.5-inch filter including gooseneck.
Clamp Range: 9 mm-23.5 mm.
13-inch long gooseneck.
---
Auphonix Blue Yeti Pop Filter – Best Pop Filter for Blue Yeti
If you want a single universal pop filter that will fit and work well on different types of microphones, then your search ends with the Auphonix Blue Yeti Pop Filter.
Its clean black design is extremely pleasing to look at while the double mesh wind screen does a fantastic job of protecting your recording from the damaging effects of plosives, without muting your voice.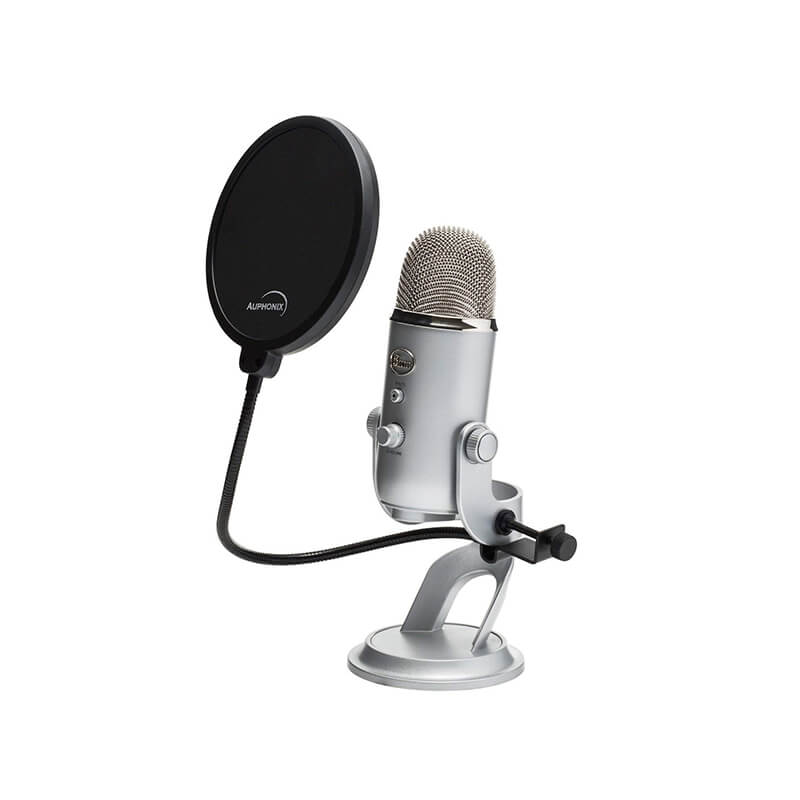 Features
The strong gooseneck stand makes it easy to adjust the filter right where you need it.
Easy installation to your mic, desk, boom stand, or any other surface.
The screen is made of durable wire mesh and does a superlative job of filtering out unwanted plosives from your recordings. It controls your loud, sudden sounds, without cutting out your whispers.
Specifications
10.6 ounces weight.
Gooseneck frame and double mesh screen.
The 6 inch screen is compatible with all popular microphones.
---
Avantone PS-1 PRO-SHIELD Studio Pop Filter
The Avantone PS-1 PRO-SHIELD Studio Pop Filter has a compact surface designed to follow the shape of commonly-used studio microphones. Its all-metal mesh does a great job suppressing the plosives while the design gives you a clear view of your notes or music sheets without compromising on performance.

It is an extremely lightweight filter, which means you can use it on different microphones and different recording environments without any hassles or problems.

Features
Your microphone recordings will have virtually no loss of clarity since the metal screen is acoustically transparent and a significant improvement over filters with foam screens.
Speak as close to the microphone as you want without worrying about interference in your audio since the filter's design and materials work perfectly under all recording conditions.
The nine-millimeter gooseneck and clamp assembly is made of sturdy metal and designed to last a long time but is flexible enough to allow for proper positioning over the microphone.
The easy-to-clean screen, gooseneck, and clamping mechanism ensure you can prevent the buildup of saliva on the filter even in case of frequent recordings in your studio.
Specifications
Weight: 9.6 ounces.
Gooseneck Length: 9 mm.
Easily washable full-metal screen and body.
Avantone PS-1 PRO-SHIELD Studio Pop Filter
The AVANTONE PRO-SHIELD is the finest studio pop filter in the world!
The PRO-SHIELD allows close work on a mic to capture a more intimate / full sound without...
The specially designed curved surface naturally follows the grill shape of studio mics for an...
---
PEMOTECH Pop Filter
The PEMOTECH Pop Filter skips the one-size-fits-all approach and is designed specifically for microphones with a diameter between 45 mm and 63 mm. This emphasis on design ensures your recordings get the best possible protection from plosives and other audio interferences.

Features
This pop filter combines metal, foam, and etamine to create the best protective layer for your microphone and audio recordings. This means your recording will be free from all unwanted sounds and pops.
Just set up the elastic bands and the inner rubber ring to set up this filter. No more tinkering with clamps or metal screws that end up damaging the paintwork of your microphone stand.
Very stylish look with the metal mesh matching the looks and design of the plastic frame. Looks apart, this feature offers a functional advantage that other filters don't offer.
The use of three different materials in the filter offers greater protection from the corrosive effects of the human saliva. This means the filter itself will last long even as the microphone and the recording environment is kept clean at all times.
Specifications
Six-inch screen diameter.
Total filter length of 26.5 inches.
Clamp range of 9 mm to 23.5 mm.
Gooseneck Length: 13 inches.
Sale
---
Nady MPF-6 6-Inch Clamp On Microphone Pop Filter with Flexible Gooseneck and Metal Stabilizing Arm
The Nady MPF-6 6-Inch Clamp On Microphone Pop Filter has a double-mesh screen that does a significantly better job of protecting your microphone from saliva and your audio recordings from loud pops and plosives as compared to single-mesh filters.

Features
Extremely easy to set up, this filter has a long and flexible gooseneck that allows you to set up the filter just the way you want it without compromising on performance or hygiene.
Ergonomic design with the curved and thick gooseneck keeping the screen positioned perfectly in front of the microphone even as the clamp is fitted well below your line of sight.
The multi-positional screen rotates 360 degrees, which means the filter's position can be moved or easily adjusted depending on the angle of the person standing in front of the microphone.
Specifications
Six-inch screen diameter.
13-inch gooseneck.
4.5-inch bracket length and one-inch bracket width.
Weight: 11.2 ounces.
---
Frequently Asked Questions
How does a pop filter help?
The pop filters job as a noise protection filter for microphones is to reduce or eliminate plosives and fricatives caused by the mechanical impact of fast-moving air on the microphone during recorded speech and singing. A pop filter will essentially act as a screen so you don't hear 'P', 'B', and breathing sounds.
Do you need to use a pop filter?
Pop filters are essential to prevent p-pops, negate other plosives, and protect your microphone from saliva and its corrosive effects. You need to use one to avoid having breathing and other unnecessary sounds in your mixes.
How much is a pop filter?
Pop filters range in price from $10 to over $100 for high-quality ones.
How far should the pop filter be from the microphone?
A pop filter should be about 2 – 4 inches away from the microphone while the vocalist should be around 5 – 10 inches from the pop filter.
What is the best pop filter for a blue yeti microphone?
The best pop filter for a blue yeti microphone is the Auphonix Blue Yeti Pop Filter . The Auphonix Blue Yeti Pop Filter is high quality double mesh pop filter that attaches easily to microphone stands and removes unwanted noise from recordings.
---
The Final Word on The Best Pop Filters 2022
Even in your fancy studio with your high quality microphone, the wrong pop filter can make your recording sound amateurish. Analyze your requirements, consider the best options in the market, and choose the best pop filter for a great recording experience. 

Was this post helpful?
Let us know if you liked the post. That's the only way we can improve.