Drum machines are versatile instruments that allow you to create different types of percussion sounds, beats, and patterns. Drum machines are an integral part of the process of creating and composing good music.
If you are on the lookout for a quality machine that combines the raw energy of drum beats with the power of technology, then check out five of the best drum machines below.
Check out some of our other related buyers guides:
---
5 Best Drum Machines for 2021 Ranked by Beatmakers
Arturia DrumBrute Analog Drum Machine
Arturia DrumBrute Analog Drum Machine combines the magic of classic drum machines with the versatility of new technology to create a fantastic instrument.
A wide range of drum sounds combined with features like a modern step sequencer, multiple connectivity options, and multiple performance effects mean you can look forward to many hours of happy drumming.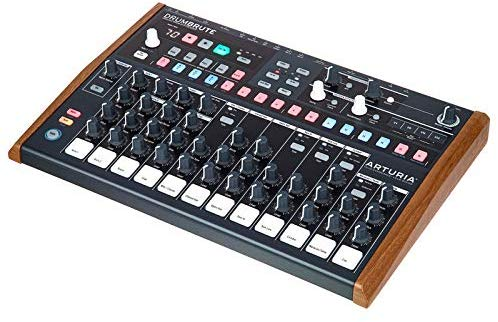 Features
Create expanded compositions through chain patterns on Song mode and modify the patterns in real-time with Step Repeat and Pattern Looper features to expand your repertoire of drumming skills and techniques.
17 drum sounds built into a single machine including kick one and two, reverse cymbal, zap, tambourine, and maracas.
Save up to 64 patterns on the machine itself with the option of setting up to 64 steps in each pattern, which means you can access your favorite patterns with the press of a button.
Recording multitrack audio is extremely easy with the 12 in-built individual audio outputs in the drum machine. Also, your tracks can have different lengths, meaning creating polyrhythms is a breeze.
Specifications
17-sound drum machine.
12 pads and one touch strip.
64-step sequencer with four banks of 16 patterns.
Output—One mix, 11 Instruments and a metronome and headphone output.
Input—USB, MIDI and Clock inputs.
Arturia DrumBrute Analog Drum Machine, Black
Wide-range of controls allowing for many new and unique sounds Two flavors of kick drum Unique...
With the vast majority of the past few decades' drum machine designs largely being emulations of the...
The DrumBrute is firmly rooted in the classic drum machines, but it builds upon these traditions in...
---
Alesis SR-18 Drum Machine
Alesis SR18 is a powerful drum machine that gives you studio-level functions and features with the advantage of complete mobility as well.
A massive sound bank—175 preset patterns, 24-voice polyphony and many other cool features make this a smart buy for every modern musician.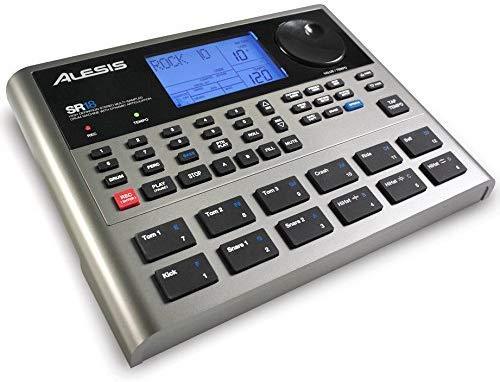 Features
A 32 MB sound set with over 500 professional sounds that can be modified in real-time through the Dynamic Articulation feature allow you to create perfect compositions irrespective of your preferred genre.
12 velocity-sensitive pads, Pattern Play feature to trigger drum machine patterns directly from the pads and drum roll and tap tempo functions come together to create a versatile platform for making great music.
A powerful integrated effects engine with Alesis reverb, EQ, compression and 100 in-built user patterns for customizing your beats down to the last detail.
Specifications
150,000 notes, 200 patterns and 100 songs.
12 velocity-sensitive pads with Dynamic Articulation.
Output—MIDI, stereo pair TRS and TRS stereo headphone output.
Input—TS input.
Powered by an AC adapter along with six AA batteries for a portability option.
---
Elektron Digitakt 8-voice Drum
The Elektron Digitakt 8-voice Drum is an extremely powerful machine that meets virtually all the expectations you would have from a good quality drum machine and sampler.
At its heart is 64 MB sample memory combined with one GB in-built storage that gives you all the power and space you need to drum to your hearts content.
Multiple connectivity options, including USB support for Overbridge, mean you can integrate your drums with your favorite MIDI application without any hassles.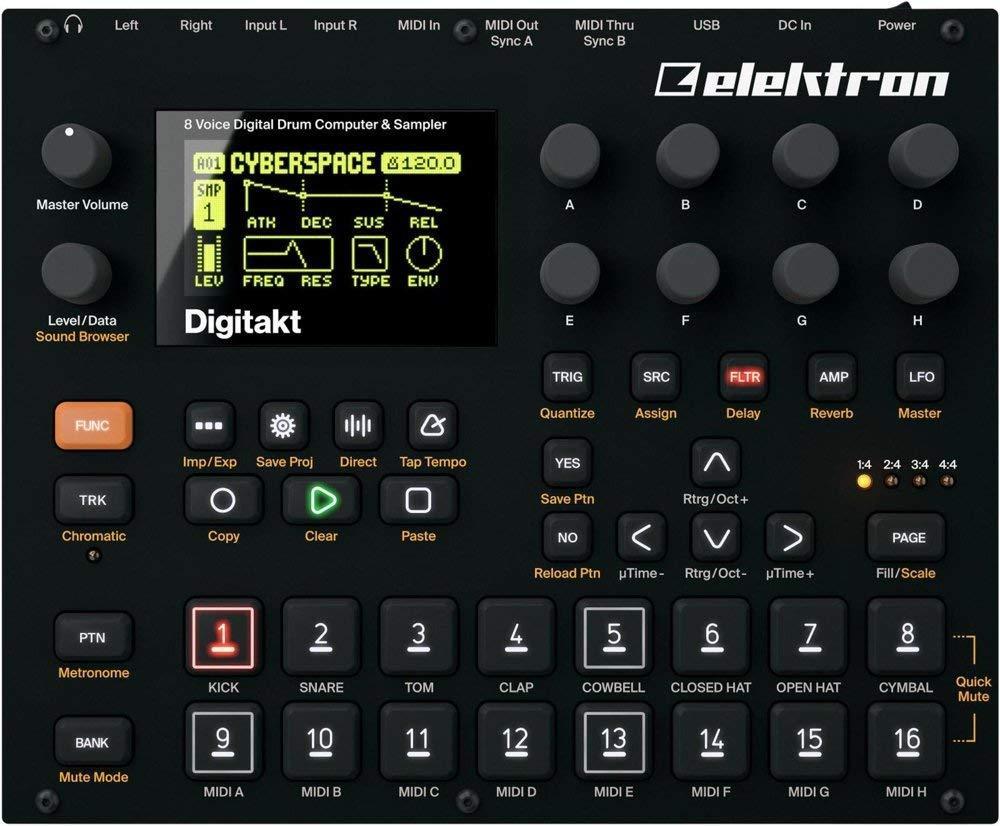 Features
Elektron Digitakt Drum Machine offers support for eight stereo audio tracks with the added feature of one multimode filter and one assignable LFO per track for total drumming without any restrictions on your creativity.
The in-built effects engine allows you to send delays and reverbs to your compositions and make it sound much better with just the press of a button.
The MIDI sequencer gives you the option of adding three note offsets for every step and do this for up to four notes.
Specifications
16 pads and inbuilt 128 patterns per project.
Output—MIDI, Analog and headphone output.
Input—MIDI and Analog inputs.
USB 2.0 connectivity with support for Overbridge for smooth DAW integration.
---
Dave Smith Instruments Tempest
The Dave Smith Instruments Tempest is aptly named because it makes it so easy for you to drum up a storm on this powerful and versatile instrument. The tempest is hands down one of the best drum machines for 2021.
This drum machine gives you total control over synthesizing, sequencing and playing your beats like few other machines in the market.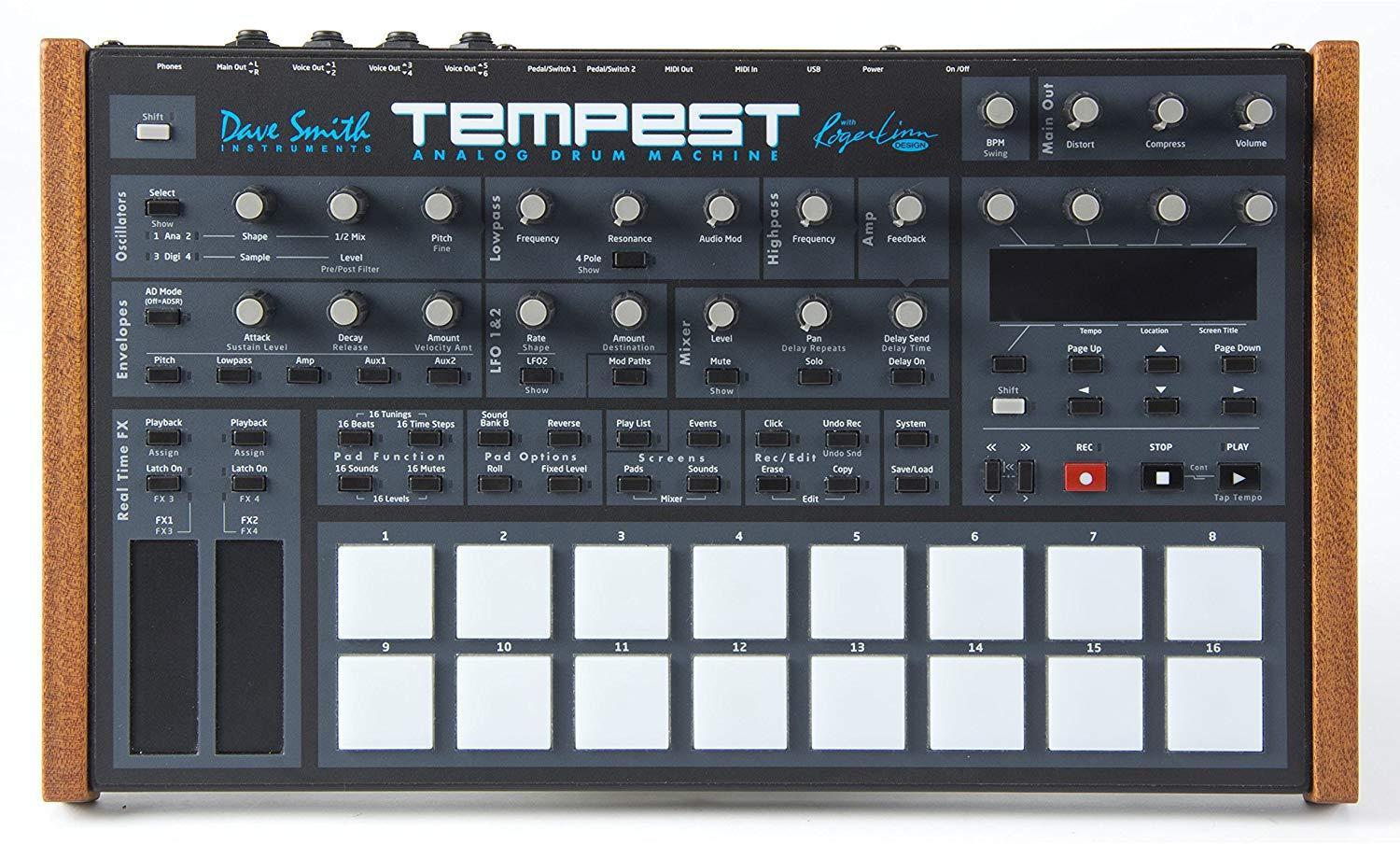 Features
Six analog voices come with two analog and digital oscillators each and the entire package is integrated with a large number of samples to power up your drumming experience.
Creating drum rolls or repeating groove patterns is just about pressing the Roll button, which works in the midst of recording the beats.
A powerful effects engine that combines with two pressure/position sensitive slide controllers for real-time changes to note or sound parameter without interruptions to your drum play.
The OLED display makes it easier for you to keep track of all functions and parameters and simplifies the process of using the awesome features of this instrument to the fullest.
Specifications
16 pressure/velocity-sensitive trigger pads with backlights.
Output—MIDI, six voice out, two main out and headphone output.
Input—MIDI, one expression pedal and one footswitch input.
Can be used as a six-voice analog synth as well.
---
Korg Volca Beats Analog Rhythm Machine
The Korg Volca Beats Analog Rhythm Machine is a portable drum machine with an electribe-style sequencer included in the package. This combination makes for a very versatile instrument that allows you to create, edit and play your favorite beats even on the move.
The biggest standout is the authentic analog drum beats, which is pretty much the closest you can come to the real thing. Its versatile engine combined with the ribbon controller, MIDI input/output support and battery power backup make for a pretty cool package.
The Korg Volca series is an amazing value. We really think that if you're on a budget, Beats would be one of the best drum machines you could buy.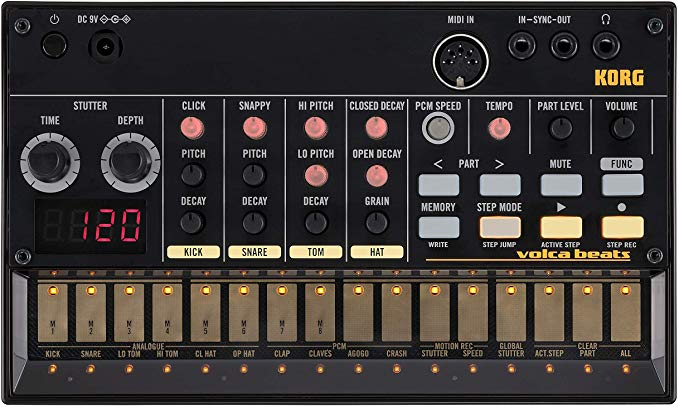 Features
The analog and PCK sound engines allow you to explore sounds that won't work well on a conventional analog drum machine. Sounds like Clap or Agogo too are now within your reach on this instrument.
The step sequencer lets you edit on the move, with one knob each for the six analog parts and the four PCM parts offering control over speed and pitch changes.
Eight memory patches in the step sequencer along with the Sync In and Out feature that allow you to work on multiple instruments along with the drum machine.
Specifications
Ten drum parts with a 16-step sequencer.
16 touch sensors shaped like a keypad.
Output—One Sync output and one headphone output.
Input—One MIDI and one Synch input.
Powered by an AC adapter along with six AA batteries for a portability option.
Korg, 16-Key Synthesizer (VOLCABEATS),Black
Electribe-style 16-step sequencer with eight memory patches
Sync In and Out allows clock sync of multiple instruments from the Volca series
Stutter for glitch or delay-like effects
---
The Final Word on the Best Drum Machines for 2021
The modern drum machine is a complete package that gives you a whole range of different percussion instruments at your disposal. Want the exotic PCM sound engine to supplement the conventional drum engine? Or interested in creating, editing and performing drum beats on the move? Whatever your preference, one of the five drum machines reviewed above should do the trick for you.
Was this post helpful?
Let us know if you liked the post. That's the only way we can improve.