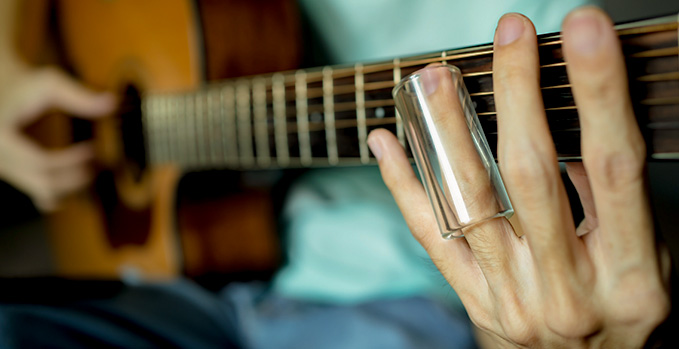 Slide guitar is awesome! Throw a slide on your finger, and you can dig into gritty blues, create soaring melodies, harness vocal-like phrasing, and so much more. It's so addictive that many guitar heroes build their whole careers on it.
Part of slide guitar's appeal is its tonal versatility and in the disparate genres it's found; blues, rock, country, metal, folk, pop, and the list goes on. Heck, slide legend Sonny Landreth even takes it into zydeco territory.
With so many players, styles, and tones, it comes as no surprise that there are just as many kinds of guitar slides. So, when trying to find the best guitar slide, you'll have to wade through choices in materials, sizes, weights, and shapes. It can get a bit overwhelming.
We're here to help. We'll walk you through the most popular guitar slide options. We'll point out what you should look for in a slide, what each slide excels at, and where they may struggle. We'll even highlight some of the best guitar slides on the market.
Whether you play delta blues on a pre-war flattop acoustic or drive your slide through a high-gain guitar amp, you'll know how to find the best guitar slide for you by the time you're done reading.
Side-by-Side Product Comparison
Product

Dunlop 202 Pyrex Glass Slide
Voodoo Slide Company Medicine Bottle Slide
Keb' Mo' Signature Mudslide
Joe Perry Signature "Boneyard" Slide

Material

Glass / Pyrex
Glass
Porcelain
Porcelain

Shape

Straight
Coricidin (Medicine Bottle)
Straight
Straight

Wall Thickness

Medium
Medium
Thick
Medium to Thick

Ring Size

8 or 12
Custom-fit to your finger
10
5, 6, 8, 9, 10

Special Features

Standard glass slide
Unique sound and feel
Absorbent interior which reduces slipping
Absorbent interior which reduces slipping
Product

Dunlop Stainless Steel Slide
Fender Steel Slide
The Rock Slide Aged Ariel Posen Signature Slide
Harris Slide

Material

Steel
Steel
Brass
Brass

Shape

Straight
Straight
Straight
Flared

Wall Thickness

Medium to Thick
Thin
Thin
Medium to Thick

Ring Size

9 or 11
9
7.5
9 or 11

Special Features

Extremely Durable
Lightweight
Comfort groove at base – Aged or shine look
Added control from flared shape
Choosing a Guitar Slide
Every guitar player is different. We all have different fingers, ears, tones, and play different styles. Given all that, there is no single best guitar slide. But there are enough options in guitar slides to fit each of us. Thankfully, there are some common characteristics to look out for in narrowing down your search.
Guitar Slide Sizes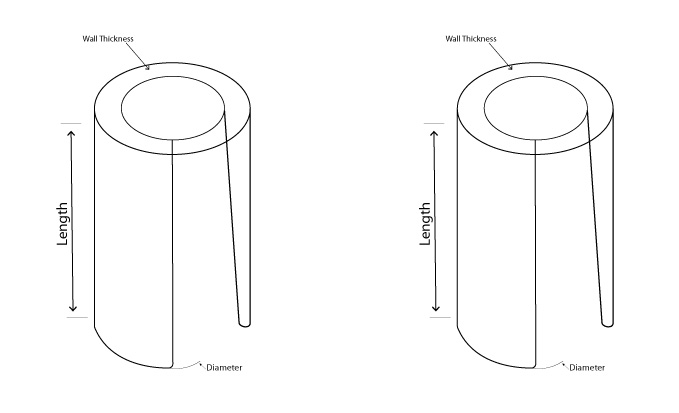 The first consideration when searching for the best guitar slide is the slide's size. There isn't a one-size-fits-all because we all have very different fingers, and we each have our own playing intricacies. Even if we were all the same, we all have different preferences for how the slide should fit and it takes a bit of trial and error. But, it's a lot of fun, and great slides are generally pretty affordable. So grab a few different options and give them a spin.
Here's what you should look for.
Finger Sizes/Diameter
Typically, you want the slide to fit securely on your finger but not too tight. This is especially true with slides without openings at the other end. You can actually get your finger caught in them if the slide is too small. But as long as the slide will stay in place while you play, is comfortable, and doesn't fit too tightly, you should be good to go.
Length
Guitar slide length comes down to preference. The guitar you play, the finger you place the slide on, and where you wear it on that finger all play a role in determining what's right for you.
Most guitarists place their slide on either their ring finger or their pinky, resting it on or above the largest knuckle. This gives you great control while still offering plenty of movement for your finger. For this technique, find a long enough slide to lay across all your guitar's strings with your hand comfortably cradling the guitar neck.
While that's a great place to start, some players prefer using shorter slides and wearing them higher on the finger. Because of that placement, they get more precise control. Shorter slides are also ideal for pinky slide players. Keep in mind that these shorter designs cover less area and may require you to be more intentional with which strings you're affecting.
Wall Thickness
Another size consideration is a guitar slide's wall thickness. Exactly what it seems, this is a measurement (thin, medium, or thick) of the slide's material.
By adding thickness and mass, you're rewarded with increased sustain. Many players even prefer the added weight on their finger. On the other hand – no pun intended – that added weight makes thicker slides less nimble for fast passages. If you're after speedy licks, you may prefer a thinner-walled guitar slide.
Guitar Slide Shapes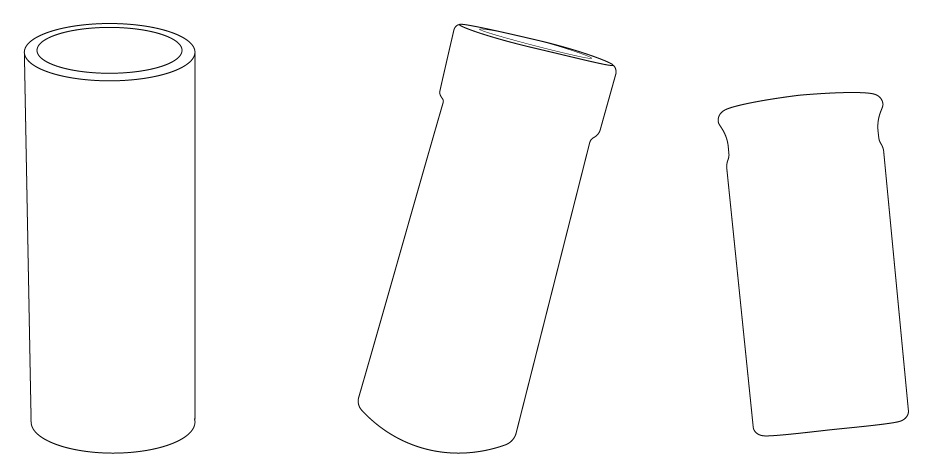 When most people think of guitar slides, they picture a straight-sided tube of metal or glass. That is definitely the most common shape. But there's a world of guitarists who prefer slides with flared sides or even slides made from actual glass bottles. Each of these gives you a different feel and control over your playing.
Straight Guitar Slides
As previously stated, straight-walled guitar slides are the most common. Because guitar strings are set up in a radius over the fretboard, straight slides let you tilt them across the strings to only grab the ones you want. They're also a favorite for any guitars featuring a flatter string radius, like many Gibson's. On these guitars, straight-sided slides let you reach all the strings uniformly without fretting out.
Bottleneck Guitar Slides
Bottleneck – or flared – guitar slides originally came from wine bottles. Players would cut off the bottles' necks and use them on their guitars. These 'bottleneck' slides featured a concave, curved shape that hugged the strings on guitars with tighter radius fingerboards. Today, slide manufacturers replicate the design, and players love their feel for the same reason.
Coricidin Bottle Slides
Also originating from glass bottles are Medicine Bottle – or Coricidin Bottle – slides. Historically players found their glass medicine bottles worked great as slides without having to cut and shape a wine bottle. They also feature straight walls, a closed-end, and a grooved opening that offers a unique tone and feel. Many slide players swear by this style of slide. Allman Brothers legend Duane Allman is a great example.
Guitar Slide Materials

Swing by the guitar slide display at your local guitar shop, and you'll notice that slides come in a vast array of materials. While there are others, we'll focus on the four most widely available materials: glass, ceramic, brass, and steel.
I can hear the questions; "Why would I want one over another?" "What do they sound like?" and "Do they feel different?"
I'm glad you asked.
Glass Guitar Slides
This may sound obvious, but glass slides (usually made of Pyrex) sound like they look. Their tone is smooth, warm, and airy without being too bright. One of the most popular slide materials, you can find glass slides in both straight and flared designs. They're also usually light on your finger, which is excellent for fleet-fingered players. But that lighter weight does come at the cost of durability. Drop a glass slide on a solid surface, and it can shatter.
Jim Dunlop 202 Regular Wall Medium Glass Slide
Jim Dunlop is the undisputed king of guitar slide manufacturing. Whatever slide style you're looking for, there's a good chance they offer it. One of their most popular models is the tried-and-true 202. Spec'd right down the middle; it's not too long or short, thick or thin, heavy or light. Its tone is focused on the middle without any harsh treble. And at less than $10 a pop, it's easy to see why 202s are many players' first guitar slide.
Voodoo Slide Company Medicine Bottle Slide
Voodoo Slide Company specializes in, you guessed it, glass guitar slides! Their niche focus results in high-quality designs crafted explicitly for the needs of slide players. Their Medicine Bottle Slides, in particular, have a loyal following for their old-school heritage. And each one is custom made to fit your finger. Check them out if you're after vintage blues and blues-rock tones: https://www.voodooslidecompany.co.uk/product-page/medicine-bottle-slide
Ceramic Guitar Slides
We recommend ceramic guitar slides for players who don't like glass but aren't ready for metal (more on them in a bit). A best-of-all-worlds option, ceramic sounds warmer than metal but clearer than glass. It's also more durable than glass but not as robust and heavy as some metal options. Ceramic also wicks away moisture from your finger, ensuring the slide doesn't slip off when the stage warms up.
Jim Dunlop Keb' Mo' Signature Mudslide
Keb' Mo' is a legend of modern blues slide guitar, and he gets his tone from this signature model Jim Dunlop ceramic slide. The Mudslide's thick walls give it plenty of heft, the ceramic material keeps his finger dry and the slide in place, and the black glaze finish helps it stand out from the pack.
JIM DUNLOP 265 Keb' Mo' Signature Slide
Porcelain Keb' Mo' signature slide is great for acoustic or electric playing, and produces a rich...
Porcelain slide designed for Delta blues master Keb' Mo' produces a rich sound and soulful tone
Its a comfortable weight with a moisture-absorbing interior
Jim Dunlop Joe Perry Signature "Boneyard" Slide
Though they have a distinctive look, Perry's Boneyard and Mo's Mudslide are very similar. The differences come down to dimensions and finish. The Joe Perry "Boneyard" line offers the thicknesses, lengths, and weights that the Aerosmith 6-stringer prefers.
Want to hear the Boneyard in action? Check out Aerosmith's version of "Eyesight to the Blind," where Perry cops his best Elmore James impression.
JIM DUNLOP 256 Joe Perry "Boneyard" Slide, Medium/Short
JIM DUNLOP 257 Joe Perry "Boneyard" Slide, Large/Long
JIM DUNLOP 258 Joe Perry "Boneyard" Slide, Large/Short



JIM DUNLOP 256 Joe Perry "Boneyard" Slide, Medium/Short

JIM DUNLOP 257 Joe Perry "Boneyard" Slide, Large/Long

JIM DUNLOP 258 Joe Perry "Boneyard" Slide, Large/Short

Metal Guitar Slides | Steel Guitar Slides
On the other side of the slide are those made from metal. Metal slides are prized for durability, more aggressive character, and more immediate attack. If you want to add some twang to your delta blues or help a warm-sounding guitar cut through a mix, metal is the way to go.
With steel guitar slides, durability is the name of the game. The metal is harder than most guitar frets and strings, keeping it from wearing out with use. It can also survive through the most brutal onstage abuse.
Tonally, steel responds with a bright, cutting flavor perfect for darker instruments and players who like well-worn strings. It offers nearly unmatched levels of sustain. For all of that, steel guitar slides are ideal for performing guitarists who need to count on their slide night after night.
Jim Dunlop Stainless Steel Large Wall Slide
Much like the 202 being a go-to standard for glass slides, the 225 is the same for steel options. One of the most common slides on the market, it gives players durability and a clear tone while being easy to replace if yours goes missing.
Fender Thin Wall Steel Slide
Fender needs no introduction. Their guitars are some of the most popular options for electric slide players out there. Bonnie Raitt and Muddy Waters prove my point. So, it's safe to say Fender knows a thing or two about the style. Add that credibility to this slide's light weight, thin walls, and affordability, and it's hard to go wrong.
JIM DUNLOP 225 Stainless Steel Slide, Small
Fender Chrome Steel Guitar Slide, Standard Medium


JIM DUNLOP 225 Stainless Steel Slide, Small

Fender Chrome Steel Guitar Slide, Standard Medium

Brass Guitar Slides
Popular for blending the benefits of glass or ceramic while maintaining durability, brass is another popular slide material. It's a heavier, softer material than steel – though obviously tougher than glass – which gives it a fatter, more singing voice. Alone, that would make it the only choice. But brass's softer side also makes it more susceptible to wear over time. Though it won't break if dropped, you may find yourself replacing yours from time to time.
The Rock Slide Aged Ariel Posen Signature Slide
Ariel Posen is one of a handful of modern guitar heroes bringing slide guitar back to the masses. His solo work and playing with The Bros. Landreth are full of ethereal tones, gritty Americana vibes, and singing melodies. And he gets it all with his brass signature slide from The Rock Slide company.
Posen's signature slide boasts a closed – or bullet – end, a comfort groove at the base, and the patina of a well-worn slide. But don't worry, the worn character is in appearance only. This Rock Slide is as smooth as butter and offers all the tonal characteristics brass players love.
Jim Dunlop Harris Slide 232
If you're looking for brass slide performance with a bottleneck slide feel, you need to check out Jim Dunlop's Harris Slide 232. Thanks to its flared contours, the Harris hugs the radius of your guitar strings while remaining comfortable on your finger. It's also available with various wall thicknesses to help you find the perfect slide for you.
The Rock Slide Aged Ariel Posen Signature Slide - Small
JIM DUNLOP 232 Harris Slide, Large


The Rock Slide Aged Ariel Posen Signature Slide - Small

JIM DUNLOP 232 Harris Slide, Large

Alternative Designs
Straight-walled, flared medicine and wine bottles; while different from each other, these slides still perform the same essential task. And they've worked great for decades. But there is one drawback to the whole lot.
When you're wearing your slide, you can pretty much forget playing with standard guitar technique. That might be fine for Derek Trucks, but it's a pain for many players who need to switch back and forth throughout a gig.
Thankfully, a handful of brands are offering new slide designs to solve this long-standing issue.
Shubb AX Axyx Reversible Slide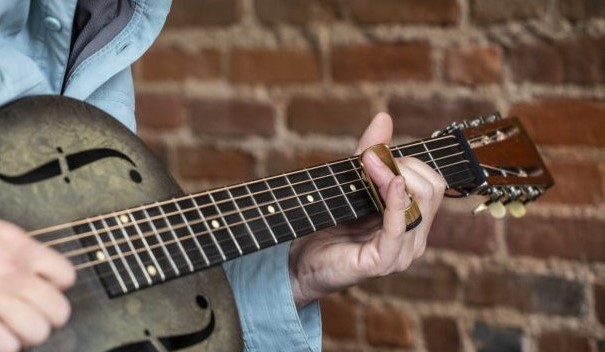 Looking at the Shubb AX Axyx Reversible Slide, the simplest solution might be the best solution. By shaving half the slide away and adding a comfortable swivel ring to the end, they created a full-size slide you can instantly twist out of the way. Forget swapping between songs; with the AX Axyx, you can switch between the verse and the chorus. Best of all, each one comes with multiple inserts to ensure you get the perfect fit.
Black Mountain Slide Ring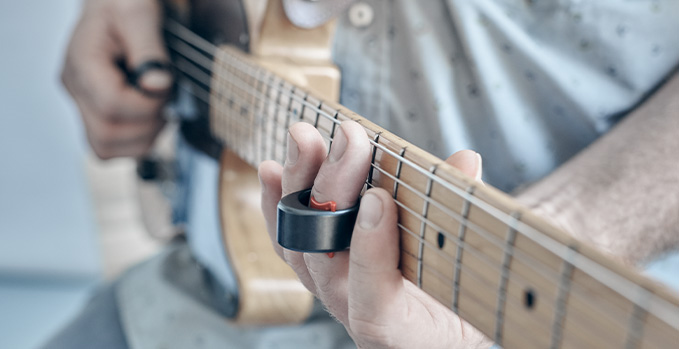 The Black Mountain Slide Ring is another excellent alternative for players needing instant access to slide and finger-style playing. Instead of swiveling into place like the Shubb, the shorter Slide Ring leaves your fingertip unencumbered for traditional fretting.
Thanks to its rugged steel construction, this guitar slide ring also offers the same great sustain and cutting tone as other top-quality alternatives. And its brilliant, spring-loaded fitting mechanism ensures a perfect fit no matter what.
Best Guitar Slide for Acoustic…?
It's one of the most common questions budding slide players ask. In truth, there is no correct answer. Acoustic guitar players use various slide shapes, materials, and brands. Same with electric guitar players. The trick is finding the best guitar slide that works with your particular guitar(s).
Q: Do you have a dark acoustic with a flat fingerboard?
A: Grab a steel, straight-walled Dunlop to give it some more cut.
Q: Do you love steel's durability but play a bright Telecaster?
A: Go for something ceramic.

Final Thoughts
Remember, there may not be a single best guitar slide. You'll find different shapes and materials that work better with your different instruments. So, take all this information with you, head to your local guitar shop, and try some on. You're sure to find a few that bring out the best in your playing.
Was this post helpful?
Let us know if you liked the post. That's the only way we can improve.