As musicians, we always look forward to implementing new ways and techniques to enhance the possibilities of our passion. Whether it is experimenting with different guitars and keyboards or searching for the best music effect enhancers, most of us always desire to be unique and expressive with our tunes and music.
And, when it comes to adding unique effects to your songs and speech, nothing can beat a vocoder, also known as speech synthesizers. While vocoders are considered as traditional equipment, they still find impeccable use in various music production companies and studios. The reason is quite simple—vocoders help in adding extra effects to enhance the overall productivity and quality of music.
A simple tune can turn out to be a mind-blowing piece with the help of the best vocoder or speech synthesizers by your side. Luckily, this article is going to help you figure out the best vocoder or speech synthesizer you need to underline your musical journey.
Our product reviews of the top 5 trending best vocoders might help you pick the one that seamlessly fits your needs.
If you want to learn more about synthesizers and synthesis, check out our indepth guide: Intro to Synthesizers
Top 5 Best Vocoder/Speech Synthesizers Ranked by Real Musicians
Korg microKORG Synthesizer/Vocoder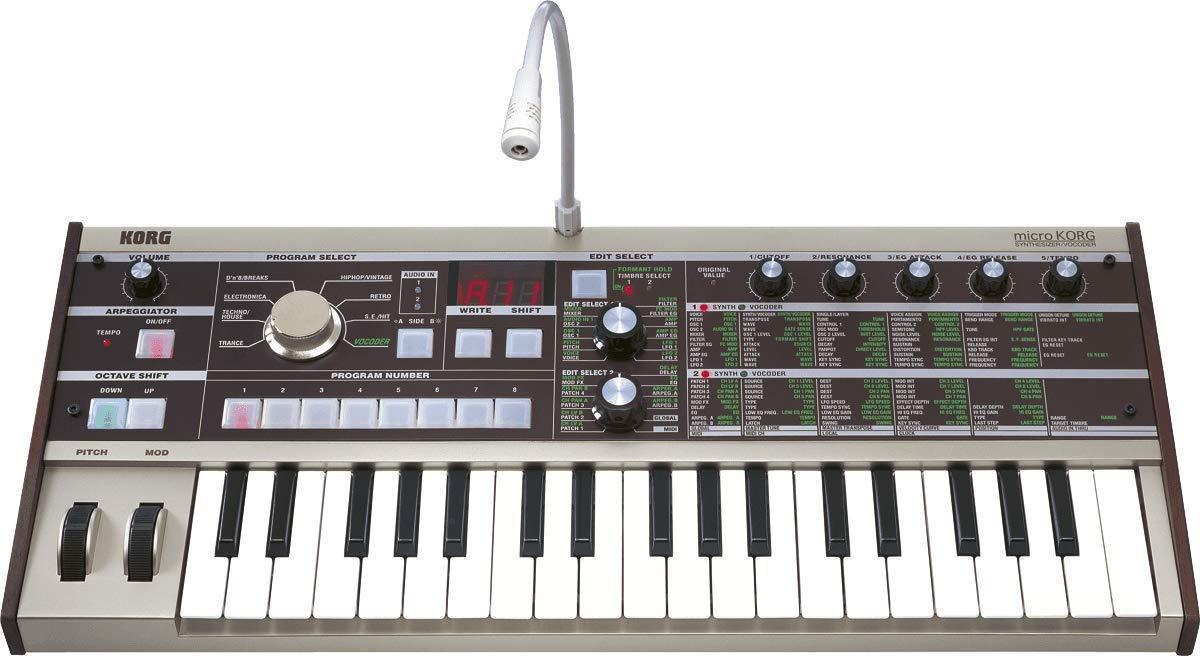 Korg microKORG is one of the perfect and best-suited examples of Korg's vocoder offerings. This 37-key analog modeling synthesizer is an affordable option for those who look forward to bringing the tremendous combination of a synthesizer and vocoder into their studio.
The auxiliary feature of the microKORG series gives you a bang for the buck, especially when compared to a normal pedal-based vocoder. Designed to perfection to evoke the aesthetics of retro equipment, Korg microKORG is MIDI compatible and paves the way for computer plugged-in controls.
Features
Sound Generation Method: Analog Modeling Synthesis System
Synthesizer Program: Multi Timbral=2 (max, Split/Dual Mode)
Arpeggiator: 6 types.
Outputs: L/MONO, R, Headphones
Specifications
Model: MICROKORG
Weight: 8.4 pounds
Compatibility: Windows — 98 Second Edition, Me, 2000 SP2, XP. Mac OS – OSX10.6.8 or later
Sale
---
Novation MiniNova 37-Key Mini Synth With Vocal Effects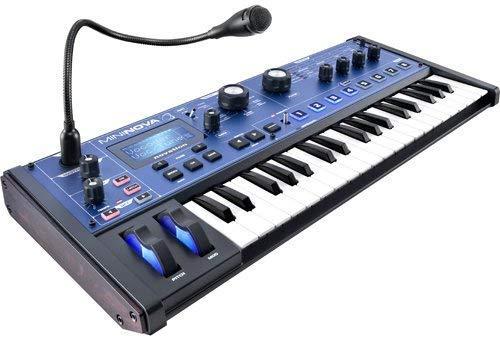 Novation's latest vocoder is one of the most preferred synthesizers for compact studio settings. Small, lightweight and affordable are some of the important features that make Novation MiniNova a great choice for a portable synthesizer. With excellent sound output, cutting leads and a variety of bass effects, the MiniNova series from Novation is the best choice if you're looking for a highly-functional vocoder with a bevy of features in an affordable package.
Features
8x three-colour, back-lit animate/arpeggiator/favourite patch-select buttons
LED-lit pitch and modulation wheels
2x animate/arpeggiate LED indicators
Specifications
Brand: Novation MiniNova
Model: NOVSYNTH02UKEU
Weight: 5.56 pounds
Novation MiniNova analogueue Modeling Sythesizer (NOVSYNTH02UKEU)
Novation MiniNova 37-Mini-Key Analog Modeling Synthesizer - USB Cable - Power Supply - User Guide -...
OS Compatibility: Mac Yosemite, Mac 10.9, Mac 10.8, Mac 10.7, Windows 8, Windows 7 and iOS
Bundle Software: MiniNova Software EditorMiniNova Patch LibrarianAbleton Live LiteNovation Bass...
---
Electro-Harmonix V256 Vocoder with Reflex-Tune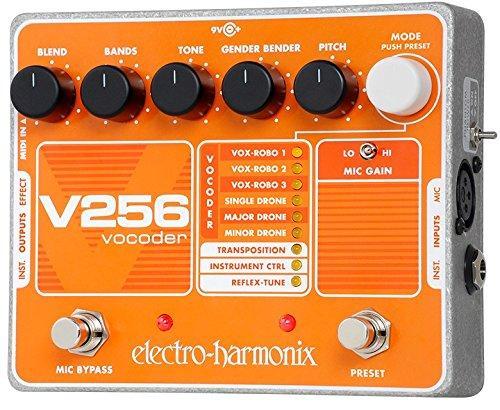 Electro-Harmonix V256 Vocoder with Reflex-Tune is one of the best choices for a musician who wants to own a great vocoder in his studio. The defining feature of this synthesizer is the compact design that makes it portable to almost every live concert or studio gig. With its highly-flexible pedals, you can seamlessly customize your own presets, and that's an incredible feature for a vocoder at this range. Electro-Harmonix V256 Vocoder with Reflex-Tune is a package of a relatively affordable option to dial and sync all your tunes with a variety of amazing effects.
Features
Blend control with 9 programmable memory locations.
Vocoder band adjustment from 8-256 bands.
Gender bender for male or female emphasis adjustment.
Specifications
Brand: Electro-Harmonix
Model: V256
Weight: 699 grams
No products found.
---
Boss VO-1 Vocoder Effects Pedal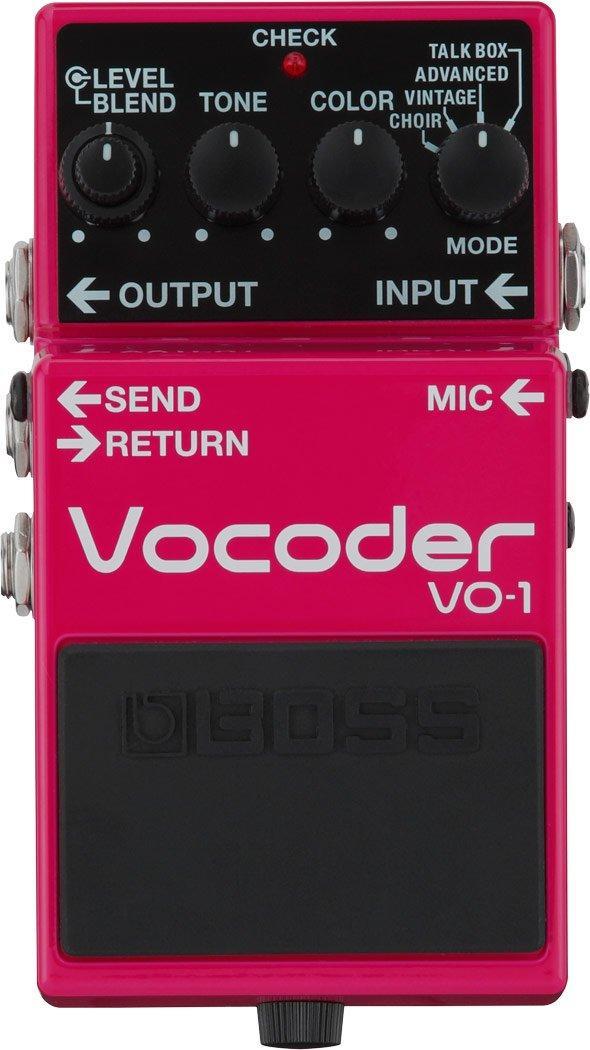 Boss VO-1 Vocoder Effects Pedal is an affordable and durable pick if you're looking forward to buying a durable vocoder that never compromises in quality and performance. Crafted to perfection in a durable metal casing and convenient pedal layout, the Boss VO-1 series is one of the ideal picks of modern musicians who love to sync their tunes with enhanced effects. If you want to own a pocket-friendly vocoder with a quality pedal build, then the Boss VO-1 Vocoder Effects Pedal is what you're looking for.
Features
Buffered bypass control pedals.
Separate AC adapter included.
4-mode compatibility.
Specifications
Brand: Boss VO-1
Model: VO-1
Weight: 299 grams
---
Roland VP-03 Boutique Vocoder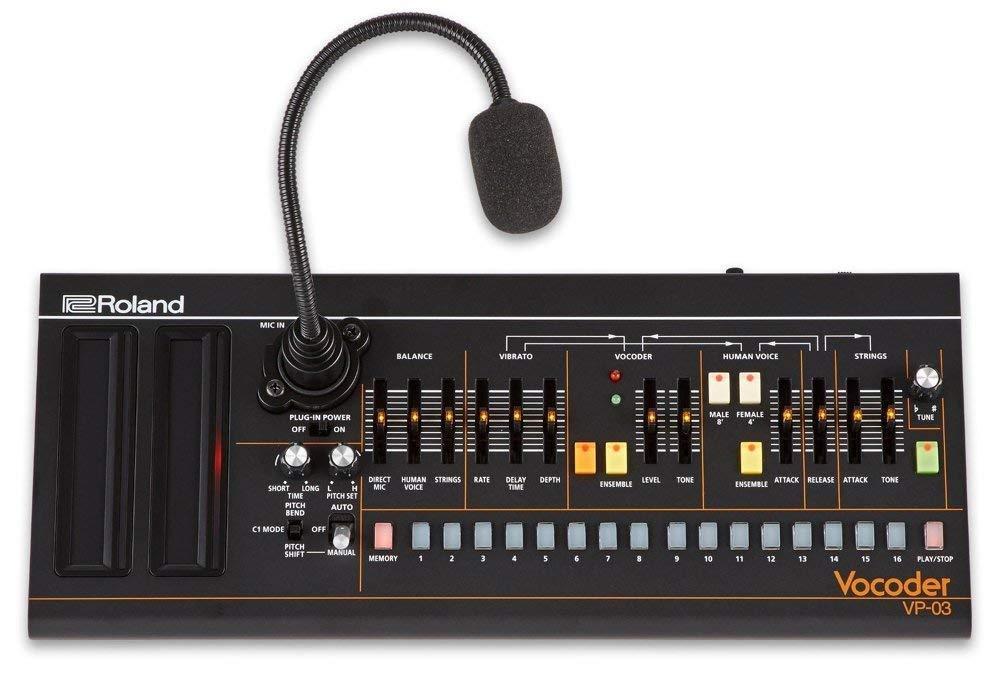 The Roland VP-03 Boutique Vocoder is an ultimate example of affordability and utility, making it one of the best vocoders in the market. This miniature version of the Roland VP-330 Vocoder Plus is a great value for a music enthusiast who looks forward to owning a high-quality synthesizer. Crafted with an affordable range of boutique options, the Roland VP-03 Boutique Vocoder is the perfect synthesizer if you're looking for a budget-friendly yet sophisticated vocoder to enhance your music.
Features
Ultra-compact recreation of the iconic VP-330 Vocoder Plus.
Retains the sound, character and user interface of the original VP-330.
Gooseneck XLR mic included.
Voice Step Sequencer and Chord Memory function for one-finger performance.
Built-in powered mini-speaker for instant enjoyment.
Compatible with optional K-25m Keyboard Unit and DK-01 Docking Case.
Specifications
Brand: Roland
Model: VP-03
Weight: 1.58 kilos
---
It can be quite hard for musicians to find the best vocoder that suits their needs, especially for those who look forward to owning an affordable brand with sophisticated features. Though there are a variety of options available in the market, choosing the ideal one might need careful research and know-how of its make and quality.
We hope that you are now able to choose the perfect vocoder to sync your music. Our reviews of the top 5 vocoders is a narrowed-down list after much debate and research from our end to help you figure out the ideal synthesizer you need ahead of your musical adventure.
If you're a musician who loves to flaunt a stylish and highly-functional vocoder, then the Korg microKORG is the perfect synthesizer you're looking for. With high-end compatibility and spectacular control features, the microKORG series is the choice of various modern and professional musicians who soar the studios with their thumping tunes. While Novation MiniNova and Electro-Harmonix V256 series are wise choices for an affordable vocoder, user-friendly brands like Boss VO-1 and Roland VP-03 Boutique Vocoder also prove to be perfect picks for great music synced with amazing effects and customizations.
Was this post helpful?
Let us know if you liked the post. That's the only way we can improve.