An audio interface can make it a lot easier to record your music, but you'll need to get your hands on the right one. Read on for our reviews of the top picks.
Whether you just want an audio interface with enough inputs for all of your group's instruments, or if you're looking for something a little more advanced, picking one out can be a challenge.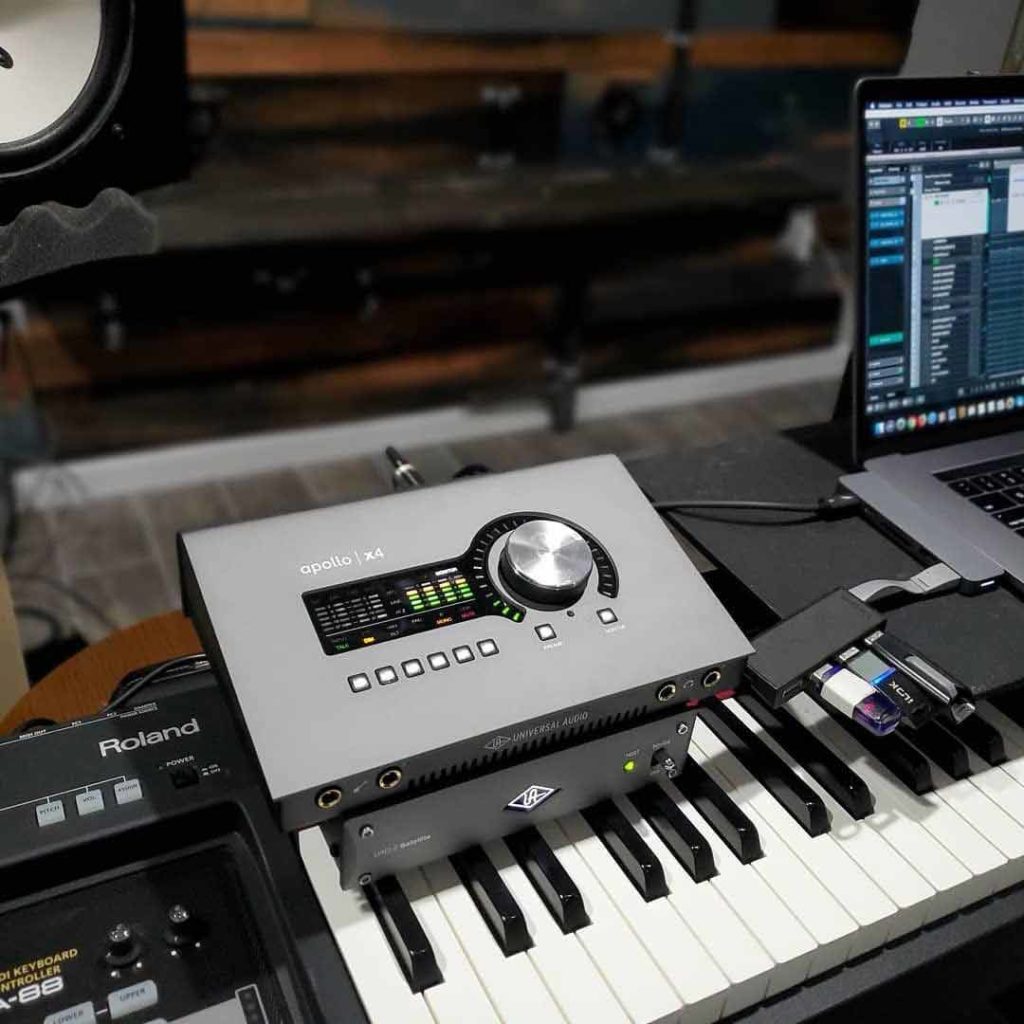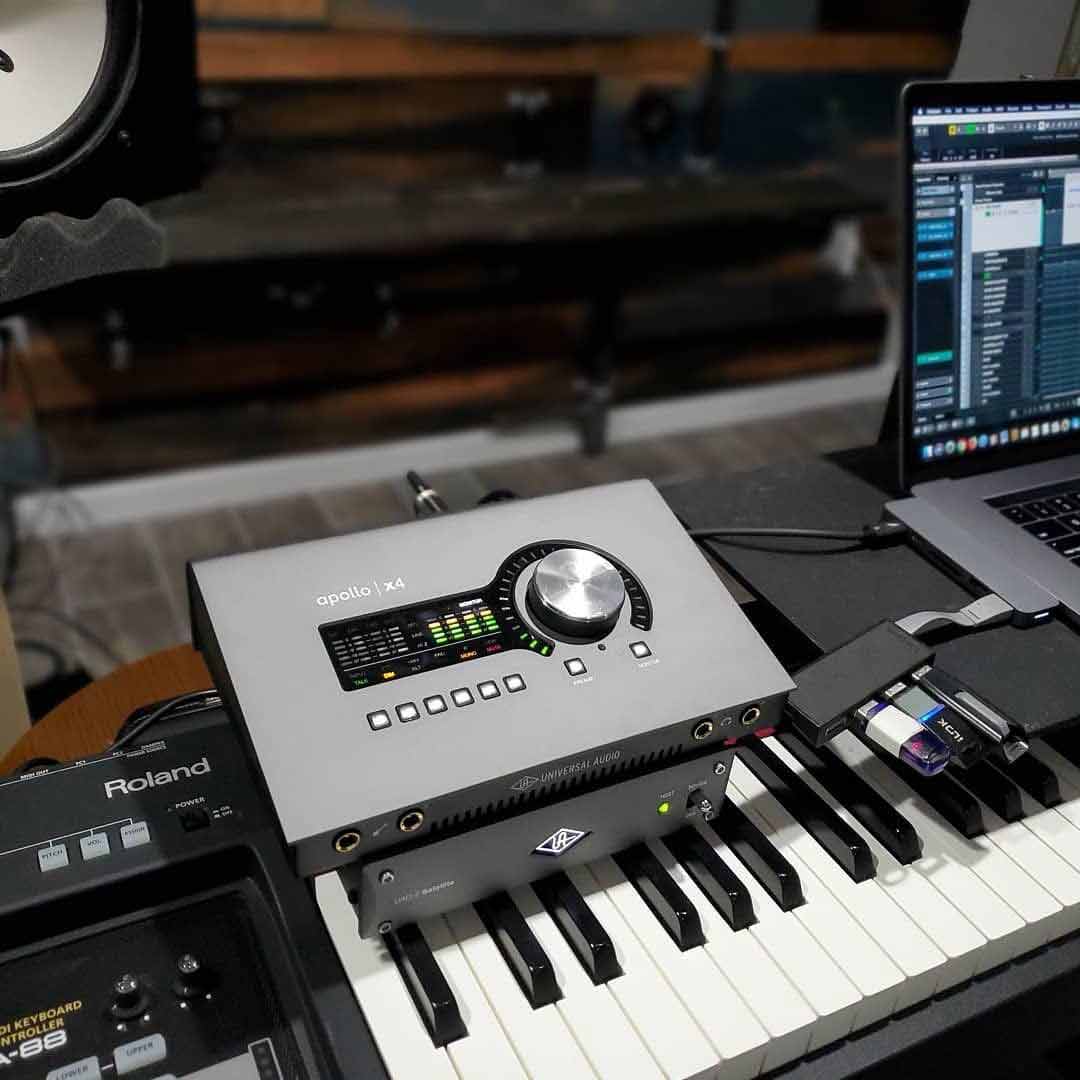 If you're new to building a home studio, you should checkout out essential home studio setup post.
---
Best audio interfaces you can buy for under $200:
Today, we're going to review five of the best audio interfaces under $200, with an overview of each accompanied by their pros and cons.
The best audio interfaces for under $200 in 2021 are:
Focusrite Scarlett 2i2
Native Instruments Komplete Audio 6
PreSonus AudioBox
Steinberg UR242
Focusrite Scarlett 2i4
---
Focusrite Scarlett 2i2
The Scarlett 2i2 is one of the most popular audio interfaces on the market thanks to its excellent value for money, and the 3rd generation variant has some vital new features.
First off, the sound quality has been improved through the use of 24-bit 192 kHz converters.
Focusrite Scarlett 2i2 (3rd Gen) USB Audio Interface with Pro Tools
Pro performance with the finest pre-amps - Achieve a brighter and a more open recording thanks to...
Get the perfect guitar and vocal take - There's no need to sacrifice your tone with two...
Low-noise for crystal clear listening - Two low-noise balanced outputs provide clean audio playback....
This variant of the audio interface also features a USB-C port to ensure that it's compatible with the most modern computers. Thanks to the implementation of the Focusrite Quick Start tool, you'll be able to get this audio interface up and running much faster, even if you have no experience with them.
The new Air mode allows you to open up the soundstage for recordings, and the headroom for the instrument inputs has been enhanced. Focusrite has created a flat-out upgrade to the second generation model of the 2i2 with this product, and it's still one of the best products in its class.
Pros:
Easy to use and set up
Improved audio quality over the second generation
Great value for money
---
Native Instruments Komplete Audio 6
If you don't mind spending a little more on your audio interface, the Komplete Audio 6 from Native Instruments is another excellent option. Thanks to the inclusion of individual gain controls, it's a lot easier to adjust the settings for each of the high-end pre-amps on this interface.
Native Instruments Komplete Audio 6 Mk2
Record audio in immaculate quality – up to 192 kHz/ 24-bit
Connect your whole setup – 4 analog in/out, 2 digital in/out, 2 headphone out, and MIDI in/out
Get creating with all the software you need to record and build tracks, plus synths, effects, and...
If you want to focus on recording from a single source, this product features a mono switch that allows you to switch between one input and several seamlessly. This model is powered through USB entirely, and it draws 48V of phantom power so that you can also run condenser mics and more.
This model also comes with a wide range of software, including Cubase LE 6, Komplete Elements, and Traktor LE 2.
Native Instruments has created one of the most versatile products on this list, as the Komplete Audio 6 can also be used as a DJ interface after you have finished recording.
Pros:
Offers enhanced compatibility with Windows 10
Equipped with four analog inputs
Sleek interface with sturdy knobs
Powered fully through USB with 48V of phantom power
---
PreSonus AudioBox
Unlike the previous product, the PreSonus AudioBox is designed for customers that are on a budget. Despite its low price point, the AudioBox features excellent build quality and consistent performance, making it one of the best options in its price range, and an excellent choice for beginners.
Sale
PreSonus AudioBox USB 96 2x2 USB Audio Interface
Value-packed 2-channel USB 2.0 interface for personal and portable recording.
2 high-quality Class-A mic preamps make it easy to get a great sound.
2 high-headroom instrument inputs to record guitar, bass, and your favorite line-level devices, plus...
The two inputs can be used for both mics and instruments, and it features separate controls for each of the pre-amps. The analog monitoring with this audio interface features no latency, allowing you to listen in while you're recording to ensure that everything is progressing smoothly.
With 24-bit resolution and a 98 kHz sampling rate, this model doesn't have the same audio quality as high-end audio interfaces, though it's still clear enough to result in good sound quality. When you account for the low price, we'd argue that the drop in quality is worth it.
Pros:
Affordable price point
Features monitoring with zero latency
Combo mic/instrument inputs
---
Steinberg UR242
Moving back to more expensive audio interfaces, the UR242 from Steinberg is a high-quality product for the discerning customer. Audio clarity was clearly a priority in the design of this audio interface, as it comes equipped with Class-A pre-amps at 24-bits and 192 kHz.
Sale
The 4 x 2 USB 2.0 interface gives you the flexibility that you need to record from multiple sources at once, making the UR242 the right choice for larger groups of artists. This audio interface makes extensive use of Yamaha technology, including classic guitar amp modes, and REV-X reverb.
The build quality of the unit itself is one of the most impressive things about the UR242, as the knobs all feature tight tolerances and the housing feels solid. However, this also means that the Steinberg audio interface is heavier and its bulk makes it more challenging to carry around.
Pros:
Excellent construction
4 x 2 audio interface
Great audio clarity
---
Focusrite Scarlett 2i4
As is evidenced by the name, the main difference between the Scarlett 2i2 and 2i4 models from Focusrite is that the former has two outputs and the latter has a four-channel output. This helps make the audio interface more flexible, though the 2i4 has a few other key advantages over the 2i2.
Sale
Focusrite Scarlett 4i4 (3rd Gen) USB Audio Interface
Pro performance with two of the finest mic preamps – Sound better than ever with 4i4's two mic...
All the inputs you'll need for your gear – Four balanced line inputs are available for...
Crystal clear playback in studio quality – Get professional sounding recordings with Scarlett's...
For the higher price, you get a pad button which allows you attenuate the gain on louder signals, allowing you to cut down on the amount of clipping. The 3rd gen version of this model features a few key enhancements, and most of them are similar to the upgrades that we mentioned in the 2i2.
The new generation 2i4 now features USB-C ports, which are compatible with all of the latest gear. Of course, the software and drivers have been updated so that they can function more smoothly. However, if you're not going to use the extra output channels, the Scarlett 2i2 is typically a better investment.
Pros:
Low noise floor
Large number of outputs
Low latency
---
New to Audio Interfaces?
Check out our essential audio interfaces guide for everything you need to know about choosing an audio interface to buy.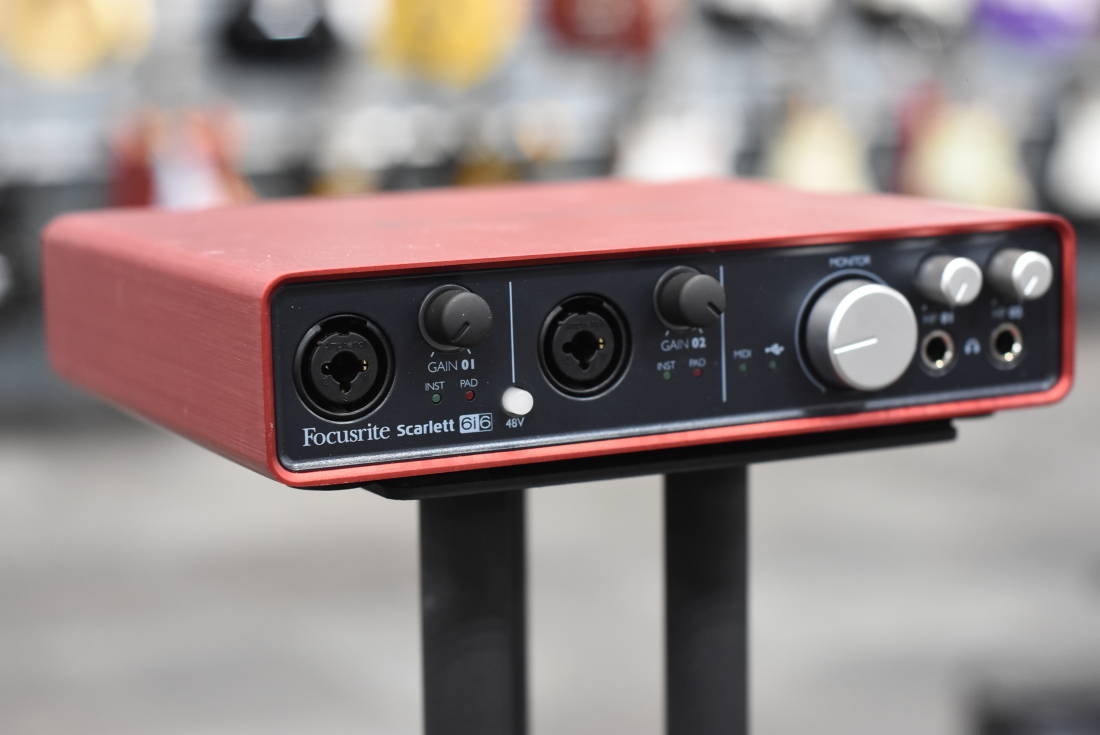 Conclusion
There are plenty of audio interfaces available, but picking the right one is a matter of knowing what to look for. We hope that this guide has been able to point you in the right direction.
Was this post helpful?
Let us know if you liked the post. That's the only way we can improve.