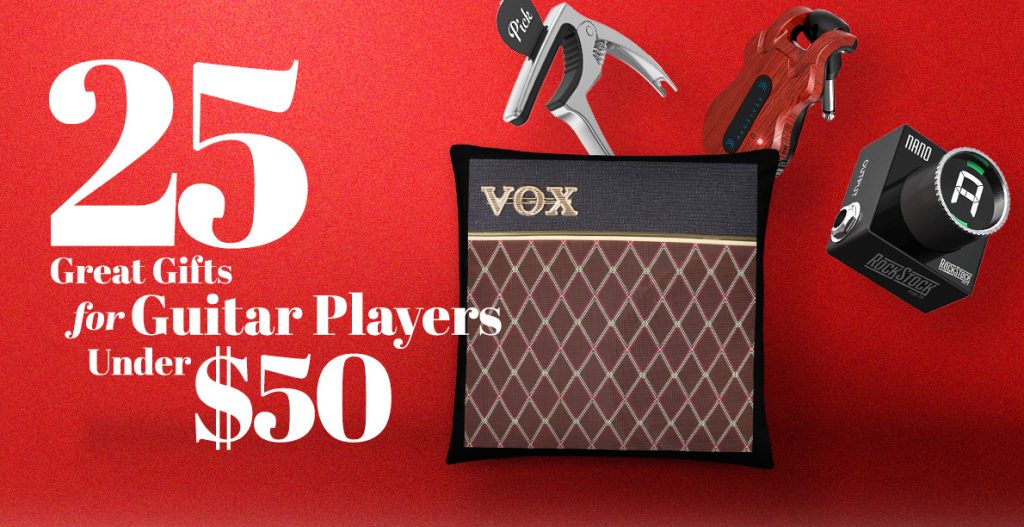 Finding great gifts for guitar players can be a struggle. This is especially true under the $50 limit we've set here. Guitarists are a famously picky bunch. Each of them has their own preferences in tone, feel, and style. This translates to fierce gear loyalties. So, unless you know exactly what a guitarist uses, good luck shopping for them.
But hope is not lost! As different as guitarists can be, they're all still guitarists. That means they're all searching for the exact same things; tone, inspiration, and the gear that gets them there.
Thankfully, there are countless great gifts for guitar players that can help every 6-string slinger achieve their goals. Here is a list of our favorites. Guitarists will love them, they'll use them, and they're all under $50.
No Brainers Gifts for Guitarists

We want to kick this list off with two of the most useful and desired gifts you can give a guitarist. While they might seem a bit impersonal, you can't go wrong with either. Seriously.
Guitar Center Gift Card
We know, we know. No one likes buying their loved one a gift card. But this might be the best gift you could ever buy a guitarist. They've spent countless hours pouring over the products they want and know what works for them. Hand them a Guitar Center Gift Card, and let them make the perfect purchase.
Franklin Black Glove Leather Strap
Every guitar needs a strap. And if you've played for any amount of time, you know that you need a good-quality, comfortable one. This Franklin Black Glove Leather Strap is a perfect choice. It is great-quality leather and comes in three different versions, making it easy to match the strap to the player.
Apparel and Home Goods

Not every great gift for guitar players needs to be guitar gear. They love playing guitar and want the world to know about it. So here are some good options for their wardrobe and home.
Guitar Head T-Shirt – Plug In. Turn Up. Shred. Repeat. Guitarist T-Shirt – Fly High: Guitarist T-Shirt and Hats
These three shirts are sure bets. Whether you think your guitarist would prefer the Plug In. Turn Up. Shred. Repeat., Fly High, or Guitar Head designs, they'll announce their love of their instrument and look great doing it. Best of all, they're of great quality.

VOX Amp Pillow
Whether for the studio, the living room, or the lounge room, this Vox Amp Pillow looks great. It might not be the first thing a guitarist asks for, but it's a best-seller at Player Wear, and that's for a great reason.
Marshall Amp Key Holder
Everyone in the house will love the Marshall Amp key holder. It's a stylish and convenient addition to your home. And, of course, it's a very rock 'n' roll way to keep track of your keys.
Amplifiers and Electronics

Now the fun begins. Here are a handful of gifts under $50 that guitarists can actually plug in. From portable practice guitar amplifiers to quick recording solutions, this is where you'll find it.
VOX AmPlug Mini Amp
The Vox AmPlug Mini Amp puts full-throated vox tones into a compact, affordable, headphone-based package. Don't be thrown by their size, these mini amps sound fantastic and are an ideal practice tool.
Danelectro Honey Tone Mini Amp
Want a great practice solution sans headphones? Check out the much-loved Danelectro Honey Tone. This little battery-powered amp has a unique tone that guitarists love. It even features a fun belt clip for players on the move.
summina Wireless Guitar System
Speaking of being on the move, the summina Wireless Guitar System cuts the cord for 100% cableless freedom. As simple as plugging the transmitter into a guitar and the receiver into an amp, it's a quick, affordable, and easy way to declutter a home, studio, or onstage rig.
IK Multimedia iRig2 Guitar Interface
The IK Multimedia iRig 2 turns a guitarist's phone or tablet into a full-featured recording studio. And with IK's wide array of app-based guitar software, players can play, practice, and record with stunningly realistic guitar amplifier sounds.
Guitar Accessories

When guitar players dream of high-end amplifiers and vintage guitars, guitar accessories can get overlooked. But no list of great gifts for guitar players under $50 is complete without plenty of them. Here are eight of our favorite options.
Elixir Strings Acoustic Guitar Strings, 3 Pack
Elixir makes some of the most popular guitar strings on the market. Their NANOWEB technology protects the strings and keeps them sounding fresh much longer than other brands. Does your guitarist play electric? No problem. Elixir makes a variety of strings for every guitarist out there. And you can save a buck with their convenient Acoustic Guitar Strings 3-packs.
Smart-Po Smartphone Guitar Capo
The Smart-Po Smartphone Guitar Capo is a unique dual-threat device that helps guitarists learn and create while effortlessly changing keys. By adding a smartphone holder to a capo, it's easy to watch online lessons or record your own while keeping the guitar in tune with the song.
Gruv Gear FretWraps 3-Pack
Though Gruv Gear's FretWraps can fly under the radar, they're quickly becoming must-have accessories for all recording guitarists. Useful for muting extraneous string noise lower on the fretboard or behind the nut, these simple devices clean up a guitar tone better than a lot of expensive electronic options.
Pick-a-Palooza DIY Guitar Pick Punch Mega Gift Pack
Why try and find the right guitar picks for a guitarist when you can let them make their own? That's exactly what the Pick-a-Palooza DIY Guitar Pick Punch Mega Gift Pack does. Along with a keychain pick pouch, you get a pick punch and fun-looking material to make the picks from. It can even punch picks out of old credit cards and hotel room keys when you're in a pinch.
Dunlop Series 5005 Pickholder
Guitarists drop picks. It's a fact of life. The Dunlop Series 5005 pick holder sticks right to a guitar, ensuring a new pick is always close at hand. They'll be all set next time they drop a pick onstage.
Tanmus 3 in 1 guitar capo
While it might not hold your smartphone like the Smart-Po Smartphone Guitar Capo, the Tanmus 3 in 1 Guitar Capo more than makes up for it by being a capo, a pick holder, and an acoustic guitar pin puller in one.
Keebofly Guitar Wall Mount – 3 Pack
Guitars are already beautiful, but hang them on a Keebofly Guitar Wall Mount, and they make any room look better. Combining a guitar hangar with a display shelf and a rustic wood look, they look so good you'll want one in every room.
Effects Pedals and Pedal Accessories

If you go with our first suggestion of a gift card, there's a good chance the recipient will spend it on something for their pedalboard anyway. So why not cut out the extra steps and choose one of these great pedal and pedal accessory options?
Rock Stock Nano Guitar Tuner Pedal
Not only does every guitarist need a reliable tuner, but Rock Stock's compact Nano Guitar Tuner Pedal saves a ton of room on their probably already cramped pedalboard. It's fast, accurate, and easy to read. According to Rock Stock, it's "The smallest pedal tuner ever made."
JOYO Overdrive Mini
Following the mini-pedal theme, you can't miss when you gift the JOYO Overdrive Mini. Every guitarist already has their favorite overdrive pedal. But we've never met a player who doesn't want another one. So the Overdrive Mini might just be the perfect gift for under $50.
Truetone 1 Spot Adapter
If your guitarist is already all set with tuners and overdrive pedals, they'll still need a high-quality, reliable way to power them. That's where the TrueTone 1-Spot power adapter comes in. It's an undisputed leader in pedal-specific power. And at under $30, it's an easy choice.
Ghost Fire Solderless Pedalboard Cable Kit
Just like a power adapter, every guitarist's pedalboard must have good-quality patch cables. They're the thing that connects the pedals together. This Ghost Fire Solderless Pedalboard Cable Kit lets guitarists create their own patch cables at whatever length they need. And because it's solderless, the kit's extremely easy to use.
Guitar Care

Our final category might be our most important. Guitars aren't indestructible. In fact, it takes quite a bit of care and adjustment to keep them looking, playing, and sounding their best. That's why we've included these four options that help guitarists keep their instruments in tip-top shape.
GIGmate Guitar Tool Kit & String Organizer
If your guitarist does a lot of his own guitar care work, you can't beat the GIGmate Guitar Tool Kit & String Organizer. It has nearly everything they'll need to work on their instrument. From Allen wrenches and a flashlight to string cutters and screwdrivers, it's all in there. The kit even has individual pockets for storing backup guitar strings.
MusicNomad Humidity Care System
MusicNomad has built an empire on high-quality, super-convenient guitar care products. Their Humidity Care System is a great example of their offerings. It delivers a fast, easy way for acoustic guitar players to ensure their instrument is protected from drying out and cracking.
Digital Soldering Iron, 80W with LCD screen
If a guitarist works on their own instrument, they'll eventually need a great soldering iron for the electronics. This Digital 80-watt Soldering Iron with LCD Screen is perfect for the job. It's easy to maneuver in tight spots, doesn't require a bulky soldering station, and makes adjustments a piece of cake. It even comes with multiple tips, ensuring they always have the right one for the job.
Ibanez Quick Access Multi Tool
Having the right tools at home is important. But what if a guitarist is out on a gig and disaster strikes? Give them the Ibanez Quick Access Multi-Tool, and they're good to go. Though it's small enough to fit in the pocket of a gig bag, this multi-tool is loaded with multiple Allen wrenches, screwdrivers, a ruler, and more.
Happy Shopping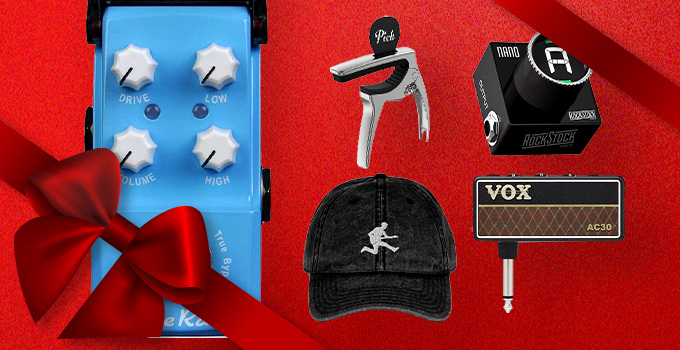 Buying gifts for guitar players is a whole lot easier than many people think. We just gave you 25 great gifts for guitar players under $50, and we could have kept going! Yes, each guitarist is different and has their own preference, but they're all pretty similar as well. That's why we're so confident that any item on this list is sure to be a big hit.
Was this post helpful?
Let us know if you liked the post. That's the only way we can improve.