Being able to hold a beat and kick fast is every drummer's goal, that's why we've ranked the fastest and best double bass pedals available.
Of course, a lot of being a great musician comes down to talent and more importantly, hard work, but your gear also matters. After all, if Van Halen's guitar kept giving up on him, he'd have just been a super angry musician as opposed to being the world's greatest guitarist.
Point being, having the right gear is important and this can be tougher for drummers than it is for other instrumentalists. Not only is there a ton of equipment but there's also the task of fine-tuning and tweaking each of these.
While we may not be able to make the entire process easier, we can make one aspect easier — picking out a great double bass drum pedal! Adding one to your drum kit lets you double up bass rhythms like a boss!
A good bass pedal will let you create great grooves in odd time as well as nicely-arranged breakdowns, which explains its popularity across a range of genres, especially metal (along with its ability to add that extra "spice" in terms of speed to any song!).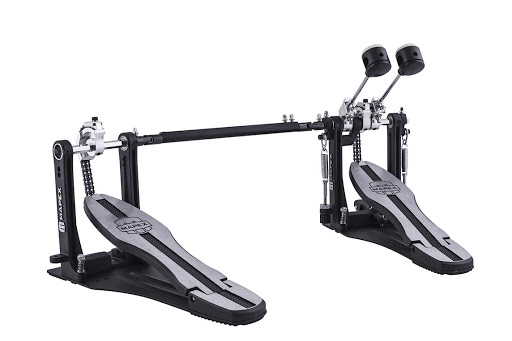 If you're looking for a double bass drum pedal, here's a list of 5 double bass drum pedals that are exceptional performers and can add depth to your music!
---
Top 5 Fastest Double Bass Drum Pedals Ranked by Real Musicians
---
PDP by DW 400 Series Double Pedal
If you're looking for a great double bass pedal that won't hurt your wallet, the PDP by DW is it!
This pedal is a great option for beginners as it lets you dabble in double bass drumming without an investment commitment, but is pretty great for more advanced drummers as well, thanks to its overall efficiency.
Additionally, the pedal is easy to set up and doesn't require too many adjustments. The pedal features 2-way beaters and standard spring tension adjustment so that drummers can set the expected distance easily.
All said and done, this pedal is sturdy, gives you amazing value for money and though basic, more than efficiently does the job it's designed for; it even gives you the feel of more costly pedals at half the price.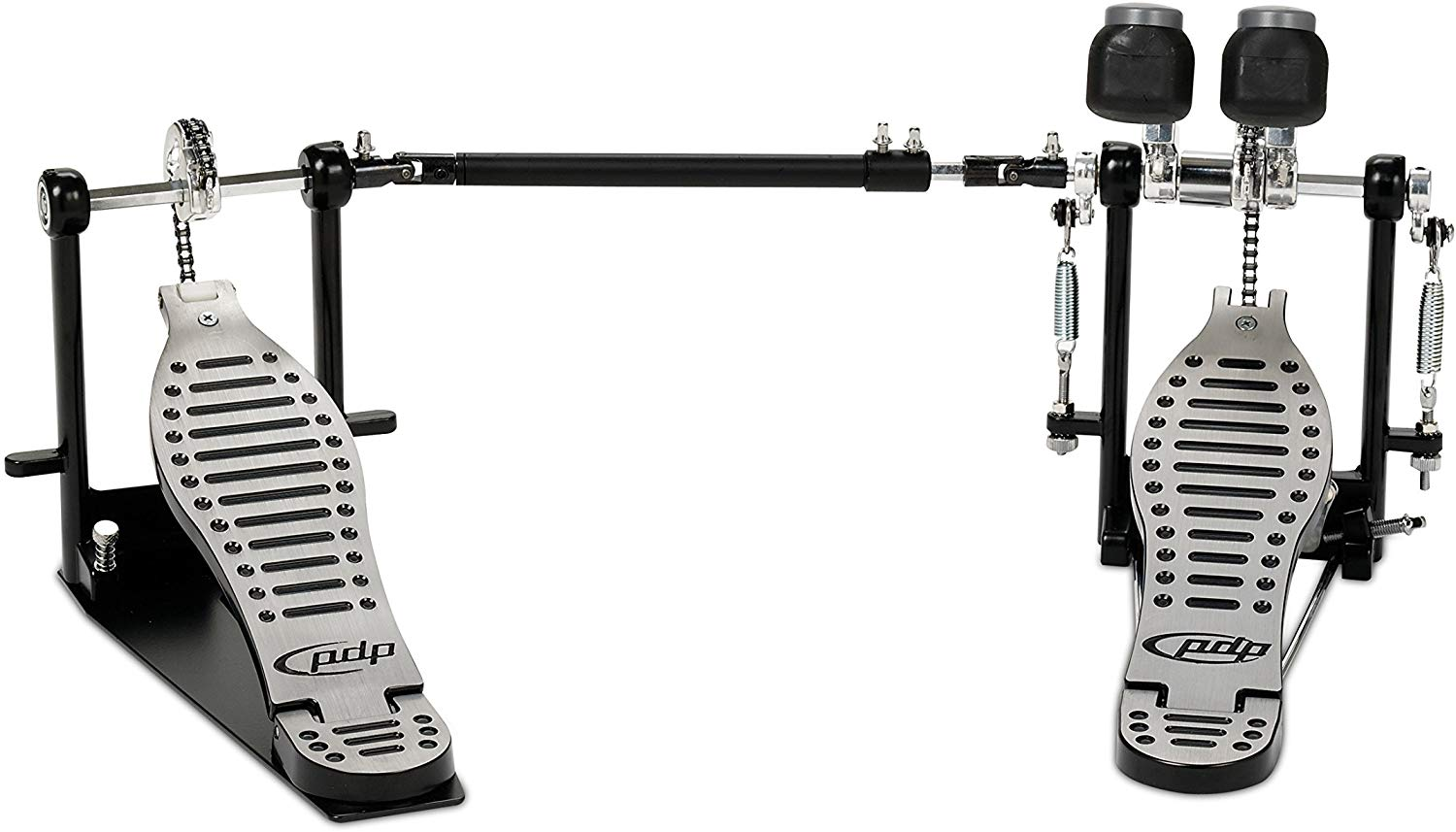 Features
PDAX101 two-way beaters
Individual chain drive (400 series) with offset cams
A steel base plate on the aux side
Universal join and 400/500 series linkage
Drum key clip and key included
Has in-built spurs and key-side-adjustment hoop clamp
Specifications
Weight: 9 pounds
Dimensions: 12 x 12 x 30 inches
Model: PDDP402
---
Drum Workshop, Inc. Bass Drum Pedal (DWCP5002AD4)
Drum Workshop is one of the most popular options when it comes to all things drum-related; these guys are known for their constant invention and reinvention of bass drum pedals to reach that one perfect version!
Well, the DW 5002 AD4 may not be perfect, but it comes pretty damn close! The 5002 AD4 is an improvement on earlier models; it includes a tri-pivot toe clamp with 3 self-adjusting rubber-coated pads, a Dual-Spring Rocker and a non-skid rubber pad, to name a few of its impressive array of features!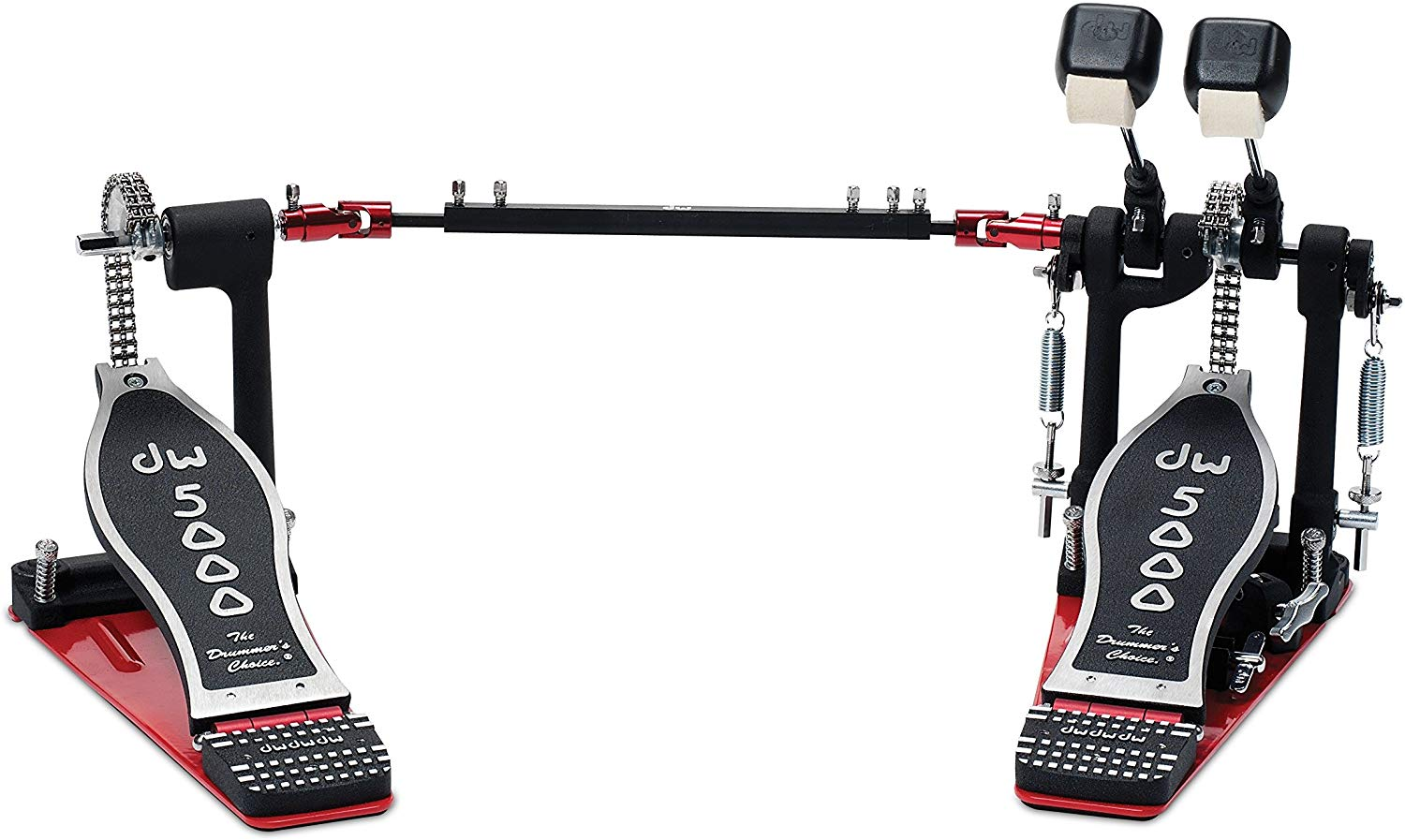 Features
An Accelerator drive system that helps increase the pedal's velocity by shortening the stroke length
3 self-adjusting rubber-coated pads with the new tri-pivot toe clamp to secure the pedal to a range of bass drum hoops, regardless of their size
Dual-Spring Rocker to improve the pedal's recoil
A floating swivel spring pivot to do away with any creaking or stress on the spring
The company's patented Delta Ball-Bearing hinge
Lightweight aluminum build for stability and smoothness
DW 2-way beater
In-built adjustable spurs to guarantee no-slip stability
Universal assembly with unique memory locks
Comes with a molded plastic case
Specifications
Weight: 16.75 pounds
Dimensions: 15 x 9 x 8 inches
Model: DWCP5002AD4
---
PDP by DW (PDDP502)
If you're looking for the maximum punch of power on your kick drum, the PDDP502 is a must-consider pedal. Not only is it extremely affordable but it's also efficient and well-designed, giving you a superb performance at half the rate of other pedals!
All of Drum Workshop's products are built to last and the PDP line is no exception; it's built specifically to cater to the needs of working drummers. The pedalboard is sleek and the linking between pedals is efficient, making it extremely responsive to touch.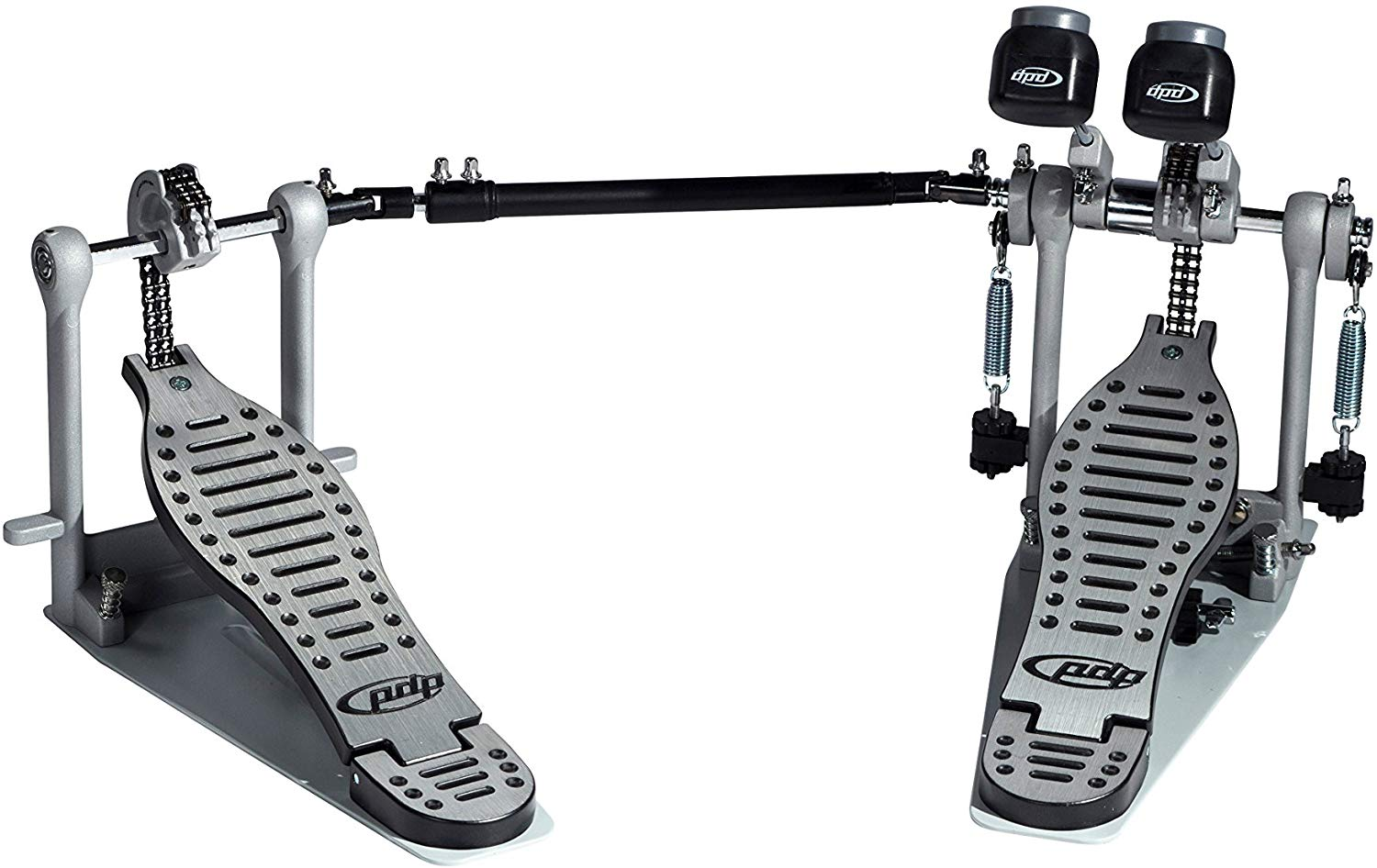 Features
The PDP by DW Double Bass Drum Pedal comes with a dual-chain drive; this ensures that you get the maximum power where it's most needed
Equipped with an offset-cam design
Equipped with a two-way beater ball for super-smooth drumming and reliability (PDAX101)
Extremely durable build
An auxiliary side base plate
Side-adjustable toe clamp
Inbuilt spurs and drum key clip and key
Key-side-adjustment
Specifications
Weight: 9 pounds
Dimensions: 12 x 12 x 30 inches
Model: PDDP502
---
Ddrum RXDP Double Bass Drum Pedal
Ddrum is a company that's known for its top-notch equipment and for its range of drum pedals that cater to both beginners and professionals. The company's RX line is a line of double-braced stands and supportive pedals that have your back while drumming!
Additionally, the RXDP pedal is on the cheaper side, below the $150-mark, so cost isn't going to be much of a deterrent in your journey to conquer the drumming world! Whether you're a garage-drummer or a professional on stage, the RXDP pedals get the job done.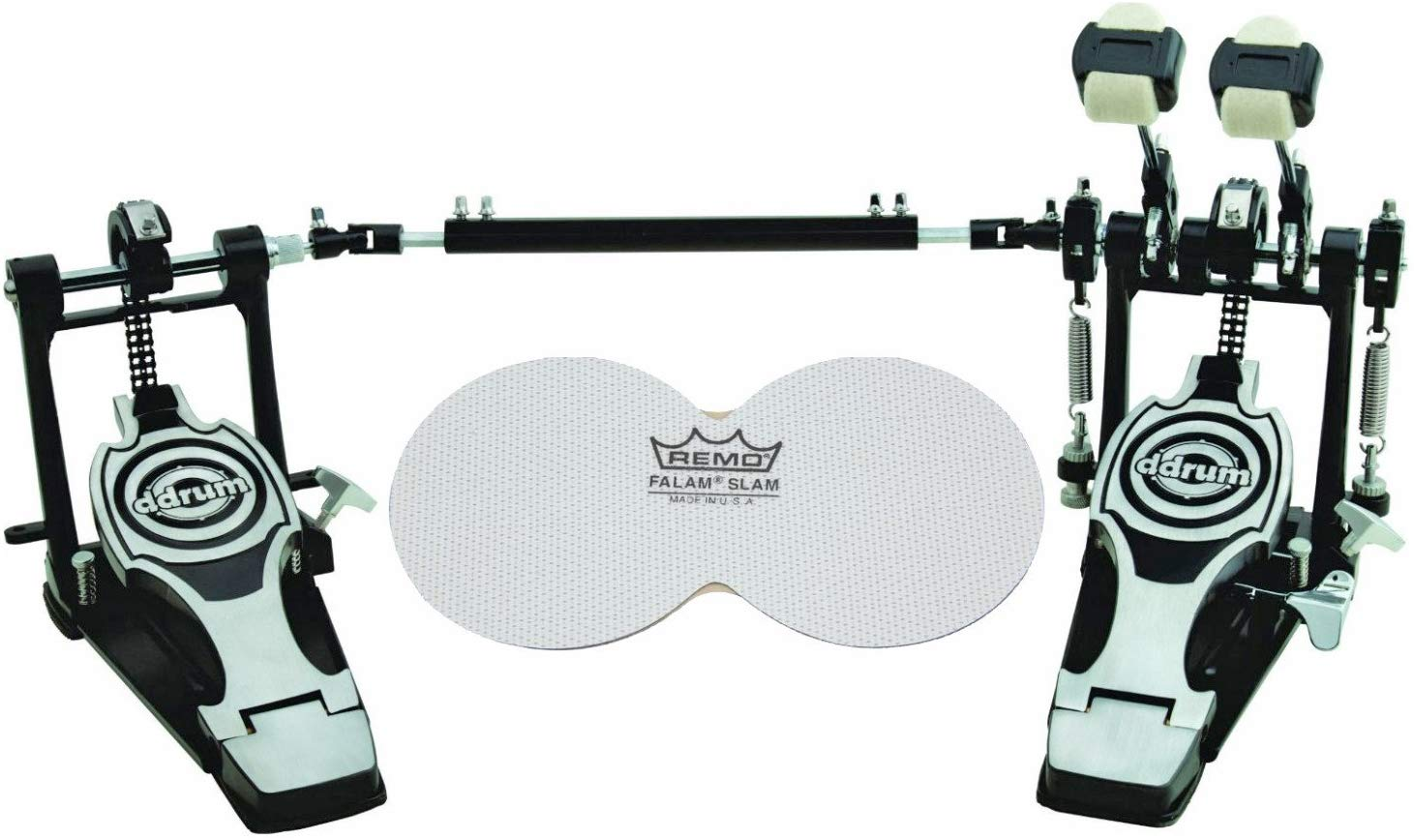 Features
Beater angle is adjustable
Sturdily constructed; well-built
RX footboard is custom designed
Dual-chain design
A felt-lined chain channel, enabling quiet and smooth performance
Specifications
Weight: 16.9 pound s
Dimensions: 15 x 15 x 15 inches
Model: RXDP Bundle
---
Drum Workshop Inc., Turbo Double Bass Pedal
Drum Workshop sets its own standards and then promptly goes about bettering them! The Turbo Double Bass Pedal is a reengineered piece of art, with notable innovations that make drumming more effortless, smooth and superb!
Most notable is the toe clamp innovation, providing more grip strength and a stronger connection between the kick drum and the foot, ensuring more power. The clamp with its 3 independent 360-degree rubber pads ensure zero slippage and easily connect to the bass drum.
Another feature to note is the Dual-Bearing Spring Rocker for a more responsive and quicker experience. The concentric TD4 turbo drive system ensures that the sprocket and footboard are directly connected to ensure power and consistency.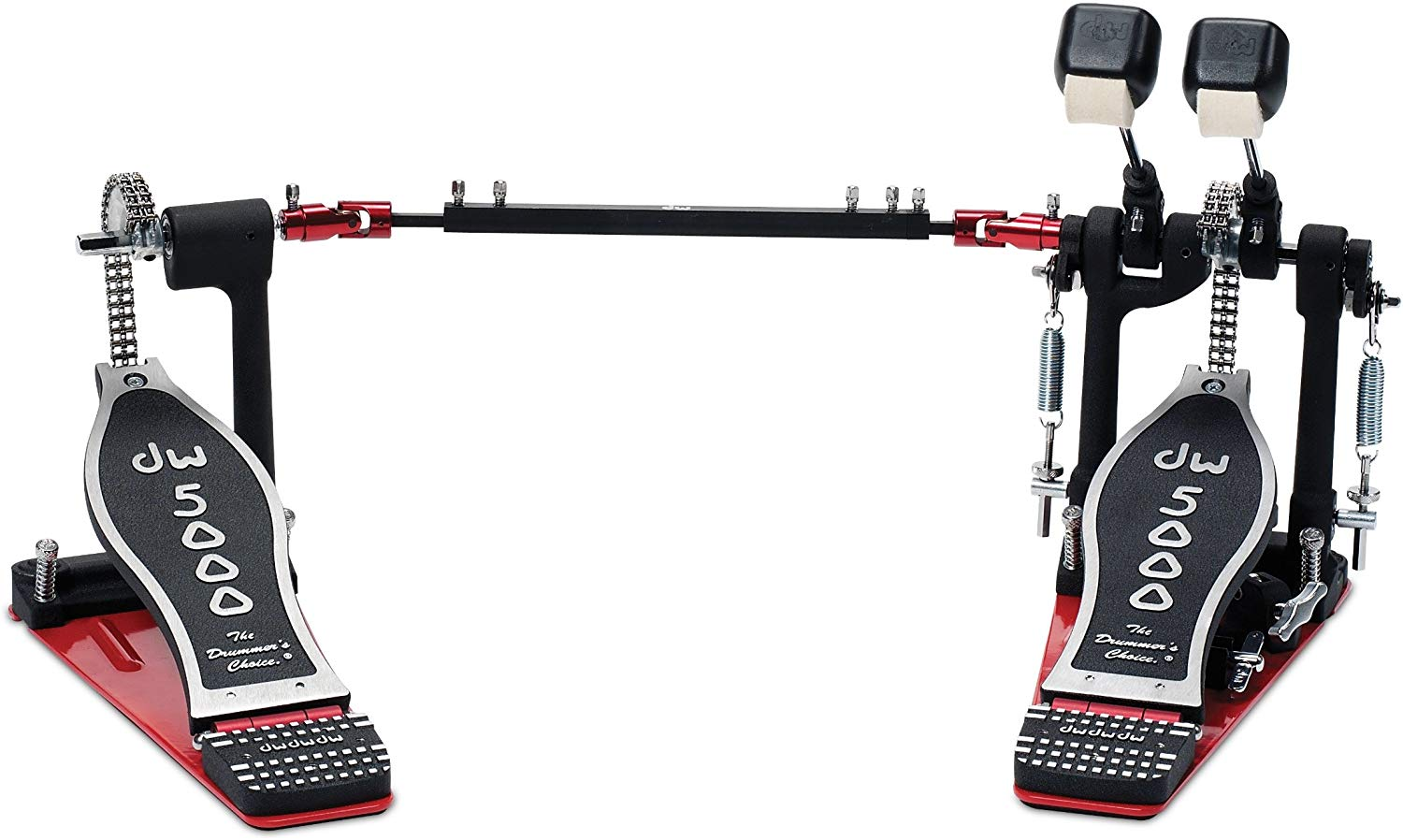 Features
Dual-chain Turbo sprocket
Tri-pivot patented toe clamp
Dual Ball-Bearing hinge
Memory lock and universal assembly
Rubber pads for zero slippage
Dual-bearing spring rocker
Concentric TD4 drive system
Specifications
Weight: 19 pounds
Dimensions: 15 x 9 x 8 inches
Model: DWCP5002TD4
---
The Final Word on the Best Double Bass Pedals
Whether you drum faster than The Flash moves or just want to practice in your own time and at your own pace, the double bass drum pedals on our list should more or less cover your needs!
If you're going to be using your pedal frequently, opt for a model that's durable, even if it's expensive; there's no point investing in a cheap model that jams more easily (we mean getting stuck!) and wears out sooner due to the intensity of your playing.
Was this post helpful?
Let us know if you liked the post. That's the only way we can improve.