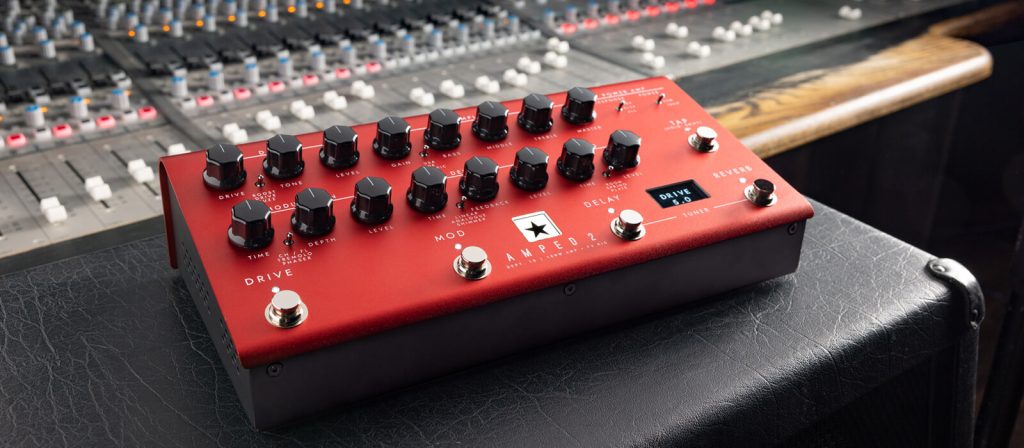 Pedalboard amps can be much more than a convenient substitute for a real amplifier. Modern pedalboard amps like the Blackstar Dept. 10 AMPED series offer advanced tube-response modeling for the sound and feel of a real amp, with the flexibility to explore dozens of different amplifier types. Or you can use a pedalboard power amp as a completely neutral-sounding platform for shaping your guitar tone with pedalboards and effects. And whether you use it to drive a real speaker cabinet, send your tone direct to a sound system, or record direct to your computer, a pedalboard power amp can seriously streamline your guitar rig. Let's take a look at what pedalboard amps are, how they can give you more flexibility than a traditional guitar amplifier, and explore some pedalboard amp options that are ready to supercharge your guitar rig.
What is a Pedalboard Amplifier?
Any pedalboard amp, at its core, is a power amplifier packed into a stompbox that can be easily placed on your effects pedalboard. Just like the power amplifier in your combo amp or guitar amplifier head, a pedalboard amp simply boosts the instrument-level signal from your guitar or pedals up to a speaker-level signal that can drive a speaker cabinet. Some pedalboard amps are equipped with pre-amplification as well, offering the same tone-shaping capabilities as a traditional amp. Many pedalboard amps will also feature a direct out to connect directly to a sound system or recording interface, allowing you to skip the speaker cabinet altogether. In other words, a pedalboard amp is a pedal-sized amp that can replace a traditional guitar amplifier head and speaker cabinet.
Why Choose a Pedalboard Amp?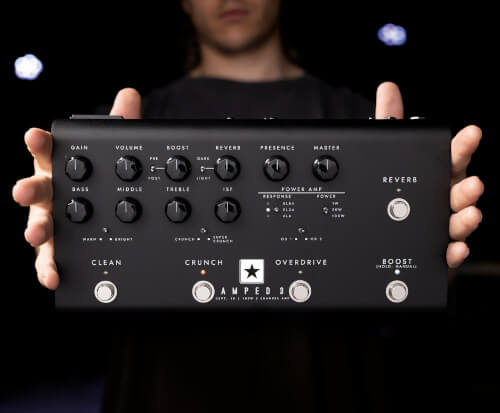 There are a lot of reasons you should consider a pedalboard amplifier as an alternative to a traditional amplifier head, both practical and creative. Here are some of the ways a pedalboard amp can enhance your playing and recording experience:
A pedalboard amp is the perfect "blank canvas" for shaping your tone with pedals
A pedalboard can could be your ideal "pedal platform" amplifier. Most guitar amplifiers have a distinct sonic signature, leading the amplifier to become part of your tonal profile whether you like it or not. If you prefer to use overdrive and distortion pedals for your tone's harmonic content, or prefer to shape your sound with an amp-in-a-box pedal, a pedalboard power amp will amplify whatever tone you've created without altering its core character. If you've spent hours fine-tuning your tone with pedals and effects processors, you want your guitar amp to alter it as little as possible, and that's exactly what a pedalboard amp can offer.
It's easier to transport a pedalboard amp to gigs and recording sessions
It can't be overstated that it's simply more convenient to transport a pedalboard amp compared to an amplifier head or combo amp. If your pedalboard amp has a DI output you may not need a speaker cabinet at all. Using a pedalboard amp means one less trip between your car and the stage, less space taken up in the gear trailer, and less wear and tear on your spine.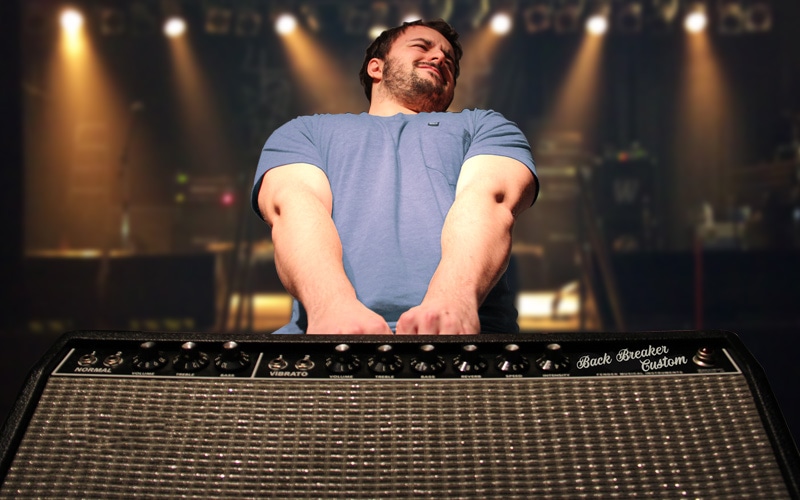 Pedalboard amps allow you to go direct when miking an amp isn't an option
Many pedalboard amps feature a DI output, and do not need to be connected to a speaker cabinet to operate (definitely check the pedalboard amp's documentation before operating it without a speaker load connected). That gives you the freedom to go direct to a PA system for live performance, or direct to a microphone preamp or audio interface for recording. Some pedalboard amps, like the Blackstar AMPED series, even feature a USB interface to record directly to your computer.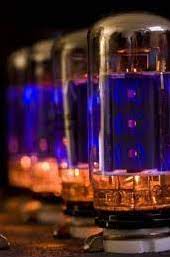 Much less maintenance on the road, with no tubes to replace
Pedalboard amps generally used advanced solid state technology in place of tubes. While that classic tube-driven 1×12″ combo amplifier sounds amazing on stage, you either need to have spare tubes and fuses on-hand for peace of mind, or accept that they'll probably need to be replaced at the most inconvenient time. With no tubes or fuses to replace, pedalboard amps are a zero-maintenance amplifier solution.
Reduce the amount of extra gear you need
We've already covered why a pedalboard amp makes a great pedal platform. If your pedalboard amp offers built-in effects, that can further reduce the amount of gear you need to pack. Whether you're playing fly gigs around the world, or simply heading to a friend's studio to record some tracks, a pedalboard amp with some delay, reverb, and tone shaping can be a huge help when you're packing up your gear.
Silent solution for recording and practicing
The reality is that most of us can't always crank up an amplifier when we want to practice or record some tracks. Most pedalboard amps can operate without requiring you to connect a speaker cabinet, while monitoring your playing through headphones.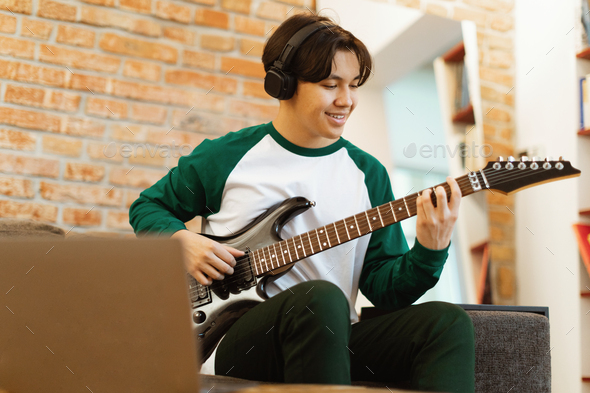 The Ideal Platform for Pedals — Blackstar Dept. 10 AMPED 1
If the core of your guitar tone is shaped by overdrive, distortion, and effects pedals, you want an amp with lots of headroom and a neutral tonality to allow your pedals to shine through. With up to 100 watts of power, and a responsive playing feel that mimics real power tubes, the Blackstar AMPED 1 Pedalboard Amp is an outstanding pedal platform. You can choose from different power tube emulations to dial in the response characteristics of different amplifiers, or choose "Linear" for a blank-canvas response that leaves all of the tonal nuance to your pedals.
In addition to a 3-band EQ and reverb, AMPED 1 is equipped with onboard speaker cabinet modeling to finalize your tone. Between the cabinet models you can access, and AMPED 1's Response modeling, you can create practically any type of amplifier and speaker combination you can think of. Cabinet simulation is available on the DI, Line out, and USB, allowing you to perform through a PA or record direct to your computer without a speaker cabinet.

Blackstar Dept. 10 AMPED 1 Pedalboard Amp:
High-headroom 100W amplifier is the perfect blank canvas for shaping your guitar tone with pedals
Effects loop allows you to connect pedals between the preamp and power amp stages
Response circuit emulates the characteristics of popular tube amps
CabRig technology allows you to fine-tune cabinet, mic, and room simulations
Smart solution for gigging without an amplifier or speaker cabinet
USB interface for direct-to-computer recording simplicity
Multi-FX and Amplification in One — Blackstar Dept. 10 AMPED 2
Take everything you just read about the AMPED 1 pedalboard amp, add the most-used effects for gigging guitarists, and you basically have the Blackstar AMPED 2 Pedalboard Amp. While it still sounds great with effects pedals in front of it, AMPED 2's footswitchable Drive, Modulation, Delay, and Reverb effects make it a complete solution for creating your guitar tones. It even features an effects loop for inserting your pedals after the preamp stage — there are even two 9V DC outlets to power your pedals directly from AMPED 2.
And while AMPED 2 offers a huge range of possible tones to explore, it's just as easy to use as any of your effects pedals. All tone-tweaking is done with dedicated knobs on the front panel, no menu diving required. To customize your CabRig speaker, mic, and room emulation, just use the free Architect Software to build your ideal rigs and save your three favorites to the AMPED 2 for instant recall. With just your guitar and the AMPED 2 pedalboard amp, you have the sounds you need to play practically any gig and sound great doing it. In other words, AMPED 2 isn't just a pedalboard amp — it could replace your pedalboard entirely.
Blackstar Dept. 10 AMPED 2 Pedalboard Amp:
100W amplifier with switchable Drive, Modulation, Delay, and Reverb effects
Allows you to cover all the sounds most gigging guitarists need, without extra pedals
Complete performance solution, with speaker cab outputs plus CabRig DI and line outputs
Tap Tempo allows you to sync Delay and Mod effects to your music
Everything from the AMPED 1 like USB audio interface, tube response modeling, adjustable 100W/10W/1W operation, and more
Multi-channel Hi-gain Pedalboard Amplifier — Blackstar Dept. 10 AMPED 3
Just as the AMPED 2 equips guitarists with all the tones they need for rock, pop, blues, and other styles, the AMPED 3 Pedalboard Amp is optimized for high-gain metal tone. AMPED 3 is actually a three-channel amplifier, with switchable Clean, Crunch, and Overdrive channels, plus switchable Boost and Reverb. You can drive whatever speaker cabinet you want with up to 100 watts of power, and an onboard effects loop is ready for your effects pedals. In other words, AMPED 3 gives you everything you'd want from a modern high-gain metal amplifier and more, and it fits on your pedalboard.
Just like with the AMPED 1 and AMPED 2 pedalboard amps, AMPED 3 is a powerful recording solution too. Its onboard USB audio interface allows you to record up to four channels simultaneously. You can capture your processed guitar tone with speaker, mic, and room emulation in mono or stereo. At the same time you can be recording your guitar signal post-preamp/pre-CabRig emulation (perfect for using speaker IRs in your DAW), while also recording your dry guitar tone (for reamping in your DAW). And because you used AMPED 3 to craft your recorded tones, you can easily reproduce those tones onstage when you use AMPED 3 as your pedalboard amp.
Blackstar Dept. 10 AMPED 3 Pedalboard Amp:
100W high-gain metal amplifier with Clean, Crunch, and Overdrive channels
Selectable voicings for each channel offer a wide tonal range to explore
Choose from USA, UK, and "Classic" amp voicings, with 3 power tube response modes
Footswitchable Boost and Reverb elevate your tone for solos and lead lines
Effects loop for integrating delay, modulation, and reverb effects pedals
4-in/2-out USB audio interface gives you big recording flexibility in your home studio
Enhance Your Tone and Streamline Your Guitar Rig with a Pedalboard Amp
As you can see from the video demos above, we've barely scratched the surface of everything the Blackstar AMPED pedalboard amps are capable of. But if we step back from the specifics of individual models, it's clear that a pedalboard amp can help you enhance your tone while offering big convenience when gigging and recording. A pedalboard amp can deliver a huge range of tones for recording in your home studio, and also serves as a complete performance amp that eliminates the need to transport an amplifier and speaker cabinet. If you've been looking for a way to streamline your guitar rig while expanding your tonal capabilities, one of these pedalboard amps could be the ideal solution.
Check out these other great articles:
HOW FILTHY CAN A DISTORTION PEDAL GET? MEET THE GAMMA HADES METAL DISTORTION PEDAL

ARE THERE EFFECTS PEDALS FOR ACOUSTIC GUITAR? MEET THE FISHMAN AFX ACOUSTIC GUITAR PEDALS

Make Music That Moves with Modulation Pedals
Was this post helpful?
Let us know if you liked the post. That's the only way we can improve.